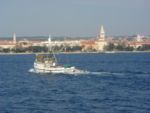 Due to its great and fantastic natural position in the middle of the Adriatic coast, and to the closeness of National Parks: Plitvica Lakes, Paklenica mountain, the unique Rivera Krka waterfalls and a string of wondrous islands called Kornati, Zadar became very attractive destination. It is possible to reach the central Zadar Riviera region from all directions and by all types of transport. The old town of Zadar is an ideal starting point for excursions and it is very popular for tourists from all over the world.
The historic town lies on a peninsula and it is surrounded by a Venetian wall. Zadar is a pearl of Croatian culture and history. It is the largest city in northern Dalmatia, with its outlying districts around 77,000 inhabitants.
Here is Zadar located
UNIQf1b966255d2649fd-googlemap-00000000-QINU
Use the mouse and the +/- buttons to navigate the map of Zadar.
How to get to Zadar

Here are some ship and speedboats to Ancona,Trieste and Venice, but also smaller targets such as the island Nin.
The car ferries operate from the peninsula in the Old Town. From Zadar are also the offshore islands connected by ferry.
A city bus commutes, bus station in the Old city of Zadar, rail links, however, generally are more thinly.
In the south east part of the city is located Zadar Airport Zemunik in the hinterland.
Also German Wings flies from Cologne and Stuttgart to the dalmatian metropolis.
Zadar has an airport and it is located on the Dalmatian coast and can be reached via the Dalmatian coastal road.
Map of Zadar
UNIQf1b966255d2649fd-googlemap-00000001-QINU
Picture gallery for Zadar

Insight into history of Zadar
Zadar was inhabited by the Illyrians, but its present layout bares the sign of Roman rule. It was an important municipal and a harbor for the wine and timber trade. In the Middle Ages it was the main base of the Byzantine fleet and Venice and the king of Hungary fought over it in the 12th- 13th century but in 1409 King Ladislaus of Hungary sold his Dalmatian towns and islands to Venice for 100.000 ducats. During the Venetian times it is called Zara and then the city enjoyed a prosperous time. After World war I Zadar was ceded to Italy but many Italians left after the forming of Yugoslavia in 1947. Zadar was repeatedly bombed in World War II and it was severely damaged.
What to see in Zadar
Some monuments in the city include an Archaeological museum, the Cathedral of St. Anastasia, the Church of St. Chrysogonus, the Church of St. Donat, the Church of St. Mary and the Museum of Sacred Art, the Church of St. Simeon, the Forum, the Land Gate and Walls, the People's Square and the Sea Gate.
An Old city of Zadar– this magnificent town invites you to the old fishing port, the Fosa.
The sights of the Old Town are visible in many details, shore promenades and parks in Zadar.
In the Grimani Bastion is a Venetian garrison buildings, placed in a small park featured today school.
The Sea organ – placed in the part of Zadar's Riva and it consists of several stairs descending into the sea. There are pipes which are Labiums (whistles) and plays 7 chords of 5 tones. Above are perforated stone stairs through which the sound comes out as the air is pushed by the sea. It is an unique musical appearance, specially attractive for tourist.
Greeting to the Sun – This incredible invention can be found in the circle whose diameter is 22 meters. The circle is made up of solar modules, which collect the sun energy during the day and in the night presents an unbelievable game of colors and shapes that accompanied by the sound of sea organs, leave passengers breathless.
Places of excursions near Zadar
Accomodations in Zadar
Hotels in Zadar
in Zadar-Borik
Camping in Zadar
Camping in the region of Zadar
Private accomodations in Zadar
RSS feed konnte von http://www.istrien.info/xml_rss.php?name=&owner=0&number=&type=0&lot_type=2&region=7&subregion=22&city=0&language=1 nicht geladen werden!
>> More apartments in Zadar can be found here.
Weather in Zadar
Below you see the current weather forecast for Zadar. The climate table of Zadar tells you which temperatures can be expected for each month.
Current weather in Zadar and a 7-day weather forecast for Zadar
UNIQf1b966255d2649fd-weather-00000004-QINU
Climate in Zadar
| | | | | | | | | | | | | |
| --- | --- | --- | --- | --- | --- | --- | --- | --- | --- | --- | --- | --- |
| Climate in Zadar | Jan | Feb | Mar | Apr | May | Jun | Jul | Aug | Sep | Oct | Nov | Dec |
| Max. Temperature | 8 | 10 | 12 | 16 | 21 | 25 | 29 | 28 | 24 | 19 | 14 | 10 |
| Min. Temperature | 2 | 3 | 5 | 8 | 12 | 15 | 18 | 18 | 15 | 11 | 7 | 3 |
| Hours of Sunshine | 4 | 4 | 6 | 7 | 6 | 10 | 11 | 10 | 8 | 6 | 4 | 3 |
| Rainy Days | 7 | 6 | 7 | 7 | 6 | 5 | 4 | 4 | 5 | 7 | 9 | 9 |
| Water temperature of the Adriatic Sea | 11 | 10 | 11 | 13 | 17 | 21 | 23 | 24 | 22 | 19 | 16 | 13 |
Sports & leisure time in Zadar
There are plenty of possibilities for sports activities:
Nautics: due to favorable climate Zadar and its channel are very popular for sailing and yachting.
Diving: natural and archeological facilities are very good. There are 14 diving clubs and schools for all lovers of underworld sea.
Sport fishing
Rafting: the most popular sport in Zadar, specially during April and May when the weather is good and suitable for rafting.
Canyoning: one of the most attractive activity, lately, for all those who like nature and phenomena of its.
Mountaineering – Paklenica National Park has a reputation of (Big Wall Speed Climbing)
Cycling – you can explore all places with bicycle, like: Paklenica National Park, Velebit and Vransko jezero Nature Park or you can go on islands Pag Island , Island Ugljan, Island Pasman and Island Dugi otok
Paragliding – very popular for younger and all who feels like.
Where to eat
Look out for places where locals eat and try fish dishes, they can be most recommended in the Dalmatian area. Some include Niko, President and others.
Cafe Lovro-by a glass wall in the courtyard are the ruins of the Church of St. Lawrence, you can admire.
Trg Zora Nica- theentire street consists of small student pubs!
Restaurant Atrij in Zadar (big gate) Dalmatian specialties
Restaurant Nikolaos in Zadar
Award "Restaurant Croatica" (near the port – Puntamika) fish dishes for gourmets
Diklo Taverna restaurant in Zadar
Fosa (at the marina outside the Citadel Wall)
Here in the summer months ARE SERVED excellent local fish specialties.
Beaches in Zadar
In the hamlet of Zadar-Borik are two campsites with accessible beaches.
Borik holiday complex is situated on flat, sloping, and has one kilometer long beach (gravel and sand).
Zadar has a several blue flag beaches:
From pine forests and olive trees surrounded pebbly and rocky bathing beach with grassy plateaus and sections on the peninsula Puntamika, about 1 km from the city of Zadar. The beach is also supported by the visits of local population.
Nightlife and entertaining in Zadar
In Zadar will be great to spend your nights in one of a number clubs:
A 17th cent. Venetian Naval Warehouse, Restaurant-Bar-Club by night, during the day laid back café with children's area, internet & tourist information. Live performances most weekends.
Barbarella's discotheque – Punta Radman Put 8, Pinija, Petrcane
Maya pub – Liburnska Coast 6., Zadar
Sin City – Pearl
Gotham club Zadar – Marka Oreškovića 3, Zadar
The Garden – Bedemi zadarskih pobunjenika bb, Zadar
Cultural arrangements in Zadar
Look out for cultural events via the local tourist agency. And enjoy the sunny waterfront.
In Zadar are organized a series of cultural events and among other things, you can visit many galleries:
Gallery FORM – Street Borelli, 14,
Aarts Gallery – A. Medulića 2
Gallery Bambola – Street royalty Borelli 7
National Museum – Poljana Pope Alexander III
Archaeological Museum – Square opatice Čike 1, Zadar
Videos of Zadar
Below you can find travel videos from Zadar. The videos from Zadar are provided by CroVideos.com, the video portal for Croatia.
Discussions about Zadar
Do you have more questions about Zadar? Have a look at the Istria.info Forum and get more tipps about Zadar.
RSS feed konnte von http://www.istrien.info/forum/rss/rss4forum.php?lang=en&keyword=zadar&searchby=posttext nicht geladen werden!
Helpful links
For more Info go to Zadar24.com
News of Croatia
Hotels in Zadar List of all Hotels in Zadar, on page you also find detailed information and lots of Photos from the Hotels in Zadar.
Apartments in Zadar Apartments in Zadar which can be booked directly from property owner, no agency commission
---
This article needs your support to be finished. If you know more about Zadar please add your knowledge to this article. On this page you can find more information of how you can contribute to this wiki.