Vodnjan is settled on the hill within the beautiful Mediterranean vegetation and climate.
It is a small town placed on the southwestern part of Istria with 3,700 inhabitants, and is about 3, 5 km distanced from the sea and approx. 10 km from the town Pula. Vodnjan has developed on the remains of the pre historical towns, which already existed in the entire region. Vodnjan was famous in the Roman time as Vicus
Attinianum.
Here is located Vodnjan
UNIQ8d62b8700dd60a19-googlemap-00000000-QINU
Use the mouse and the +/- buttons to navigate the map of Vodnjan.
How to get to Vodnjan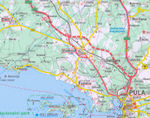 Vodnjan is settled in the southwestern part of Istria, 10 km north of city Pula and it is reachable from the northwest over the new motorway (Y-project) at the southern point in direction Pula.
City map of Vodnjan
UNIQ8d62b8700dd60a19-googlemap-00000001-QINU
Picture gallery for Vodnjan

Insight into history of Vodnjan
Vodnjan was once the Roman military center. Vodnjan has settled between wine and olive yards up on the hill as a small city. From the year 1331 'till the year 1797 Vodnjan was under the Venetian governance. In the old town are still preserved several Venetian-Gothic buildings, like the Palazzo Bettica and church of St. Blaz (St. Blasius). In that church, which is from the 18th century are also preserved some statues and about 20 paintings and art works made from 17th 'till the 19th century.
The city center, the old historical core, has retained its specifically medieval appearance, small places and narrow lanes, which bolt between the houses, with paving-stones and fronts from carved stone. You can recognize the influence of Gothic-Venetian and the Renaissance and the Baroque style. Among all is the church of St. Jakob (San Giacomo depression Trisiere), who was an important person and has witnessed the significant historical events. Another important and valuable is Parish Church built on the remains of an old Roman church which was destroyed in the year 1781. The Cathedral preserves valuable art works, wooden statues, paintings and other notabilities. Very special is the collection of sacral arts like the Relicts of bodies of saints, the Murano glass objects, holy books and documentations, old frescoes in the neighboring churches like in the Church St. Margarita, St. Madonna Traversa, St. Kirin, St. Foska and more.
What to see in Vodnjan
The most important in Vodnjan is the Basilica of St. Blaz, which is the largest sacral church in the entire Istria. The actual sensations are the famous mummified corps of the holy Sebastian (amplifier. 282), the holy Leone Bembo (amplifier. 1188), the holy Nikolosa (amplifier. 1512), the holy Barbara (amplifier. 288) and the holy Johannes Olini (amplifier. 1300). Behind the altar, you can admire these mummies by paying 10 kunas per person.
Places of excursions near Vodnjan
In the vicinity of Vodnjan, only 20 minutes from the town is settled the fiord Duga Uvala (long bay). This lovely place provides several interesting activities which can fulfill your time. There are also beaches in Fažana and Peroj, which have the view on the Brijuni National Park.
For lovers of active vacation, there are nearby towns, which offer numerous water sports and numerous restaurants, cafes, cocktail bars and enjoyable nightlife.
If you are seeking for more peaceful vacation, go to city Pula on Verudela (golden rocks) and Medulin or Rovinj who will offer you many cultural and historical sights.
Accommodations in Vodnjan
Hotels in Vodnjan
Camping in Vodnjan
Private accommodations in Vodnjan
RSS feed konnte von http://www.istrien.info/xml_rss.php?name=&owner=0&number=&type=0&lot_type=2&region=3&subregion=9&city=207&language=1 nicht geladen werden!
>> More apartments in Vodnjan can be found here.
Weather in Vodnjan
Below you see the current weather forecast for Vodnjan. The climate table
of Vodnjan tells you which temperatures can be expected for each month.
Current weather in Vodnjan and a 7-day weather forecast for Vodnjan
UNIQ8d62b8700dd60a19-weather-00000004-QINU
Climate in Vodnjan
| | | | | | | | | | | | | |
| --- | --- | --- | --- | --- | --- | --- | --- | --- | --- | --- | --- | --- |
| Climate in Vodnjan | Jan | Feb | Mar | Apr | May | Jun | Jul | Aug | Sep | Oct | Nov | Dec |
| Max. Temperature | 8 | 10 | 12 | 16 | 21 | 25 | 29 | 28 | 24 | 19 | 14 | 10 |
| Min. Temperature | 2 | 3 | 5 | 8 | 12 | 15 | 18 | 18 | 15 | 11 | 7 | 3 |
| Hours of Sunshine | 4 | 4 | 6 | 7 | 6 | 10 | 11 | 10 | 8 | 6 | 4 | 3 |
| Rainy Days | 7 | 6 | 7 | 7 | 6 | 5 | 4 | 4 | 5 | 7 | 9 | 9 |
| Water temperature of the Adriatic Sea | 11 | 10 | 11 | 13 | 17 | 21 | 23 | 24 | 22 | 19 | 16 | 13 |
Sport and leisure in Vodnjan
In Vodnjan you can find many sport and recreational activities and features. For those who prefer water sports there are several diving clubs offering amazing active sports. You can choose beach volley ball, active swimming, cycling, tennis… or just relax on the sunny beach pleasing yourself.
Vodnjan provides you the horse riding place, golf course, fishing and much more…
Where to eat in Vodnjan
Vodnjanka is the best restaurant in the town.
Girotunda is a modern coffee bar on the central crossroad.
Beaches in Vodnjan
Vodnjan has beautiful beaches which are settled in the pine woods shade and are ideal for families with children.
The closer beaches are Fazana, Pula Verudela and Peroj, which offer plenty of recreational activities, sport and fun for everyone.
Nightlife and entertaining in Vodnjan
This special town provides wide amusement, especially for youth but also for those who feel like. Amuse yourself in the numerous restaurants, cafes and cocktail bars which offer the most enjoyable nightlife.
Cultural arrangements in Vodnjan
Among the various exhibits, notice the 14th century poliptych painted by Paolo Veneziano that depicts scenes of life and death of St. Bembo.
Vodnjan is a small place but worth to visit. If you want to see more and spend your vacation in quite atmosphere go to the Pula which offers rich cultural arrangements. Visit galleries, museums, exhibitions and other cultural and historical sight.
Videos of Vodnjan
Below you can find travel videos from Vodnjan. The videos from Vodnjan are
provided by CroVideos.com, the video portal for
Croatia.
Discussions about Vodnjan
Do you have more questions about Vodnjan? Have a look at the Istria.info Forum and get more tips about Vodnjan.
RSS feed konnte von http://www.istrien.info/forum/rss/rss4forum.php?lang=en&keyword=vodnjan&searchby=posttext nicht geladen werden!
Helpful links
---
This article needs your support to be finished. If you know more about Vodnjan please add your knowledge to this article. On this page you can find more information of how you can contribute to this wiki.