Near Solta, Vis is further out in the Adriatic Sea than other Dalmatian islands. The island plays a key role in World War II when Tito used it as a location to co-ordinate partisan military operations.
The island of Vis is one of the most beautiful islands in the Adriatic, the inevitable destination if you want to spend the holidays in peace and quiet. The place is unforgettable holiday in unpolluted nature and clear Adriatic Sea, located far away from busy civilization and traffic chaos. Because of its location island of Vis is a well-known nautical center.
>== Here is Vis Island located ==
<googlemap lat="44.182204" lon="17.270996" zoom="6" controls="big" selector="yes" overview="yes" width="500" height="300">
43.062,16.183,Here is Vis Island. Use the mouse and the +/- buttons on the left to navigate within the map.
</googlemap>
Use the mouse and the +/- buttons on the left to navigate within the map of Vis Island.
---
How to get to Vis Island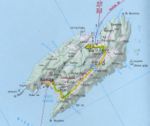 On the island you can come only by ferries and the catamaran. If arriving by car must come by ferry transport, otherwise, you can come with a catamaran that travels each day.
If you are coming from Split, and if you have a car, you must use ferry Jadrolinija.
Map of Vis Island
UNIQ017a3f9f14fa91ce-googlemap-00000000-QINU
Picture gallery for Vis Island

Insight into history of Vis Island
Name of this ancient island originates from the old grecian times, it was known under name of Issa. The island is inhabited since ancient times, and then came under OLD Roman power, and in the Middle Ages, is located in earlycroatian country. Often changes rulers, and the beginning of 1.World War. coming under Italian occupation. By the end of the war, Vis is part of the Kingdom of SHS, to the outbreak 2.World War when again occupy by Italians, whose reprisals after assuming power partisans. In early 1990. together with the whole country, Vis is the target of the Serb occupation, while the 1991 became part of the Croatian state.
What to see in Vis Island
On the island there is a lot of fortress and palace that as a must-see for example; palace poet Peter Hektorovića, gender house writer Ranka Marinkovic, Gariboldi Renaissance palace, Villa Kaliopa …
Church and Franciscan monastery – in the garden can be seen the remains of the ancient theatre of 15.Ct. on which was built monastery
Roman-term – it assumes that this is one of the largest bathing complex, which dates back from 1-2 Ct.
Places of excursions near Vis Island
On the island are organised trips to:
Blue Cave – located in the bay Balun on the eastern side of the island, which can be entered only with small boat on the paddles
Green Cave – situated on an island Ravniku, named after the green light that reflects in the sea, and reach out to the opening of the cave ceiling. The cave can get by a boat and it is allowed to go swimming.
Accomodations in Vis Island
Hotels in Vis Island
in Komiza
in Vis
Camping sites in Vis Island
Private accomodations in Vis Island
Weather in Vis Island
Below you see the current weather forecast for Vis Island. The climate table of Vis Island tells you which temperatures can be expected for each month.
Current weather in Vis Island and a 7-day weather forecast for Vis Island
UNIQ017a3f9f14fa91ce-weather-00000002-QINU
Climate in Vis Island
| | | | | | | | | | | | | |
| --- | --- | --- | --- | --- | --- | --- | --- | --- | --- | --- | --- | --- |
| Climate in Vis Island | Jan | Feb | Mar | Apr | May | Jun | Jul | Aug | Sep | Oct | Nov | Dec |
| Max. Temperature | 11 | 12 | 14 | 17 | 22 | 25 | 28 | 28 | 26 | 21 | 17 | 13 |
| Min. Temperature | 5 | 6 | 8 | 11 | 15 | 18 | 21 | 21 | 18 | 14 | 10 | 7 |
| Hours of Sunshine | 4 | 5 | 6 | 7 | 9 | 10 | 11 | 10 | 9 | 7 | 4 | 3 |
| Rainy Days | 11 | 10 | 9 | 8 | 7 | 4 | 3 | 3 | 6 | 9 | 11 | 13 |
| Water temperature of the Adriatic Sea | 13 | 13 | 14 | 15 | 17 | 22 | 23 | 24 | 22 | 21 | 18 | 15 |
Sports & leisure time in Vis Island
On the island are offering numerous opportunities for all who want to spend the holiday active, there are various sports and recreational facilities such as sailing, diving, fishing, water skiing, parasailing and many others, and there are numerous grounds such as football, handball, tennis …
You can enjoy diving and exploring the seabed on which you can see, and some sunken ships, which is particularly interesting. Also, some will delight opportunities that are here to provide paraglajding, where there are lots of decorated starts.
Where to eat in Vis Island
On the island of Vis in a number of luxury and traditional taverns, offering the specialties of this region. Let rural households also offer well made authentic food and specialties that will thrill you. Some of the known restaurants on island of Vis:
"As"
"Pojoda"
"Porat"
"Tamaris"
"Kaliopa"
"Parallelo 43"
Tavern on the island Vis:
"Vatrica"
"Dalmatino"
"Stončica"
Beaches in Vis Island
Vis has a lot of coves and pebble beaches where you can enjoy, as well as in the blue sea.
Beach stone – the party places
Island Vis with its indented coast is rich in sandy and pebbly beaches, caves and secret bays placed on the southern coast. here is haven for nature lovers saved in some of most attractive and quiet coves like Rukavac, Stiniva, Milna, Srebrena, Rudo, Travno… with beautiful beaches which will give you unforgettable time.
Nightlife and entertaining in Vis Island
The port Luka is part of Vis where city life it takes place mostly, and in the summer is the best place you can have fun in a cafe bars. If you want more peaceful atmosphere with restaurants and authentic cuisine, go to the Kuta.
During the summer season, you can revel in every part of the island, whether you're on the beach or in one of the many bars. Evening hours you can spend a night club in which entertainment will definitely want the younger generation, but here you can actually have fun to early morning.
Komiza is the second largest town on the island of Vis, in which lives about 1500 people. "Komižani" will give you intimnim setting and rich gastronomic offer which attracts every year more and more guests. For more fun go to the nearby places, islandS or mainland.
Cultural arrangements in Vis Island
As part of "Culture Summers" on the island of Vis running various theatrical performances, concerts, performing well known as "klape" and rock and jazz evenings
Viška Noć – which is rich with cultural and entertainment programs held last Saturday at 7. month
Komiza fishing evenning – held the first Saturday in 8. month
Videos of Vis Island
Below you can find travel videos from Vis Island. The videos from Vis Island are provided by CroVideos.com, the video portal for Croatia.
Discussions about Vis Island
Do you have more questions about Vis Island? Have a look at the Istria.info Forum and get more tipps about Vis Island.
RSS feed konnte von http://www.istrien.info/forum/rss/rss4forum.php?lang=en&keyword=vis&searchby=posttext nicht geladen werden!
Helpful links
For more Info go to
---
This article needs your support to be finished. If you know more about Vis Island please add your knowledge to this article. On this page you can find more information of how you can contribute to this wiki.