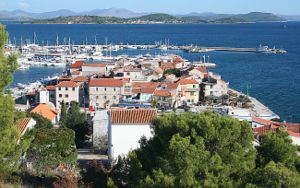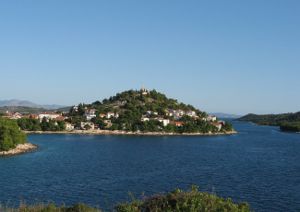 Tribunj is a beautiful little fishing village a few kilometers northwest of Vodice. The old part of Tribunj is situated on a small island, and it is connected by a stone bridge with the mainland. On the hill opposite the Old Town is a small church. From there you can have a magnificent view of the Kornati and the mainland.
A small fishing village, situated 15 km from Sibenik. It was first mentioned as Tribahunj in 1463, and today has about 1400 inhabitants. The economy is based on olive production, fisheries, tourism … Town has a typical Dalmatian neighborhood, which has a marina with 270 berths.
>== Here is Tribunj located ==
<googlemap lat="44.182204" lon="15.270996" zoom="6" controls="big" width="500" height="300">
43.750,15.750, Here is Tribunj. Use the mouse and the +/- buttons on the left to navigate within the map.
</googlemap>
Use the mouse and the +/- buttons on the left to navigate within the map of Tribunj.
---
How to get to Tribunj
You can get by walking on the coastal promenade from Vodice.
Map of Tribunj
UNIQ48e29d104db22628-googlemap-00000000-QINU
Pictures of Tribunj
Marina Tribunj – capital building
History of Tribunj
Tribunj was home for refugees from the villages of the hinterland in the 16th Century.
Meanwhile, the city spread around the hill Vrh on the mainland.
With the regard to the residents that live there, Tribunj numerically is one of the largest fishing fleets along the Dalmatian coast.
In the 17th century Tribunj was called Jurjev city and it was located on the hill, where still can be seen the ruins. Now there is a church of St. Nicholas with an old cemetery. The place is consisted of houses and narrow streets.
What to see in Tribunj
Church of Astonishing Lady
Church was built in 1885.
Cross with 14 stations up to Church of St. Nikola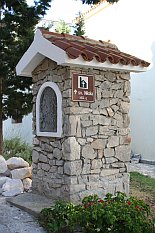 –
–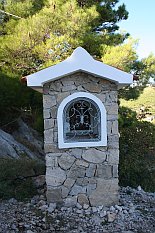 Church of St. Nikola on the mountain
Church was built in 1452. on a hill.
View from the mountain Vrh

Excursions in the region of Tribunj
Accommodations in Tribunj
Hotels in Tribunj
Camping in Tribunj
Private accommodations in Tribunj
RSS feed konnte von http://www.istrien.info/xml_rss.php?name=&owner=0&number=&type=0&lot_type=2&region=7&subregion=23&city=163&language=1 nicht geladen werden!
>> More apartments in Tribunj can be found here.
Weather in Tribunj
Below you see the current weather forecast for Tribunj. The climate table of Tribunj tells you which temperatures can be expected for each month.
Current weather in Tribunj and a 7-day weather forecast for Tribunj
UNIQ48e29d104db22628-weather-00000007-QINU
Climate in Tribunj
| | | | | | | | | | | | | |
| --- | --- | --- | --- | --- | --- | --- | --- | --- | --- | --- | --- | --- |
| Climate in Tribunj | Jan | Feb | Mar | Apr | May | Jun | Jul | Aug | Sep | Oct | Nov | Dec |
| Max. Temperature | 11 | 12 | 14 | 17 | 22 | 25 | 28 | 28 | 26 | 21 | 17 | 13 |
| Min. Temperature | 5 | 6 | 8 | 11 | 15 | 18 | 21 | 21 | 18 | 14 | 10 | 7 |
| Hours of Sunshine | 4 | 5 | 6 | 7 | 9 | 10 | 11 | 10 | 9 | 7 | 4 | 3 |
| Rainy Days | 11 | 10 | 9 | 8 | 7 | 4 | 3 | 3 | 6 | 9 | 11 | 13 |
| Water temperature of the Adriatic Sea | 13 | 13 | 14 | 15 | 17 | 22 | 23 | 24 | 22 | 21 | 18 | 15 |
Sports & leisure opportunities in Tribunj
There is a diverse offer of sports and recreational activities from
tennis,
bowling,
a small football,
basketball, …to the
diving,
sailing, and
underwater safari…
MARINA Tribunj has a wide range of content for sportsmen and all those who prefer an active vacation.
Where to eat in Tribunj
Buffet Sinje More in Tribunj |
Tavern Plavi Val in Tribunj |
Tavern Bepo in Tribunj | Tavern Pijero in Tribunj | Tavern Roko in Tribunj | Tavern Sagena in Tribunj | Tavern Simun in Tribunj | Tavern Tambo in Tribunj |
Porat pizzeria in Tribunj |
Lanterna restaurant in Tribunj | Luna restaurant in Tribunj | Pink Keel restaurant in Tribunj | Restaurant Tople in Tribunj |
Tavern Roko-very small and cozy tavern in the maze of alleyways of the Old Town Island, in the outdoor season seats are directly on the maritime Riva. There are served fish specialties…
Tavern Bepo-the tavern in Tribunj, usually very well attended. Food is very good, albeit a little more expensive than in other pubs.
Pizzeria Sustina-directly to the maritime city of Riva island. Very good pizza at reasonable prices.
Restaurant Lanterna-directly at the central beach Zamalin. Very good Dalmatian food, very good prices. Netter service of the host family with a quick warm contact. Happy after coming special courts, such as Peka under the (bell) cooked dishes. Highly recommended.
"Only drink" can of course also be good in every tavern. Very good, as well near the sea, but you sit in the bars "Nautica" and "Basadura" on the city island.
Beaches in Tribunj
In Tribunj there is a public beach, called Zamalin. There are showers and concrete swimming areas and sites under the shadow of pines. A little further towards town, a kind of "wild" beach …
In the direction of Vodice, near the Marina (Port), there is another public beach with pebbles.
Nightlife and entertainment in Tribunj
In Tribunj there are no discos or night clubs, but if you want to feel the spirit of night then you will find a club or two in Vodice situated two kilometers from Tribunj or at the so-called road (country road in the direction of Sibenik / Split). There is an abundance of taverns and restaurants. Bars, especially on the small island city. (good cocktails) .. ;-) Otherwise the lanes and paths invites you in and around Tribunj extensive evening walks.
Cultural events in Tribunj
In the summer here is celebrated the night of Tribunj.
In an early August, a traditional donkey race. This is even broadcast on the television.
Also in the summer months are held concerts with Croatian groups and singers.
Day of the Municipality Tribunj
Tribunj Boatshow
Fisherman's fest, July
More Festival on the table
Festival in the occasion of the feast of St. Ante
Videos of Tribunj
Below you can find travel videos from Tribunj. The videos from Tribunj are provided by CroVideos.com, the video portal for Croatia.
Discussions about Tribunj
Do you have more questions about Tribunj? Have a look at the Istria.info Forum and get more tipps about Tribunj.
RSS feed konnte von http://www.istrien.info/forum/rss/rss4forum.php?lang=en&keyword=sibenik&searchby=posttext nicht geladen werden!
Useful links
For more Info go to Sibenik24.com