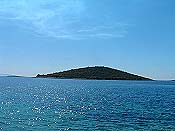 A small island, which has become an interesting tourist sight, is worth a visit, mostly for those who are looking for bays and coves and for inhabitants of the near Split. There have been constant Turkish raids.
'Solta is one of the central islands, located in the central part of the Adriatic Sea, with its east coast. It consists of the main island and the 7 islets in front of the western port Maslinica. Most important places on the 'island are the port: Maslinica – fishing town, Rogac – the main port, Necujam – a tourist destination, Stomorska – fishing village.
Here is Solta Island located
UNIQf305dfb6a5e3d236-googlemap-00000000-QINU
Use the mouse and the +/- buttons to navigate the map of Solta Island.
How to get to Solta Island

You can get there by:
Ferry – to Rogac, the main port of Solta. The journey takes 1 hour. Timetable: www.jadrolinija.hr. During the season, riding ferries as needed and not according to the fine ride.
Catamaran – daily drive from Split to Rogac. The journey lasts 30 minutes. Timetable on: www.sem.hr
Picture gallery for Solta Island

Map of Solta Island
UNIQf305dfb6a5e3d236-googlemap-00000002-QINU
Insight into history of Solta Island
Geographical position has contributed its rich history. In the rocks were engraved traces of prehistoric, ancient, early christian to post-war period. Every historical monument HAS its story from ancient times, from the prehistoric fort, the remains of ancient walls, the sarcophagus, pelvis, graves, the basilica until the remains villa rustica, the family castle Marchi from 18. Ct. and the memorial house of the poet Marko Marulic …
The Croatian poet Marko Marulić wrote part Judita of its history to Solta. On the island are agricultural products grown. In Grohote the largest city in mid-dr island are about 3 / 4 of the island population.
What to see in Solta Island
Gradac- prehistoric fort
Mirine – the remains of ancient walls at D. Sela – locality "Under Michael"
Grohote – part of the ancient sarcophagus in the parish house, the remains of an old basilica
Rogac – remains villa rustica
Necujam – ancient tomb, the memorial house of Marko Marulic
Stipanska – remains of an old basilica
Upper Village – the remains of late antique buildings
St. Fir – old sarcophagus
Maslinica – Marchi family castle from 1706
Places of excursions near Solta Island
Visit a place on the island that can provide various opportunities to enjoy:
Accomodations in Solta Island
Hotels in Solta Island
Camping in Solta Island
Private accomodations in Solta Island
RSS feed konnte von http://www.istrien.info/xml_rss.php?name=&owner=0&number=&type=0&lot_type=2&region=7&subregion=45&city=0&language=1 nicht geladen werden!
>> More apartments in Solta Island can be found here.
Weather in Solta Island
Below you see the current weather forecast for Solta Island. The climate table of Solta Island tells you which temperatures can be expected for each month.
Current weather in Solta Island and a 7-day weather forecast for Solta Island
UNIQf305dfb6a5e3d236-weather-00000004-QINU
Climate in Solta Island
| | | | | | | | | | | | | |
| --- | --- | --- | --- | --- | --- | --- | --- | --- | --- | --- | --- | --- |
| Climate in Solta Island | Jan | Feb | Mar | Apr | May | Jun | Jul | Aug | Sep | Oct | Nov | Dec |
| Max. Temperature | 11 | 12 | 14 | 17 | 22 | 25 | 28 | 28 | 26 | 21 | 17 | 13 |
| Min. Temperature | 5 | 6 | 8 | 11 | 15 | 18 | 21 | 21 | 18 | 14 | 10 | 7 |
| Hours of Sunshine | 4 | 5 | 6 | 7 | 9 | 10 | 11 | 10 | 9 | 7 | 4 | 3 |
| Rainy Days | 11 | 10 | 9 | 8 | 7 | 4 | 3 | 3 | 6 | 9 | 11 | 13 |
| Water temperature of the Adriatic Sea | 13 | 13 | 14 | 15 | 17 | 22 | 23 | 24 | 22 | 21 | 18 | 15 |
Sports & leisure time in Solta Island
Visit Velu Stražu, the highest peak on island which is located at an altitude of 236m above the sea. From the cemetery you waiting 15 minutes pleasant walk through the woods over side road. From the top is a breathtaking view of the town and nearby islands …
Biking – here are ideal road for bike riding which can be rented in Stomorska and Necujam.
Tennis – in Stomorska there is ground for tennis, which is the night alight reflectors
Where to eat in Solta Island
In the fishing village Maslinica, there is small fish restaurant where you can try local cuisine. There is a restaurant and the castle Marchi, who is very appreciated by gourmets.
Nevera Tavern is located in Stomorska.
Restaurant "Judita" in Necujam
Beaches in Solta Island
Beach in Necujam – the largest beaches on the island, artificially cover granule sand. There with extra activities such as showers, buffets beach, water slide, rental boats, fast-food, YOU CAN find tennis courts and table tennis.
Beach in Stomorska – the main beach is located near the town center and is strewed with pebbles.
Nightlife and entertaining in Solta Island
If you LOOKING for night entertainment you can enjoy in lively summer nights in Stomorska and in:
Disco club in Necujam,
Disco bar in Gornje Selo
Cultural arrangements in Solta Island
In Split you'll have fun with a rich cultural and entertainment program.
The whole town is old and kind of museum for itself, so your sightseeing will be very interesting. You should visit Diocletian's palace, Peristil, Vestibul and the the bell-tower of the St. Dujam's church from where is spreading great view to the open sea.
Beside those few things, there are organized all kind of cultural programs, festivals, folklore games and fests.
Videos of Solta Island
Below you can find travel videos from Solta Island. The videos from Solta Island are provided by CroVideos.com, the video portal for Croatia.
Discussions about Solta Island
Do you have more questions about Solta Island? Have a look at the Istria.info Forum and get more tipps about Solta Island.
RSS feed konnte von http://www.istrien.info/forum/rss/rss4forum.php?lang=en&keyword=solta&searchby=posttext nicht geladen werden!
Helpful links
For more Info go to Solta24.com
---
This article needs your support to be finished. If you know more about Solta Island please add your knowledge to this article. On this page you can find more information of how you can contribute to this wiki.