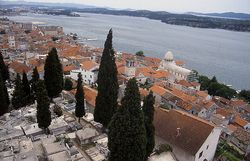 Sibenik is placed in the middle of the Croatian Adriatic coast, in magnificent picturesque landscape in indented bay around the mouth of the river Krka. It was an ancient fisherman settlement, but today, IT IS the administrative, political, economic and cultural center of a county.
Sibenik is near to some of the most beautiful destinations in southern Dalmatia such as islands like Korcula and the Krka National Park. It is famous for its enormous cathedral Sveti Jakov, that accommodates 42,000 inhabitants and it is still an object of interests. Above all the Krka National Park that lains in the proximity can be reached from this lively and beautiful city.
Here is Sibenik located
UNIQfb9fb3d8a0d79874-googlemap-00000000-QINU
Use the mouse and the +/- buttons to navigate the map of Sibenik.
How to get to Sibenik

The town can be reached via the coastal road and it is placed in the south east of Zadar.
With the car is easy to reach Sibenik on the newly built highway A-1 (Zagreb – Split).
The bus station, tel: 022-212087, serves regional and long-distance routes. (Zagreb, Rijeka, Zadar, Split, Dubrovnik).
Ferries to the islands Kaprije, Zirje, Zlarin, Prvic and Vodice. Three times a week is a ferry line from Zadar via to Ancona (Italy). Port: Tel 2171016
The nearest airport is located between Trogir and Split in Kastel Stafilic.
Between Sibenik and Vodice operates a passenger ferry in Zlarin on the island, in the resort Prvic Luka and in Prvic Sepurine on the island Prvic.
Map of Sibenik
UNIQfb9fb3d8a0d79874-googlemap-00000001-QINU
Picture gallery for Sibenik

Insight into history of Sibenik
The town was a part of various kingdoms like other cities in Dalmatia and was one of the liveliest cultural centers in Renaissance Croatia. It was under short French occupation before Austria took over the rule until the 1917. However, the local war is the reason for the breakdown of the city's industries and mass unemployment was the result.
Also, this town was, mainly due to its strategic position, a desire of European rulers. The city has been destroyed during the wars between the Venice and Ottomans. Italy, which took over the rule over Sibenik of Austria-Hungary in 1918, tried to convince in vain to the citizens of the advantages of its reign. Sibenik sought an autonomy since the Middle Ages but never reached it. The city was under the Italian rule til the Kingdom of Yugoslavia.
1066> 1 was mention
1167> Sibenik receives municipal law and becames a bishop's residence
1133> Sibenik belongs to the Kingdom of Hungary-Croatia
1412> Sibenik falls to the Republic of Venice
What to see in Sibenik
Visit places like the Loggia, the Cathedral, Bunari Museum and some Churches, like St. Barbara's church, St. John's Church and the Church of the Ascension. There is a prominent theater in the city.
UNESCO World Heritage: Cathedral of St. James / Cathedral Sv. Jakov
City image includes three fortifications
St. John (Tvrđava Sv. Ivan)
The 125 m at the highest fortress of St. John is located:
Fortress Subicevac
And directly east of the city located above the St. Anna, by the locals also Sv. Mihovil called. (Tvrđava Sv. Ana)
From the side of the Adriatic Sibenik is protected with a fourth fortress the fortress of St. Nicholas (Tvrđava Sv. Nikola). It lies on the sea access channel of the holy Ante and is one of the massively fortresses along the coast.
Old Town
From the old town which is located above the St. Anna spreads a fantastic view, which is based on the downward slope.
Among the houses and churches in the Old Town are placed some towers above all the Cathedral of St. James. The square in front of the cathedral, incidentally, the most important ecclesiastical building the Dalmatian early Renaissance, is one of the most beautiful of Croatia.
Stroll, it is particularly well on the Don Krste Stosica and Zagreb. There are a Venetian-looking city residences and countless churches.
The Franciscan monastery church together Sv. Francisc impressed by his striking sundial.
Holy Spirit Church
Church of the Holy. Barbara
Church of St. Chrysogonus (oldest bell Croatia a.d. 1266)
Church of St. Dominic
Church of St. Grgur
Church of St. Lovro
Church of St. John the Baptist (formerly the Trinity Church)
Lawrence Church
St. Nicholas Church
Orthodox Parochial Church (formerly Church of the Benedictine monastery)
Bishop's Palace
Rector's Palace
shore promenades and parks in Sibenik
On the waterfront promenade Obala Palih Omladinaca you can admire the episcopal palace.
At the Franciscan Monastery is a small park nestled between the remains of a double wall.
Famous for its seven waterfalls! Situated between the motorway and Sibenik Skradin departures follow the Krka National Park – Vodoslap. From Sibenik runs a bus every hour. Daily tours are at various agencies and tourist information, please ask: TZG Trg Ante Starcevica 12, phone 2060024 or tourist information Sibenik: Tel 022-212075
Places of excursions near Sibenik
In the vicinity of Sibenik and its surroundings, there are beautiful places that are worth visiting, like:
Skradin is a peaceful place for lovers of easy vacation and quietly surrounding.
Sibenik is surrounded with several national parks and parks of nature which you must visit. The beauty of this kind can not be found nowhere in the World.
Accomodations in Sibenik
Hotels in Sibenik
in Solaris in Sibenik
Camping in Sibenik
Private accomodations in Sibenik
RSS feed konnte von http://www.istrien.info/xml_rss.php?name=&owner=0&number=&type=0&lot_type=2&region=7&subregion=23&city=0&language=1 nicht geladen werden!
>> More apartments in Sibenik can be found here.
Weather in Sibenik
Below you see the current weather forecast for Sibenik. The climate table of Sibenik tells you which temperatures can be expected for each month.
Current weather in Sibenik and a 7-day weather forecast for Sibenik
UNIQfb9fb3d8a0d79874-weather-00000004-QINU
Climate in Sibenik
| | | | | | | | | | | | | |
| --- | --- | --- | --- | --- | --- | --- | --- | --- | --- | --- | --- | --- |
| Climate in Sibenik | Jan | Feb | Mar | Apr | May | Jun | Jul | Aug | Sep | Oct | Nov | Dec |
| Max. Temperature | 11 | 12 | 14 | 17 | 22 | 25 | 28 | 28 | 26 | 21 | 17 | 13 |
| Min. Temperature | 5 | 6 | 8 | 11 | 15 | 18 | 21 | 21 | 18 | 14 | 10 | 7 |
| Hours of Sunshine | 4 | 5 | 6 | 7 | 9 | 10 | 11 | 10 | 9 | 7 | 4 | 3 |
| Rainy Days | 11 | 10 | 9 | 8 | 7 | 4 | 3 | 3 | 6 | 9 | 11 | 13 |
| Water temperature of the Adriatic Sea | 13 | 13 | 14 | 15 | 17 | 22 | 23 | 24 | 22 | 21 | 18 | 15 |
Sports & leisure time in Sibenik
Sibenik has an excellent offer of sport activities. Here you will find all kind of activities from adrenalin to easy sport activities.
You have opportunity to try your self in bungee jumping from the Sibenik's bridge or to go diving- Sibenik's underwater sea is exceptionally interesting because of numerous underwater locations.
Here is very popular paintball, takes place in Lozovac and climbing and mountaineering over the big hills above the town.
You can also try:
Where to eat in Sibenik
The town is a beautiful place to wander around and eat out at restaurants, spend time in cafés and to look for the groove in bars and clubs. Some places include Bobis, Četvorka, Da Noi, Hacienda, Konoba Kanela, Maestro, Pizzeria Toni, Tinel, Uzorita and Vijećnica. For nightlife also check local posters.
Zlatna Ribica-cheap fish specialties
Restaurant Gradska Vjecnica in Sibenik
Award "Restaurant Croatica"
Hotel and Restaurants are very nice places with high standards.
Beaches in Sibenik
The most beautiful beaches of Sibenik, about 6 km outside the village on the Solaris headland. There runs a bus from the bus station in Sibenik.
Blue Flag beaches in Sibenik
Bijela beach, Solaris-The Beach Bijela is a 700-meter-long and relatively flat sandy and fine gravel beach, also It is suitable for small children and all those who doesn't swim well, because the water level is quite low and covered with gravel. Part of the beach is covered with vegetation. Here you will find toilets, showers, cabins for the shift, telephone booths, children's entertainment …
Nightlife and entertaining in Sibenik
There is a wide offer of nightlife places for young people and all those who feel like.
Hacienda Club
Inside Club
Aurora Club
Cultural arrangements in Sibenik
International children's festival
Fair in Sibenik-takes place every year in September on the Day of patron St. Michael and provides all kind of gastronomic specialties
Evenings of "Klapa" songs are held every Thursday in July and August and presents the old tradition event that lives for centuries.
Dalmatian Chanson Evenings is a festival of the authentic Dalmatian song
Sibenik cruiser regatta
Antiques fair-held every Saturday from June 20th to September 1st, on Tuesday, Wednesday, Thursday, Friday and Saturday.
Videos of Sibenik
Below you can find travel videos from Sibenik. The videos from Sibenik are provided by CroVideos.com, the video portal for Croatia.
Discussions about Sibenik
Do you have more questions about Sibenik? Have a look at the Istria.info Forum and get more tipps about Sibenik.
RSS feed konnte von http://www.istrien.info/forum/rss/rss4forum.php?lang=en&keyword=sibenik&searchby=posttext nicht geladen werden!
Helpful links
For more Info go to Sibenik24.com
---
This article needs your support to be finished. If you know more about Sibenik please add your knowledge to this article. On this page you can find more information of how you can contribute to this wiki.