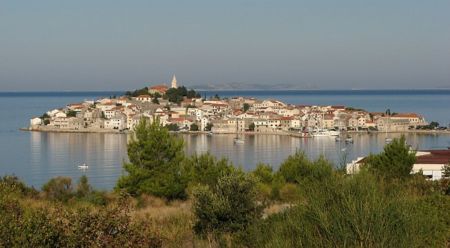 The settlement and the port on a small peninsula, 30 km southeast of Sibenik. Economy is based on farming, viticulture, olives, fishing and tourism course. Primosten has a very mild Mediterranean climate.
The former island Primosten is now connected over a bridge and a dam with the mainland. It is located between Sibenik and Trogir.
>== Here is Primosten located==
<googlemap lat="44.182204" lon="15.270996" zoom="6" controls="large" selector="yes" overview="yes" width="500" height="300">
43.587,15.927, Use the mouse and the +/- buttons to navigate the map of Primosten.
</googlemap>
Use the mouse and the +/- buttons to navigate the map of Primosten.
---
How to get to Primosten
Primosten is located on the main road (M2, E65), 30 km southeast of Sibenik. Due to its vicinity of Sibenik it has very good connection by road traffic and air traffic. Primosten can be reached over Zagreb highway to Split, while the Split airport is far only some thirty kilometers from Primosten.
Map of Primosten
UNIQ29fece3de067df30-googlemap-00000000-QINU
Pictures of Primosten

History of Primosten
in the 17th Ct.- The fishermens and farmers in the vicinity of the town built the city walls
In the 16th century was built the bridge on the island toward the mainland
On the islet, are the remain of two towers and walls, which were at the end of the 19th century demolished
On the highest part of the island in the 15th century was built the parish church of St. George, restored in 1760.
At the entrance to the settlement is the Baroque chapel from the year 1790.
The hamlet of Krusevo has a medieval church Martina
The church of Jerome is in Siroka place
What to see in Primosten
Church of St.Jurja – placed in the middle of the island, on the highest level.

Excursions in the region of Primosten
Accommodations in Primosten
Hotels in Primosten
Camping in Primosten
Private accommodations in Primosten
RSS feed konnte von http://www.istrien.info/xml_rss.php?name=&owner=0&number=&type=0&lot_type=2&region=7&subregion=23&city=125&language=1 nicht geladen werden!
>> More apartments in Primosten can be found here.
Weather in Primosten
Below you see the current weather forecast for Primosten. The climate table of Primosten tells you which temperatures can be expected for each month.
Current weather in Primosten and a 7-day weather forecast for Primosten
UNIQ29fece3de067df30-weather-00000004-QINU
Climate in Primosten
| | | | | | | | | | | | | |
| --- | --- | --- | --- | --- | --- | --- | --- | --- | --- | --- | --- | --- |
| Climate in Primosten | Jan | Feb | Mar | Apr | May | Jun | Jul | Aug | Sep | Oct | Nov | Dec |
| Max. Temperature | 11 | 12 | 14 | 17 | 22 | 25 | 28 | 28 | 26 | 21 | 17 | 13 |
| Min. Temperature | 5 | 6 | 8 | 11 | 15 | 18 | 21 | 21 | 18 | 14 | 10 | 7 |
| Hours of Sunshine | 4 | 5 | 6 | 7 | 9 | 10 | 11 | 10 | 9 | 7 | 4 | 3 |
| Rainy Days | 11 | 10 | 9 | 8 | 7 | 4 | 3 | 3 | 6 | 9 | 11 | 13 |
| Water temperature of the Adriatic Sea | 13 | 13 | 14 | 15 | 17 | 22 | 23 | 24 | 22 | 21 | 18 | 15 |
Sports & leisure opportunities in Primosten
The sports and leisure activities is varied and includes:
Tennis,
table tennis,
bowling,
beach volleyball and
yachting.
There are sailing and diving courses.
The Marina Kremik, with the blue flag. Kremik marina has 250 berths in the sea and 140 on land, and also has a charter fleet.
Where to eat in Primosten
Primosten has very good gastronomy offer and very tasty home-made food like prosciutto, cheese in olive oil, lamb, roasted meat, olive oil, and other traditional specialties. Here you can try the famous local red wine, Babic.
Restaurant BABILON, Primosten
Restaurant BILA LUČICA, Primosten Burnji / comp /
Restaurant BILO, Primosten
Restaurant DALMACIJA, Primosten
Restaurant DOLAC, Primosten
Pizzeria FORTUNA, Primosten
Restaurant GALIJA, Primosten
Tavern JERKO, Primosten
Beaches in Primosten
On the peninsula Raduca, in a pine forest, the hotel capacity and baths rich contents. On the south side of Primosten, at the foot of Mount Kremik, in hidden stone bay, is a naturist beach.
The Hotel on peninsula offers pebbly beaches attractive for family with children.
Nightlife and entertainment in Primosten
You can have fun in several local bars or in disco club Aurora.
The discotheque Aurora, in the vicinity of Primosten. The discotheque Aurora is the largest in Dalmatia.
during the summer months you can feel an unforgettable entertainment until the early hours in open air terraces.
Cultural events in Primosten
During the summer months:
Fest of Our Lady of Porto
In the summer, in Primosten are organized numerous cultural and entertainment programs, such as the Primosten festival "Fešta i uzance" (first week in August).
Especially is celebrated the fest days of Our Lady of Loreto (9th and 10th May) and the port Madonna (July 27th) when is held a big procession around the town and on ships and boats.
In Primosten is held a colony of artists under the name "Sea – People – Coast", every year.
There is also the music school "primores Primo," a baroque music summer school, the art gallery "Rudina" and the Ambient Gallery "stone spheres".
Videos of Primosten
Below you can find travel videos from Primosten. The videos from Primosten are provided by CroVideos.com, the video portal for Croatia.
Discussions about Primosten
Do you have more questions about Primosten? Have a look at the Istria.info Forum and get more tipps about Primosten.
RSS feed konnte von http://www.istrien.info/forum/rss/rss4forum.php?lang=en&keyword=primosten&searchby=posttext nicht geladen werden!
Useful links
For more Info go to Primosten24.com
---
This article needs your support to be finished. If you know more about Primosten please add your knowledge to this article. On this page you can find more information of how you can contribute to this wiki.