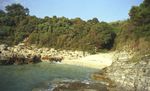 Premantura is a place on the southern part of Istrian coast, known form the Bronze Age as an important settlement. Premantura lies at the cape of the peninsula of Kamenjak, and in former times is famous as a nature park with the unique view on the Istrian coastal landscape. In this region are numerous protected plants and animal species.
Premantura's tourist idea is to be the large camping place like the Stupice, the Marinas in Pomer and Pjescana Uvala, Medulin and Brijuni National Park are.
Here is Premantura located
UNIQf0254ffadb5e6980-googlemap-00000000-QINU
Use the mouse and the +/- buttons on the left to navigate within the map of
Premantura.
How to get to Premantura

Premantura lies approx. 10 km southern of Pula. Towards Pula are organized bus connections. Coming from Pula, you follow the table mark and after Medulin, drive to the Medulin straight forward to Verudela. From there just follow the marked tables for Premantura.
City map of Premantura
UNIQf0254ffadb5e6980-googlemap-00000001-QINU
Pictures of Premantura
Small church in Premantura
History of Premantura
Premantura is an old Istrian settlement, firstly mentioned in the Ancient time. The site was built on the remains of the old Illyrian-Roman colony, where they built the roman villa Rusticae and the statues of Minerva that are kept in the Archeological Museum in Pula. Rt Kamenjak, which gave the name to Premantura is situated south from Premantura.
What to see in Premantura
Here are sandy beaches and small bays with pre-aged small islands, which are well suitable for sun and sea bathing. The protected area at the cape is the place Stupice, belonging to Premantura. The cape is a popular vacation and excursion place for everyone who prefers peaceful places.
Places of excursions in Premantura
Protected area cape is at the point of the cape where is settled the safari bar
Brijuni National Park islands
Accommodations in Premantura
Hotels in Premantura
Camping in Premantura
Private accommodations in Premantura
RSS feed konnte von http://www.istrien.info/xml_rss.php?name=&owner=0&number=&type=0&lot_type=2&region=3&subregion=9&city=55&language=1 nicht geladen werden!
>> More apartments in Premantura can be found here.
Weather in Premantura
Below you see the current weather forecast for Premantura. The climate table
of Premantura tells you which temperatures can be expected for each month.
Current weather in Premantura and a 7-day weather forecast for Premantura
UNIQf0254ffadb5e6980-weather-00000004-QINU
Climate in Premantura
| | | | | | | | | | | | | |
| --- | --- | --- | --- | --- | --- | --- | --- | --- | --- | --- | --- | --- |
| Climate in Premantura | Jan | Feb | Mar | Apr | May | Jun | Jul | Aug | Sep | Oct | Nov | Dec |
| Max. Temperature | 8 | 10 | 12 | 16 | 21 | 25 | 29 | 28 | 24 | 19 | 14 | 10 |
| Min. Temperature | 2 | 3 | 5 | 8 | 12 | 15 | 18 | 18 | 15 | 11 | 7 | 3 |
| Hours of Sunshine | 4 | 4 | 6 | 7 | 6 | 10 | 11 | 10 | 8 | 6 | 4 | 3 |
| Rainy Days | 7 | 6 | 7 | 7 | 6 | 5 | 4 | 4 | 5 | 7 | 9 | 9 |
| Water temperature of the Adriatic Sea | 11 | 10 | 11 | 13 | 17 | 21 | 23 | 24 | 22 | 19 | 16 | 13 |
Sports & leisure opportunities in Premantura
Diving and fishing: At the camping site Runke, are offered diving courses for advanced divers but also for the beginners and amateurs.
Round flights: North of Medulin is a small sport airfield, the "Airport Medulin".
Here are offered round flights to cape, to the island Brijuni over the peninsula, up to the Limski fiord. See also an airport in Pula.
Surfing and sailing: Because of the favorable winds Premantura is very suitable for the surfers and sailors. Equipment can be rented in the local Surf schools. Each year here is organized a competition in Windsurfing where come the participants from all over the world. In the neighboring place Pomer, Mr. Mladen Zovic provides the comprehensive service, maintenance and repairs of sport boats and engines.
Contact: Mladen Zovic mobile phone +385 91 5453950
Where to eat in Premantura
Here in Premantura you can try the splendid Istrian cuisine which is known as healthy and diverse. The traditional dish is the istrian "maneštra", rural Istrian cuisine meal. It is a delicious soup prepared with beans and potatoes. In restaurants in Premantura you should try fish specialties which should be accompanied with the fine glass of domestic wine like are Malvazija, Pinot and Chardonnay…
Beaches in Premantura
The cape Kamenjak is Maritime Park which has 30 km long cost, and the incredible beaches, bays and hidden places which can be explored. There are some pebbly bays, like Pinizule, Poljice, Plovanije, and many other.
Nightlife and entertainment in Premantura
Pula and Medulin have good offer of Disco Clubs and Night bars for younger population
Current meetings in Premantura and surroundings
The most important celebration is Lovrecevo, in honors of holy Lorenz, the patron of Premantura, and is annually celebrated on the 10th August.
A further attraction is the traditional celebration on the 1st May.
Cultural events in Premantura
Premantura enlivens during the summer. Premantura provides all kind of festivals, exhibitions and concerts which will amuse and fulfill you.
Evenings are the most interesting part of holiday because there is a rich offer of concerts and open scene programs.
Videos of Premantura
Below you can find travel videos from Premantura. The videos from Premantura are
provided by CroVideos.com, the video portal for
Croatia.
Discussions about Premantura
Do you have more questions about Premantura? Have a look at the Istria.info Forum and get more tips about Premantura.
RSS feed konnte von http://www.istrien.info/forum/rss/rss4forum.php?lang=en&keyword=premantura&searchby=posttext nicht geladen werden!
Useful links
For more Info go to Premantura24.com
---
This article needs your support to be finished. If you know more about Premantura please add your knowledge to this article. On this page you can find more information of how you can contribute to this wiki.