The seaside resort Opatija or Abbazia, with 12.179 inhabitants is the oldest tourist place and center of tourism in Croatia. It treasures the 160 years old hospitality tradition. The town has settled in the Kvarner bay and with Rabac presents the pearl of Kvarner Bay. But the tourism started when the villa in Opatija, the Villa Angolina, was built. It lies in the center of Liburnia Riviera under the mountain Ucka which is the Nature Park. Its amazing geographical position and beautiful nature has accelerated development of tourism. Today Opatija is the most important congress, health, sport, culture and touristic center of western Croatia but even wider. Here can be found organized numerous festivals, concerts, exhibits, art festivals and similar events.
Opatija and the entire Riviera possess beautiful beaches, bays, clear sea and nice surrounding nature. It also offers Bars, Disco clubs, Casinos and other amusing places.
Here you have the opportunity to visit beautiful surrounding places like Plitvice Lakes, Risnjak National Park, Nature Park Ucka, or even Istria.
Here is Opatija located
UNIQ6b00e24f130ca823-googlemap-00000000-QINU
Use the mouse and the +/- buttons to navigate the map of Opatija.
How to get to Opatija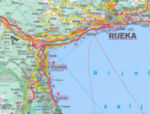 There are direct train directions (including night trains) to Opatija-Matulji station from Vienna, Munich and Salzburg.
Bus line no.32 connects Opatija with Rijeka Volosko Lovran.
City map of Opatija
UNIQ6b00e24f130ca823-googlemap-00000001-QINU
Picture gallery for Opatija
Hotel Palace-Bellevue in Opatija
Insight into history of Opatija
Opatija is an important sea side resort which has started its tradition 160 years ago. In the year 1848, was built the first tourist object, Villa Angiolina settled by the sea and surrounded by the huge preserved park. It was home of the Habsburgs because those villas where the summer residences of Austria-Hungarian aristocracy.
Opatija treasures an old Benedictine abbey from 14th century, from which derives the name Abbazia "abbey". Also treasures an Ancient Church Saint Jacob, built in the 1506 and enlarged in the 1937. The oldest Opatija's hotel is Hotel Kvarner settled by the sea near the Villa Angiolina built in the year 1884. Today still operates the business and receives the admirers who are fascinated with this historical decorated hotel.
Many of these late 19th century monuments, luxury hotels, villas and statues are today well preserved and they are considered as a rich part of the Kvarner tradition, culture and history.
What to see in Opatija
Opatija has the unique 12 km long waterfront promenade called Lungomare which means by the sea. It is the most popular walking route which connects almost whole promenade; Volosko, Opatija, Ičići, Ika, Lovran up till Medveja.
Anyhow, Opatija has the most beautiful park treasuring numerous exotic plants, Mediterranean plants and animal cover, preserved trees and park sculptures.
Places for excursions near Opatija
Accommodations in Opatija
Hotels in Opatija
Camping in Opatija
Private accommodations in Opatija
RSS feed konnte von http://www.istrien.info/xml_rss.php?name=&owner=0&number=&type=0&lot_type=2&region=5&subregion=17&city=52&language=1 nicht geladen werden!
>> More apartments in Opatija can be found here.
Weather in Opatija
Below you see the current weather forecast for Opatija. The climate table of Opatija tells you which temperatures can be expected for each month.
Current weather in Opatija and a 7-day weather forecast for Opatija
UNIQ6b00e24f130ca823-weather-00000004-QINU
Climate in Opatija
| | | | | | | | | | | | | |
| --- | --- | --- | --- | --- | --- | --- | --- | --- | --- | --- | --- | --- |
| Climate in Opatija | Jan | Feb | Mar | Apr | May | Jun | Jul | Aug | Sep | Oct | Nov | Dec |
| Max. Temperature | 8 | 10 | 12 | 16 | 21 | 25 | 29 | 28 | 24 | 19 | 14 | 10 |
| Min. Temperature | 2 | 3 | 5 | 8 | 12 | 15 | 18 | 18 | 15 | 11 | 7 | 3 |
| Hours of Sunshine | 4 | 4 | 6 | 7 | 6 | 10 | 11 | 10 | 8 | 6 | 4 | 3 |
| Rainy Days | 7 | 6 | 7 | 7 | 6 | 5 | 4 | 4 | 5 | 7 | 9 | 9 |
| Water temperature of the Adriatic Sea | 11 | 10 | 11 | 13 | 17 | 21 | 23 | 24 | 22 | 19 | 16 | 13 |
Sport and leisure time in Opatija
Opatija provides lots of different sport activities such as: water sports, tennis, football, paragliding, jogging and more.
There are few places for those who like jogging, and for those who prefer team sports, like beach volleyball, hiking, cycling, boccie, jet skis, Para flying and many more.
Where to eat in Opatija
Opatija has an excellent gastronomy offer and also provides numerous fish and meat restaurants, taverns, pizzerias, where you can try delicious specialties. Taverns and restaurants provide traditional cuisine with the home made dishes and local wines.
Restaurants in Opatija:
There are some fine restaurants with excellent offer:
Terrace upon the beach, rich wine assortment, lobster aquarium, excellent service, and fish specialties,
Terrace by the sea, entrance from Opatija harbor,
Commodore – ACI marina – Ičići
Restaurant Lido in Opatija
Restaurant Zelengaj in Opatija
Beaches in Opatija
Opatija stretches along the Liburnia Riviera. Along those routes are placed many beautiful beaches, rocky and sandy places which give you the chance to enjoy in the sun and beautiful Adriatic Sea.
The main beaches in Opatija are:
Lido-sandy beach with a lot of facilities and fun contents.
Beaches along Lungomare in Opatija settled in a green vegetation in shade of pines and palms.
The beach Slatina: with almost 20,000 square meters is Opatija's largest beach, in the town center.
The beach Tomasevac: Located near the hotel Ambasador and it is consisted of sandy beaches and stone plateaus.
The beach Lido: is located near the park Villa Angiolina
Nightlife and entertainment in Opatija
Opatija provides good entertainment offered in numerous cafes, bars, patisseries, dancing terraces of the hotels, disco clubs, night bars an casinos. Moreover you have the opportunity to visit numerous concerts, operas, folk shows, theater performances and exhibitions mostly held in the summer. Opatija is also known as a congress town and a sport and yachting town which has its own marina.
Cultural arrangements in Opatija
The town hosts the Carnival on Opatija Riviera, the International regatta in May and Gastro fest in March.
Videos of Opatija
Below you can find travel videos from Opatija. The videos from Opatija are provided by CroVideos.com, the video portal for Croatia.
Discussions about Opatija
Do you have more questions about Opatija? Have a look at the Istria.info Forum and get more tips about Opatija.
RSS feed konnte von http://www.istrien.info/forum/rss/rss4forum.php?lang=en&keyword=opatija&searchby=posttext nicht geladen werden!
Helpful links
For more Info go to Opatija24.com
News of Croatia
Hotel-Opatija.com offers the best choice of hotels in Opatija.
---
This article needs your support to be finished. If you know more about Opatija please add your knowledge to this article. On this page you can find more information of how you can contribute to this wiki.