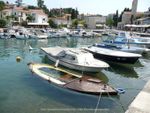 Malinska is located along the north-west coast of the island of Krk, 15 km away from Krk Bridge. Today, Malinska is well-known tourist site that keeps its fishing and maritime tradition. It has furnished and equipped beaches, swimming pools, gravel and sandy beach near the town and hidden coves.
The town of Malinska is located on a wooded bay with a protected port. It is popular tourist destination in every part of the year.
Here are provided several sport and recreational facilities for tennis, mini golf, boccie, bowling, equestrian sports and water sports: diving, sailing and fishing. Malinska offers an excellent cultural events, regattas and local fests, and rich gastro offer, too.
>== Here is Malinska located ==
<googlemap lat="44.980342" lon="14.831543" zoom="7" controls="large" selector="yes" overview="yes" width="500" height="300">
45.128,14.528,Here is Malinska. Use the mouse and the +/- buttons on the left to navigate within the map.
</googlemap>
Use the mouse and the +/- buttons on the left to navigate within the map of Malinska.
---
How to get to Malinska

'Malinska is only fifteen kilometers distant from the Krk Bridge. In 'Malinska you can get very quickly by car, bus, plane or boat, and if you can yacht or sail you can reach every part of this area.
Very good geographic position allows to arrive in Malinska very safe and fast from every part of Europe.
There are few ways you can get in Malinska, from Zagreb, Rijeka and other European towns.
City map of Malinska
UNIQ3b7fb4c85afa10d4-googlemap-00000000-QINU
Pictures of Malinska

History of Malinska
The history of Malinska begins in the 15. century. Malinska is named after an old mill that was built here. By colonization of Dubašnica the area began to develop during the 15. century.
Malinska became one of the most important export ports on the island in the 18. century. The first houses were built in 1788 and 1795 year. In the 1880 was built the port of the first tourist ship, which marked recent historical phase of development.
Until the World War II, it became well-known tourist destination, especially a favorite one for the visitors from various countries. Building of the city hotel Haludovo represents the culmination of tourism development in the 20. century.
What to see in Malinska
Church of Frankopan, St. Mary Magdalen – is located in Porto, opposite Malinska. In the 15. century Frankopans gifted it with glagolitic, which are built next to its convent in which is a modern museum with religious facilities, and valuable exhibits.
The parish church of St. Apolonara – is located in Bogovici, it was built in the 19. century, a place where once were housed they chapel.
Excursions in the region of Malinska
The city of Krk – discover the cultural heritage, visit the Francisco monastery on the island Kosljun
The city of Vrbnik – taste the gastronomic treats, and domestic cheese and wine of this region.
Porat go in the walk between Malinska and Porat, at the newly created path to the sea. Porat is a small fishing village and in the tourist boom is growing steadily. An Old Monastery in Porat is worth visiting.
Glavotok -there is a monastery with camping placed in a beautiful nature
Beli-placed above the sea level, it is an ancient city approachable with the ship. Very interesting trip route, not only because of the beach, standing griffon vulture exhibition, but the Roman Bridge (the oldest in Croatia), and other fantastic places.
Accomodations in Malinska
Hotels in Malinska
Camping in Malinska
Camping K.Stasic Nevenka Malinska
Private accomodations in Malinska
RSS feed konnte von http://www.istrien.info/xml_rss.php?name=&owner=0&number=&type=0&lot_type=2&region=5&subregion=14&city=87&language=1 nicht geladen werden!
>> More apartments in Malinska can be found here.
Weather in Malinska
Below you see the current weather forecast for Malinska. The climate table of Malinska tells you which temperatures can be expected for each month.
Current weather in Malinska and a 7-day weather forecast for Malinska
UNIQ3b7fb4c85afa10d4-weather-00000003-QINU
Climate in Malinska
| | | | | | | | | | | | | |
| --- | --- | --- | --- | --- | --- | --- | --- | --- | --- | --- | --- | --- |
| Climate in Malinska | Jan | Feb | Mar | Apr | May | Jun | Jul | Aug | Sep | Oct | Nov | Dec |
| Max. Temperature | 8 | 10 | 12 | 16 | 21 | 25 | 29 | 28 | 24 | 19 | 14 | 10 |
| Min. Temperature | 2 | 3 | 5 | 8 | 12 | 15 | 18 | 18 | 15 | 11 | 7 | 3 |
| Hours of Sunshine | 4 | 4 | 6 | 7 | 6 | 10 | 11 | 10 | 8 | 6 | 4 | 3 |
| Rainy Days | 7 | 6 | 7 | 7 | 6 | 5 | 4 | 4 | 5 | 7 | 9 | 9 |
| Water temperature of the Adriatic Sea | 11 | 10 | 11 | 13 | 17 | 21 | 23 | 24 | 22 | 19 | 16 | 13 |
Sports & leisure opportunities in Malinska
An active vacation is more popular in these areas. Here you can enjoy the diverse sport offers and recreational facilities. You'll find entertainment, sport grounds of the hotels, along with playing tennis, bowling, horseback riding, mini golf or enjoying the sea.
Where to eat in Malinska
Taste the smell of Mediterranean plants laurel, rosemary, and the taste of homemade olive oil with the original island wine, Zlahtina. The local taverns, restaurants, hotels offers various types in one of the numerous restaurants:
Tavern AMERIGO, Malinska
Tavern BRACERA, Malinska
Restaurant ROYAL CLUB, Malinska
Restaurant DIXI, Malinska
Restaurant JADRAN, Malinska
Restaurant KONOBA – RIBARSKO SELO, Malinska
Restaurant MARIO, Malinska
MARTIN Tavern, Malinska
Restaurant MATTEO, Malinska
Tavern NINO, Malinska
Beaches in Malinska
Pedestrian way in the direction of Malinska-Njivice along the coast which can accommodate on the rocks, and in the shade.
Beach Draga – is a gravel beach, a part of the beach is concrete. It is a family beach good for children. It is situated in the immediate vicinity of the hotels, Malin and surrounded by pine trees. On the beach you can find a shower, you can rent a beach umbrella, deck chairs, or skuter, umbrella, beach canoes, pedal boats …
The contents of the beach:
Beach Porat – located in the town Porat, near the hotel Pinia. It is a pebbly, concrete and family beach. Neighborhood in a pine forest and the sea is suitable for a family vacation.
Beach Rupa – located in the immediate near the center of Malinska, it is very affordable and can be a large number of parked vehicles. The beach is gravel, concrete, adapted to people with disabilities, adapted to children. It is partially surrounded by pine trees.
Nightlife and entertainment in Malinska
On the island of Krk is a good offer of nighttime, which is possible on beaches or in one of the clubs:
Night Club "Crossroad" in Malinska
In Krk disco "Jungle"
Cultural events in Malinska
Sacral monuments are the witness to the rich history of this region. Enjoy the sounds of sopila rich and ancient folk costumes that let you to go back in the history.
The tourist attraction represented by visiting historical monuments, religious facilities, keepers of cultural heritage, which is abundant in the island of Krk. Here are held various celebrations and festivities, which are
Day Malinska night, and
the municipality of St. Apollinaris patron of parish and town .
On 29.07/30.07. is held a big summer festival
Videos of Malinska
Below you can find travel videos from Malinska. The videos from Malinska are provided by CroVideos.com, the video portal for Croatia.
Discussions about Malinska
Do you have more questions about Malinska? Have a look at the Istria.info Forum and get more tipps about Malinska.
RSS feed konnte von http://www.istrien.info/forum/rss/rss4forum.php?lang=en&keyword=malinska&searchby=posttext nicht geladen werden!
Useful links
For more Info go to Malinska24.com