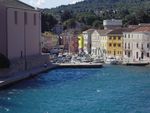 Losinj is a Croatian island in the northern part of the Adriatic sea, in the Bay of Kvarner.
The following settlements are placed on Losinj: Nerezine, Sveti Jakov, Cunski, Artaturi , Mali Losinj and Veli Losinj .
The island of Losinj, together with Cres is a very attractive destination for tourists from all over the Europe. Both islands are connected to the mainland with a bridge. The island of Losinj occupies only 31 km lengthwise and only 4 km per width.
The 45th Latitude is exactly on the islands of Cres and Losinj and divides them into two climate zones.
Losinj has a subtropic climate and vegetation with maritime pines, palms, oleanders and citrus trees.
Losinj is a part of Cres – Losinj archipelago which includes Cres and Losinj, and the smaller islands of Unije, Ilovik, Susak, Vele Srakane, Male Srakane and a large number of uninhabited small islands. Those two islands, Cres and Losinj are connected by a small bridge in the town of Osor.
Here is Losinj Island located
UNIQ2e999d1c6ab4a0da-googlemap-00000000-QINU
Use the mouse and the +/- buttons to navigate the map of Losinj Island.
How to get to Losinj Island

The island of Cres and island Losinj are connected with a swiveling Canal bridge in place Osor (Bridge opening hours by 9 clock and clock by 17).
You can reach it by bus which connects the entire island to the inland region to Rijeka. The most important transit is the ferry port to Brestova Cres and Losinj island.
Losinj is a part of Cres, so travel south from Cres to the part of Losinj. This part of the islands holds the airport, and has a ferry harbour to Rijeka.
In the summer months, the lines are very congested. The ferry Valbiska operates from the island of Krk in accordance to Cres.
From Lošinj are driving even ferries to Zadar and Pula.

Map of Losinj Island
UNIQ2e999d1c6ab4a0da-googlemap-00000002-QINU
Picture gallery for Losinj Island
Insight into history of Losinj Island
The main town, Mali Losinj was founded by 12 Croat families, and it is worth visiting, as it hosts a beautiful harbor with a nice waterfront.
In antiquity both islands were not yet separated. Probably after the conquest by the Romans under Augustus the canal split the two islands from each other. Since 18 Century the small island of Losinj was famous for boat building. In Veli Losinj and Mali Losinj existed six yards, which constantly were vessels from the stack. After triumph of steam shipping yards they came into oblivion.
The first evidences of human existence are the villages built in 1280 but their settlements gained self-governance in 1389. The main settlements were Veli Losinj and Mali Losinj which played an increasingly important role in this period.
Island started to develop in the 18th and 19th century, with trading and shipbuilding. For a short time it was under rule of Republic of Venice and later under the Austria-Hungarian rule until its collapse in 1918. Since then to 1943 it was under the rule of Italy and after 1945 the island was annexed by Yugoslavia. Losinj has became part of Croatia since it declared independence from the Yugoslav Federation in 1991.
What to see in Losinj Island
Visit the main town Mali Lošinj with its beautiful harbor and its Venetian style. Veli Lošinj holds a beautiful Venetian villas which are hidden in the lush vegetation with the pine trees, wineyards, fruit trees, olives and palms. Enjoy the viewpoint near Nerezine.
Places of excursions in surrounding of Losinj Island
On the island Losinj you can go for smaller walks, along entire coastal Baldarka to the bay on the east of Mali Losinj. In the immediate surrounding there is a small island Susak, which is known for its unusual formations. This covers a 10 m thick layer of sand and the limestone ground. This is the ideal soil for wine cultivation. The wine yards are cultivated on the terraces that are formed by the winds and surrounded by the stone walls.
From Nerezine you can go to daily tours on the Televrina, the highest peak (588m) in the northern place Osorscica.
From Veli Losinj or Mali you can go on a walk to the St. Ivan. The reward is a beautiful island panoramic view from this height.
Accomodations in Losinj Island
Hotels in Losinj Island
in Nerezine
in Mali Losinj
in Veli Losinj
Camping in Losinj Island
in Mali Losinj
in Nerezine
Small camps in the region of island Losinj
Private accomodations in Losinj Island
RSS feed konnte von http://www.istrien.info/xml_rss.php?name=&owner=0&number=&type=0&lot_type=2&region=5&subregion=13&city=0&language=1 nicht geladen werden!
>> More apartments in Losinj Island can be found here.
Weather in Losinj Island
Below you see the current weather forecast for Losinj Island. The climate table of Losinj Island tells you which temperatures can be expected for each month.
Current weather in Losinj Island and a 7-day weather forecast for Losinj Island
UNIQ2e999d1c6ab4a0da-weather-00000005-QINU
Climate in Losinj Island
| | | | | | | | | | | | | |
| --- | --- | --- | --- | --- | --- | --- | --- | --- | --- | --- | --- | --- |
| Climate in Losinj Island | Jan | Feb | Mar | Apr | May | Jun | Jul | Aug | Sep | Oct | Nov | Dec |
| Max. Temperature | 8 | 10 | 12 | 16 | 21 | 25 | 29 | 28 | 24 | 19 | 14 | 10 |
| Min. Temperature | 2 | 3 | 5 | 8 | 12 | 15 | 18 | 18 | 15 | 11 | 7 | 3 |
| Hours of Sunshine | 4 | 4 | 6 | 7 | 6 | 10 | 11 | 10 | 8 | 6 | 4 | 3 |
| Rainy Days | 7 | 6 | 7 | 7 | 6 | 5 | 4 | 4 | 5 | 7 | 9 | 9 |
| Water temperature of the Adriatic Sea | 11 | 10 | 11 | 13 | 17 | 21 | 23 | 24 | 22 | 19 | 16 | 13 |
Sports & leisure time in Losinj Island
There is a good opportunity for hiking in the mountains and above beaches of Losinj.
North of Mali Losinj – here is placed a small airfield so you can enjoy in a beautiful panoramic view.
In the bays and Cikat Suncana Uvala in Mali Losinj is a good offer of all water sports activities, wind surfing, jet ski, water skiing…
Windsurfing is possible in the surf school in the Cikat Bay.
There is a plenty of activities on splendid beaches, a lot of water sports activities on the sea and under its surface.
Where to eat in Losinj Island
Cafés offer small snacks and a delightful spot to watch the boats, which come and go in the harbor. Look out for restaurants where local people eat. Fish dishes are good quality, like everywhere in Istria, and Italian style dishes are good too.
Restoran Marina – Veli Lošinj
Ribarska Koliba – Veli Lošinj
Restoran Nino– Mali Lošinj
Restoran Artatore
Beaches in Losinj Island
Look out for the beaches in main town Mali Losinj and its most famous beach, Čitak bay, which is 30 km long and very popular for water sports.
pebbly beach, rocky beach, paved beach
Nightlife and entertaining in Losinj Island
Entertainment can be found on summer terraces of hotels or restaurants. They are providing a large number of fun and pleasure facilities like live music, show programs… Here you will find a lot things to do and many places to go and amuse yourself.
Energy, a Cocktail bar is a discotheque in Mali Losinj in Villa Ana
there are several very popular night clubs and bars like: Priko, Zanzibar, Šarky Pub
It provides good offer of entertainment programs for children, in Aqua park in the bay Cikat and other interesting facilities.
Cultural arrangements in Losinj Island
The most popular cultural and entertainment events on the island Losinj are:
Music Days in June,
Folklore Evenings in July and August,
Osor Music Evenings in July and August,
Dolphin Day, on August 5, including an educational program for children and an exhibition of pictures and photographs of dolphins, * Fishermen Evening on August 15 and
the day of the town on August 24.
Videos of Losinj Island
Below you can find travel videos from Losinj Island. The videos from Losinj Island are provided by CroVideos.com, the video portal for Croatia.
RSS feed konnte von http://www.crovideos.com/rss_search.php?searchkey=losinj nicht geladen werden!
Discussions about Losinj Island
Do you have more questions about Losinj Island? Have a look at the Istria.info Forum and get more tipps about Losinj Island.
RSS feed konnte von http://www.istrien.info/forum/rss/rss4forum.php?lang=en&keyword=losinj&searchby=posttext nicht geladen werden!
Helpful links
For more Info go to Losinj24.com
News of Croatia
Hotels-Losinj.com offers the best choice of hotels on the Island Losinj.