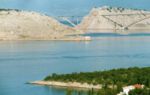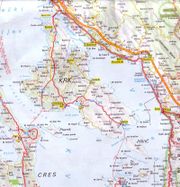 Krk, due to its closeness to Rijeka, is the most developed island in the Kvarner gulf. The northern part of the island is mostly visited by tourists and you will have to go towards the southern part of the island if you want to get away from the masses and find yourself a small place.
The island of Krk has become undoubtedly one of the most popular island in Croatia. Since 1980, it is reachable through two elegant arches of the bridge Krčki most. Krk offers a wide range of possibilities between water sports and hiking, also the island is an ideal starting point to the other "Islands". Whether individual travelers or lump travelers – Krk offers something for everyone.
The highest mountain on the island is 569 m with the Obzova.
Here is Krk Island located
UNIQ982a5778067e634d-googlemap-00000000-QINU
Use the mouse and the +/- buttons to navigate the map of Krk Island.
How to get to Krk Island

Krk, Croatia's biggest island, is connected with the mainland by a bridge, which has been opened approximately ten years ago and has boosted tourism. It is widely used by tourists traveling to the island by a car and by buses which connect Krk with Rijeka on a frequent basis. There is an airport on the island which is located in the north east of Omisalj.
There are frequently bus lines to Rijeka and Zagreb. Local buses connect Krk town with Baska, Vrbnik and Punat, depending on the season from 5 to 9 times a day.
More than 1 km long bridge connects the Krk island and the small island Sv. Marko with the mainland. The running of the bridge with a car (SUV) is currently 30 Kunas and is payable if you go to the island often. For a caravan or a so-called combined (category VW bus) the fee is 40 Kunas unique. The crossing by foot or by bicycle is free.
Map of Krk Island
UNIQ982a5778067e634d-googlemap-00000001-QINU
Picture gallery for Krk Island

Insight into history of Krk Island
Even in the early times, the island of Krk was changing the interests of European big powers. After the Roman rule they felt under Byzantium. The extreme conflict about the island was by the competing interests of Venice with the Hungarian-Croatian kings.
At the end of the 12th century, here comes a powerful local family known as the Frankopans.
Due to them Krk started to develop and prosper into one of the most powerful islands in the entire Europe. The traces of this powerful family can be found in Vrbnik, from which they spread their power and territories to the mainland: Trsat, Bakar, Kraljevica, Crikvenica, Novi Vinodolski, Otocac, Brinje, Modrus… In 1480 the island came into Venetian possession but it was under several other governments like French, Austria – Hungarians, Italy, Germany and Yugoslavia. In 1918 Italian troops marched on the island Krk and it was like that until the island finally transferred in Yugoslavia and later to the Croatian history.
The history of Krk has seen many changes. From Roman base called Curictum to the Venetian rule, Frankopans, back into Venetian hands. In the first half of the 20th century, Krk declined, but recovered in the second half and is today benefiting from tourism development.
What to see in Krk Island
Krk town is concentrating on its center Trg bana Jelačića, a large square looking out on the busy harbor. Explore the inside of the walls of Krk town and get lost in streets with Venetian houses. Nature of course is what you might also want to explore mostly on the eastern, southern and western coast of Krk.
Places of excursions near Krk Island
There is a ferry connection from Krk to Cres in the south west of the island if you want to explore the neighboring island.
1 km north of Baska is Jurandvor. In the 19th Century the Glagolitic script discovered here which was written in the stone tablet of Baska – Bašćanska ploča in the Benedictine church. It is one of the most important Croatian language and script monuments from that times.
Punat is a modern touristic resort. Especially as a starting point for hikes. The main route is from here to Punat and Baška. As best route on the island of Krk are at all, the small road, which are a small picturesque pass up winds.
Accommodations in Krk Island
Hotels in Krk Island
in Omisalj
in Njivice
in Malinska
in Krk
in Punat
in Baska
Camping in Krk Island
Small camps in the region of island Krk
Camping K.Stasic Nevenka Malinska
Private accomodations in Krk Island
RSS feed konnte von http://www.istrien.info/xml_rss.php?name=&owner=0&number=&type=0&lot_type=2&region=5&subregion=14&city=0&language=1 nicht geladen werden!
>> More apartments in Krk Island can be found here.
Weather in Krk Island
Below you see the current weather forecast for Krk Island. The climate table of Krk Island tells you which temperatures can be expected for each month.
Current weather in Krk Island and a 7-day weather forecast for Krk Island
UNIQ982a5778067e634d-weather-00000004-QINU
Climate in Krk Island
| | | | | | | | | | | | | |
| --- | --- | --- | --- | --- | --- | --- | --- | --- | --- | --- | --- | --- |
| Climate in Krk Island | Jan | Feb | Mar | Apr | May | Jun | Jul | Aug | Sep | Oct | Nov | Dec |
| Max. Temperature | 8 | 10 | 12 | 16 | 21 | 25 | 29 | 28 | 24 | 19 | 14 | 10 |
| Min. Temperature | 2 | 3 | 5 | 8 | 12 | 15 | 18 | 18 | 15 | 11 | 7 | 3 |
| Hours of Sunshine | 4 | 4 | 6 | 7 | 6 | 10 | 11 | 10 | 8 | 6 | 4 | 3 |
| Rainy Days | 7 | 6 | 7 | 7 | 6 | 5 | 4 | 4 | 5 | 7 | 9 | 9 |
| Water temperature of the Adriatic Sea | 11 | 10 | 11 | 13 | 17 | 21 | 23 | 24 | 22 | 19 | 16 | 13 |
Sports & leisure time in Krk Island
The Krk is fantastic for hiking. Especially in the region around Punat and Baska. The whole island provides excellent offer of sport and recreational programs. Here are well arranged area for basketball, handball, volleyball, soccer and football, indoor and outdoor tennis, boccie fields, mini golf grounds… Krk has a great variety of cycling paths.
Nearly every city has a water sports centre:
Yacht club Punat
Baska "Rare bird"
Surf center "Dunica"
Diving center "Ježevac"
"Divesport" Krk Dunat bb
Diving center "Adria Krk"
"Octopussy diving center"
On the island Krk there are several marked paths which lead through the woods and by the sea and they are very attractive for tourists. The underwater facilities are very interesting, so are para gliding, water skiing, jet skis and other water sports activities.
Where to eat in Krk Island
As you would expect, Krk is a gourmet paradise for lovers of fish dishes. There are an Italian dishes available; some restaurants in Krk town are Camplin, Corsaro, Fankopan, Nono and Pizzeria Kantun.
In Cizici is the local port on a really insider tip especially the Kala-Mare, friendly staff, reasonable prices, look at the small harbor.
On the square next to the supermarket, there are two restaurants which share the same owner. Highly recommended are fishes and Calamaris of rust. Price-performance ratio is very good.
In addition to the hotel Malin is the good fish restaurant Primorska Koliba, highly recommended. Among the dishes are even prepared for free spirits and liqueurs.
The restaurant at the port of Rivica Njivice one of the best restaurants on the island. In the corresponding tavern, there are typical island specialties.
When you enter the place, then left, slightly uphill, the local "Kennedy".
Beaches in Krk Island
The coast of the island of Krk is covered with a beautiful pebbly and sandy beaches which are settled between secret inlets and caves all over the island. The biggest bays are Soline and Puntarska draga where the sea is extraordinary clear which has been attested by numerous tourist awards and two blue flags – the marina of Punat, Vela plaža of Baška, AC Ježevac, FKK Politin and the Koralj beach.
All those beaches offers a minimum of services like showers, refreshment booths, toilets, rent a boat, diving centers…
Very popular is a lonely gravel beaches of Stara Baska with outstanding hiking opportunities. It is on the road from Punat to Baska. In Baska there is a 2 km long gravel beach. In the Bay of Soline Risika are some nice sandy beaches.
We also recommend two seaside resorts, Njivice and Malinska.
Nightlife and entertaining in Krk Island
Here are a lot of opportunities for pleasure and entertainment. In Vrbnik you can find rustic taverns which provides good gastronomic offer and a lot of fun and leisure as well.
Here are some the most interesting nightclubs and bars:
Disco – cocktail bar Jungle in the Krk City
Exploring nature on the land and off shore is a main thing you will want to do, or simply stretch in the sun on the beaches.
Cultural arrangements in Krk Island
Island Krk has a good offer of cultural manifestations that present folklore heritage. You should visit the town of Dobrinj in which are held many folklore manifestations. In the August is organized a public festivity called Stomorina in the town of Omišalj. This is a festivity celebrating first fruits with dancing of young girls and boys in their traditional costumes.
Videos of Krk Island
Below you can find travel videos from Krk Island. The videos from Krk Island are provided by CroVideos.com, the video portal for Croatia.
Discussions about Krk Island
Do you have more questions about Krk Island? Have a look at the Istria.info Forum and get more tipps about Krk Island.
RSS feed konnte von http://www.istrien.info/forum/rss/rss4forum.php?lang=en&keyword=krk&searchby=posttext nicht geladen werden!
Helpful links
For more Info go to Krk24.com
News of Croatia
Hotel-Krk.com offers the best choice of hotels on the Island Krk.