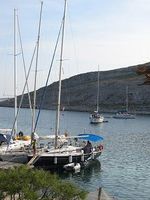 The island Kornat is the largest island in the national park Kornati.
Kornati are located in northern Dalmatia near Sibenika thickest the island group in the whole of the Mediterranean, are located between the island Zirje, Long Island and Pasman. Is divided into two groups: the lower and upper Kornati. Because of a beautiful landscape and rich marine flora and fauna, the 89 islands of the total of 152, was declared a national park. Kornati islands are special and unusual shapes of relief structure.
Here is Kornat Island located
<googlemap lat="43.836012684543995" lon="15.29022216796875" zoom="6" controls="big" selector="yes" overview="yes" width="500" height="300">
43.836012684543995,15.29022216796875,Here is Kornat Island. Use the mouse and the +/- buttons on the left to navigate within the map.
</googlemap>
Use the mouse and the +/- buttons on the left to navigate within the map of Kornat Island.
How to get to Kornat Island

On Kornati has no built-up areas, and may come in various ways, while still most accessible to sailors.
Map of Kornat Island
<googlemap lat="43.8186748554532" lon="15.2984619140625" zoom="10" controls="large" selector="yes" overview="yes" width="800" height="450"></googlemap>
Pictures of Kornat Island
<gallery>
Image:Abend am Berg.jpg|View from Kornat
Image:Kroatien 2005 030.jpg|Vrulje
Image:Bild0358.jpg|Vrulje
Image:Bild0404.jpg|Path from Vrulje
</gallery>
History of Kornat Island
Kornat is incurred at the end of the ice age. The first inhabitants were the Illyrian tribe Liburni. From I. centuries AD, they were replaced new colonizers. In the 1 Ct. a writer encyclopaedic Pliny Senior works in the European culture and mentioned Kornate as Crateae. Occupancy was owned by family or devoted subjects empire. Because there is no written evidence, all that we know about that rule until we come across remains of destroyed villa, salt pans, or with drowned ships. In VI. century, the island Kornat built facility are two of exceptional importance. The fortress at the top above the field, which is supervised sailingn way through the Kornati channel, and the other church of St. Mary.
For Kornate used the name Encornata from which probably was created the current name Kornati. In the 13. to 18. Ct. Kornati had a different names such as: Incornat, Corona, Coronata.
Kornati National Park was declared in 1980. which then included Telascica in it.
What to see in Kornat Island
Visit the islands:
Kornat-which is the most largest island in Sibenik archipelago, is not inhabited and has a number of small bays. It is famous for its fortress Tureta, the Church of Our Lady of Tarca, a large, flat cliff, "Magazinova škrila".
Zut-of the island Kornat it is shared by Zutski channel and is famous for its olives and olive oil quality. On the island is placed ACI marina.
Sit-gentle landscape, most bays are: Dulukina, Sumica, Citapiceva.
Excursions in the region of Kornat Island
There are offered organized tours, cruises and can be rented fishing boats and fishing equipment. Various travel agencies organizing trips to the Kornati National Park. You can book the following locations: Island Dugi otok, Murter, Island Veli Iz, Island Ugljan, Island Pasman and Zadar and Biograd na moru.
Accomodations in Kornat Island
Hotels in Kornat Island
Camping sites in Kornat Island
Private accomodations in Kornat Island
Weather in Kornat Island
Below you see the current weather forecast for Kornat Island. The climate table of Kornat Island tells you which temperatures can be expected for each month.
Current weather in Kornat Island and a 7-day weather forecast for Kornat Island
<weather>lang=en|weather=2|water=2</weather>
Climate in Kornat Island
| | | | | | | | | | | | | |
| --- | --- | --- | --- | --- | --- | --- | --- | --- | --- | --- | --- | --- |
| Climate in Kornat Island | Jan | Feb | Mar | Apr | May | Jun | Jul | Aug | Sep | Oct | Nov | Dec |
| Max. Temperature | 11 | 12 | 14 | 17 | 22 | 25 | 28 | 28 | 26 | 21 | 17 | 13 |
| Min. Temperature | 5 | 6 | 8 | 11 | 15 | 18 | 21 | 21 | 18 | 14 | 10 | 7 |
| Hours of Sunshine | 4 | 5 | 6 | 7 | 9 | 10 | 11 | 10 | 9 | 7 | 4 | 3 |
| Rainy Days | 11 | 10 | 9 | 8 | 7 | 4 | 3 | 3 | 6 | 9 | 11 | 13 |
| Water temperature of the Adriatic Sea | 13 | 13 | 14 | 15 | 17 | 22 | 23 | 24 | 22 | 21 | 18 | 15 |
Sports & leisure opportunities in Kornat Island
Kornati are with his clear sea, many bays and harbours particularly interesting to all admirers Robinson holiday. Here you can enjoy the untouched natural beauty and dive in crystal-blue sea, which is a real paradise for boaters and scuba divers.
Where to eat in Kornat Island
On the Kornati there is a maximum of 20 restaurants.
Here are some of them:
Suhi Council in the north of the island Kornat
Sipnate on the west side of the island Kornat
There is a small restaurants:
On the island are also two Levrnaka's Restaurant
"Levrnaka" and "Andrija island Levrnaka
Striznja on the west side of the island Kornat
Here are two restaurants, "Quattro" and "Darko"
Vrulje on the west side of the island Kornat
Vrulje is the Kornati biggest settlement, two restaurants here are "Ante" and "Robinson". Here they served delicious fish dishes.
Lopatica-a restaurant and some Muring berths for guests
On the island Piskera the restaurant "Bare"
On the island Panitula the restaurant of the "ACI Marina"
On the island Lavsa with a bay in the three restaurant's "Idro", "Bruno" and "Bruno 2"
On the island of Ravni Zakan the two restaurants and the "Larus"
Opat on the south side of the island Kornat
There are two restaurants, "Opat" and "Matteo"
On the island Šmokvica the restaurant "Piccolo"
Beaches in Kornat Island
The islands of the Kornati are bare and rocky. The most beautiful bays knows only the sailors. Because of the many shoals in the waters of Kornati, sailors have current charts material. Kornati coast facing the interior, is suitable for swimming and place where the sea is relatively shallow.
Nightlife and entertainment in Kornat Island
CRUISING IN KORNAT LABIRINTH
EXPLORING AROUND KORNAT ISLANDS
Cultural events in Kornat Island
From the time of Byzantium remained Tureta fort on the island Kornat probably from the 6. century. It is believed it had a military purpose with the aim to provide navigation and control the Adriatic Sea.
Another interesting building from the time of Byzantium and basilica, which is located at the foot of a fortress Tureta.
Videos of Kornat Island
Below you can find travel videos from Kornat Island. The videos from Kornat Island are provided by CroVideos.com, the video portal for Croatia.
<rss></rss>
Discussions about Kornat Island
Do you have more questions about Kornat Island? Have a look at the Istria.info Forum and get more tipps about Kornat Island.
<rss>http://www.istrien.info/forum/rss/rss4forum.php?lang=en&keyword=kornati&searchby=posttext%7Ccharset=ISO-8859-1%7Cforum%7Cmax=10%7Cposition=links</rss>
Related links
For more Info go to Kornati24.com
---
This article needs your support to be finished. If you know more about Kornat Island please add your knowledge to this article. On this page you can find more information of how you can contribute to this wiki.