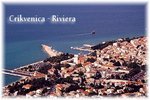 Crikvenica is a small town settled in the region Kvarner consisted of 12,000 inhabitants. It is the seaside holiday center with 8 km long coast placed near Rijeka. In the year 1888, Archduke Joseph, the brother of the Hungarian king founded the settlement and discovered its medical capabilities. It is a popular holiday destination that offers variable entertaining and amusing features, accommodation choices and natural beaches. The Mediterranean climate is due to the amazingly clear air, crystal blue sea, and health herbs suitable and favorable to everyone who has health problems or cares for its health.
The town is settled on the Crikvenica Riviera, consisted of a few small tourist centers along the coast like: Selce, Crikvenica, Dramalj and Jadranovo.
Favorable geographic position and good connection to the Europe, contributed well to an early development of tourism and heath tourism. Besides the tourist offer, Crikvenica has the Thalasotherapy Clinic offering the healthy tourism and embracing everyone who is having injury problems. Over a 100 years old tradition still is cherished.
Here is Crikvenica located
UNIQe55a582e3a729fca-googlemap-00000000-QINU
Use the mouse and the +/- buttons on the left to navigate within the map of Crikvenica.
How to get to Crikvenica

From the bus station drive buses from Rijeka and Novi Vinodolski. To the south (Zadar and Split) buses drive 2 to 3 times per day. For the trip to Istria is a change point in Rijeka.
In the summer months a small tourist railway drives between Kacjak and Crikvenica.
City map of Crikvenica
UNIQe55a582e3a729fca-googlemap-00000001-QINU
Pictures of Crikvenica
Surrounding above the river Dubracina

Bridge over the river Dubracina
History of Crikvenica
Crikvenica is an old village, once called Kotor, which is actually located on the hill nearby. The town name comes from the noun Church (Croatian: Crikva) of the Pauline Fathers monastery, build in the year 1412.
In the 8th century this area was inhibited by Croats who brought their customs and culture. During the Medieval age this region belonged to the Francs family authority and the district of Vinodol. That period belongs to the famous document of Vinodol dating from 1288. It is the time when Crikvenica was the main port of the castle Grizan.
Austria-Hungarian Empire left its traces on many buildings, sights and facades which are still preserved and visible in every step of the Riviera. The hotel Therapy represents the first grand hotel in Crikvenica, built in the 1895, and it is a reminder on the style and rule of Austria-Hungarians.
In the 19th century Crikvenica started to grow in an attractive destination. In the year 1906 Crikvenica became the famous health resort.
Today, it is one of the most attractive destinations of Kvarner bay, and of the Adriatic coast in general.
What to see in Crikvenica
Kotor is an archeological region where you can see traces of a prehistoric settlement and remains of medieval houses.
Pavlina Convent was the former convent and present hotel from the 15th century built by the Pavlins. Near has settled the church of Blessed Virgin Mary.
Hotel Therapy was built as an example to other hotels. It is the first hotel on this area surrounded with the beautiful park with tropical vegetation. The tradition of tourism in Crikvenica is connected with this beautiful hotel.
Toš (old olive press)-in Dramalj
Excursions in the region of Crikvenica
The Crikvenica Riviera is a large area where are settled many beautiful beaches. You can walk nearby the sea on the south up to the fishing village Selce or Bribir. Nearby in the town Senj, is settled the Nehaj Castle, ancient places evidencing the history of once importance of this city
More interesting surrounding areas are:
Novi Vinodolski
Island Krk
Rijeka
Accommodations in Crikvenica
Hotels in Crikvenica
Camping in Crikvenica
Private accommodations in Crikvenica
RSS feed konnte von http://www.istrien.info/xml_rss.php?name=&owner=0&number=&type=0&lot_type=2&region=5&subregion=17&city=62&language=1 nicht geladen werden!
>> More apartments in Crikvenica can be found here.
Weather in Crikvenica
Below you see the current weather forecast for Crikvenica. The climate table of Crikvenica tells you which temperatures can be expected for each month.
Current weather in Crikvenica and a 7-day weather forecast for Crikvenica
UNIQe55a582e3a729fca-weather-00000004-QINU
Climate in Crikvenica
| | | | | | | | | | | | | |
| --- | --- | --- | --- | --- | --- | --- | --- | --- | --- | --- | --- | --- |
| Climate in Crikvenica | Jan | Feb | Mar | Apr | May | Jun | Jul | Aug | Sep | Oct | Nov | Dec |
| Max. Temperature | 8 | 10 | 12 | 16 | 21 | 25 | 29 | 28 | 24 | 19 | 14 | 10 |
| Min. Temperature | 2 | 3 | 5 | 8 | 12 | 15 | 18 | 18 | 15 | 11 | 7 | 3 |
| Hours of Sunshine | 4 | 4 | 6 | 7 | 6 | 10 | 11 | 10 | 8 | 6 | 4 | 3 |
| Rainy Days | 7 | 6 | 7 | 7 | 6 | 5 | 4 | 4 | 5 | 7 | 9 | 9 |
| Water temperature of the Adriatic Sea | 11 | 10 | 11 | 13 | 17 | 21 | 23 | 24 | 22 | 19 | 16 | 13 |
Sport and leisure features in Crikvenica
Crikvenica has magnificent beaches where you can find an entertainment on the sandy beaches, and also find other sport and recreational activities like volley ball, tennis, table tennis, football, diving, pedal boat, mini-golf, scooter, swimming or you can just go for a walk in the beautiful landscape, cycling and exploring.
Crikvenica has an
Aquarium – where is rich collection of the sea species.
Movie Jadran (near the bus station, on the promenade)
Where to eat in Crikvenica
Crikvenica is famous for its good gastronomy offer and variety of traditional specialties. Here are some of the best restaurants where you can taste the home made cuisine.
Tavern AMFORA, Crikvenica
Restaurant AMOR, Crikvenica
Restaurant BEGO, Crikvenica
Tavern BELVEDERE, Crikvenica
Buffet BI-VI, Crikvenica
Bistro BONACA, Crikvenica
Bistro BURIN, Crikvenica
Bistro CIKO, Crikvenica
Tavern DIŠPET, Crikvenica
Ale house DUGA, Crikvenica
Tavern DUGA, Crikvenica
Restaurant EUROPA, Crikvenica
Restaurant GALIJA, Crikvenica
Restaurant KAČJAK, Crikvenica
Restaurant KLAUDIJA, Crikvenica
Tavern LIDO, Crikvenica
Restaurant LUKA, Crikvenica
Beaches in Crikvenica
The entire Riviera is very attractive for sea and sun bathing because beaches are very nice, clear and suitable for everyone.
Here you can find pebbly, sandy and rocky beaches, and small beaches arranged for naturists.
Beach "Pools by hotel Varazdin"- artificial beach with two swimming pools, near the town center
Beach Balu Strada and Beach Gradsko Kupaliste Crikvenica – the main public beach in Crikvenica is a 1.5 kilometer long sandy and gravel beach settled in the center. The fenced beach area has two entrances from the road.
Beach Omorika– public sandy and pebbly beach is settled in the suburb Dramalj. From here stretches the promenade along the sea in the center of Crikvenica.
Beach Poli Mora – is a public rocky beach near the city center.
Nightlife and entertainment in Crikvenica
Crikvenica and surrounding places (Dramalj, Selce, Jadranovo) provide lots of amusement and excellent night life. For younger, here are placed many bars, disco clubs and open air terraces where you can listen live music and occupy yourself to the early morning hours. Plenty of fun you will find on the beaches, especially during the summer, when Crivenica enlivens.
Cultural events in Crikvenica
In Crikvenica, various events take place especially during the summer. Here can be seen some interesting exhibitions and concerts, performances and sport events and competitions. The visitors have chance to meet interesting traditional customs, dishes prepared in the typical regional way and much more.
Videos of Crikvenica
Below you can find travel videos from Crikvenica. The videos from Crikvenica are provided by CroVideos.com, the video portal for Croatia.
RSS feed konnte von http://www.crovideos.com/rss_search.php?searchkey=crikvenica nicht geladen werden!
Discussions about Crikvenica
Do you have more questions about Crikvenica? Have a look at the Istria.info Forum and get more tips about Crikvenica.
RSS feed konnte von http://www.istrien.info/forum/rss/rss4forum.php?lang=en&keyword=crikvenica&searchby=posttext nicht geladen werden!
Useful links
For more Info go to Crikvenica24.com
Private accomodations at Crikvenica
of Kvarner and Croatia
---
This article needs your support to be finished. If you know more about Crikvenica please add your knowledge to this article. On this page you can find more information of how you can contribute to this wiki.