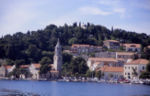 Cavtat is a great city and port in the southern part of Župskoga Bay, 20 km southeast of Dubrovnik. It has a very favourable climate, rich vegetation and beautiful beaches are attractive to tourists. The economy is based on tourism, and in the vicinity of farming and fishing. Port close two peninsulas, southwestern Sustjepan separated from the channel, which is Cavtat reefs, and Bobara Mrkan fenced from the open sea. East of the Peninsula Rat stretches Silent Bay.
>== Here is Cavtat located ==
<googlemap lat="44.182204" lon="16.770996" zoom="6" controls="large" selector="yes" overview="yes" width="500" height="300">
42.581,18.218,Here is Cavtat. Use the mouse and the +/- buttons on the left to navigate within the map.
</googlemap>
Use the mouse and the +/- buttons on the left to navigate within the map of Cavtat.
---
How to get to Cavtat

In Cavtat you can come with all the means of transportation other than by train.
Airport Dubrovnik, is located in Cilipi, 5 km from the town of Cavtat. Local transfer to Cavtat, during the entire day at their disposal is a taxi service.
Map of Cavtat
UNIQf12aad980582e439-googlemap-00000000-QINU
Pictures of Cavtat

History of Cavtat
History speaks about life in this region since the paleolitic and neolitic time four millennia before our era. From the fourth and fifth centuries before our era, these are the areas which were settled by illyrian tribe, that in the second century BC possessed by the Romans. In early 7. century in Europe and in these areas come Avarian and Slavic tribes that have been conquered Epidaurus as a whole and Konavle, enfranchises when the residents of the Illyrians and Romans.
In 14. The Konavle come under the authority of the Republic of Dubrovnik, when they were sold Dubrovnik from the then owner, the Bosnian nobles. Konavle the Dubrovnik Republic were of exceptional importance for agriculture, livestock and shipping, and of strategic importance. Dubrovnik all the time of his rule, as well as their other possessions, ably and effectively held power, headed by the Konavle was the prince, who is in his seat in the house Pridvorju.
1807. The fall of the Republic of Dubrovnik, Konavle short cross under French administration, and then come under the rule of the Austro-Hungarian Empire, under which remain until its dissolution of 1918. g.i to the establishment of the Kingdom of Yugoslavia. After World War II Konavle are within the borders of the Federal Republic of Croatia, an integral part of Socialist Yugoslavia.
What to see in Cavtat
Franciscan monastery – there is a village Pridvorje, in the central part of Konavle. It was built in the Renaissance style. HERE are often organized pilgrimages to the monastery, where is a rich collection of alms, one of the most beautiful Pridvorski crucifix, made of wood.
Prince's Palace-collection Baltazar Bogisic – during his career, he collected various items and documents that are stored in the collection, which today has over 35 000 cases. It is Numismatic Collection (2700 copies), and there is a rich library of this period, which is considered one of most precious monumental libraries in Croatia.
Excursions in the region of Cavtat
Because of their accommodation from Cavtat, you can easily see some attractive places around: panorama Dubrovnik, Korcula, Mljet, Medjugorje, Mostar, the Neretva River Delta, Elafit Islands, Pelješka wine roads, Trsteno and Ondo….
Sea trails – (recreational riding) – half day tours are organized or you can visit Konavle over rocks, with a beautiful view of the blue Adriatic.
Accomodations in Cavtat
Hotels in Cavtat
Camping in Cavtat
Private accomodations in Cavtat
RSS feed konnte von http://www.istrien.info/xml_rss.php?name=&owner=0&number=&type=0&lot_type=2&region=7&subregion=25&city=181&language=1 nicht geladen werden!
>> More apartments in Cavtat can be found here.
Weather in Cavtat
Below you see the current weather forecast for Cavtat. The climate table of Cavtat tells you which temperatures can be expected for each month.
Current weather in Cavtat and a 7-day weather forecast for Cavtat
UNIQf12aad980582e439-weather-00000003-QINU
Climate in Cavtat
| | | | | | | | | | | | | |
| --- | --- | --- | --- | --- | --- | --- | --- | --- | --- | --- | --- | --- |
| Climate in Cavtat | Jan | Feb | Mar | Apr | May | Jun | Jul | Aug | Sep | Oct | Nov | Dec |
| Max. Temperature | 11 | 12 | 14 | 17 | 22 | 25 | 28 | 28 | 26 | 21 | 17 | 13 |
| Min. Temperature | 5 | 6 | 8 | 11 | 15 | 18 | 21 | 21 | 18 | 14 | 10 | 7 |
| Hours of Sunshine | 4 | 5 | 6 | 7 | 9 | 10 | 11 | 10 | 9 | 7 | 4 | 3 |
| Rainy Days | 11 | 10 | 9 | 8 | 7 | 4 | 3 | 3 | 6 | 9 | 11 | 13 |
| Water temperature of the Adriatic Sea | 13 | 13 | 14 | 15 | 17 | 22 | 23 | 24 | 22 | 21 | 18 | 15 |
Sports & leisure opportunities in Cavtat
Riding centre Kojan Koral, which is located in Popovici very professionally managed, offers half day tours where you can enjoy some of the most beautiful Kaonavle starters.
Jeep safari – for all those who want to experience the adventure of Konavle way. The wide choice of sporting activities, which can complete their vacation in Cavtat, some of them are:
Tennis
Football
Handball
Beach volleyball
Jet-ski
Boats for fun
Ship excursions
Diving
Dive Centre at the same hotel Epidaurum
Panorama Flights
A flight over Dubrovnik, Cavtat, Elafite and costs around 40 euros and lasts for half an hour.
Where to eat in Cavtat
Many restaurants and taverns in Cavtat, his gastronomic offer based on the Dalmatian and Mediterranean cuisine: fish, vegetables and olive oil. In many taverns and rural households in the unique atmosphere of old houses is offered domestic and healthy food prepared in the traditional way. Various meat, and even fish dishes prepared under a baking lid, local ham and cheese from oil, green menestra and other homemade dishes are an excellent supplement to the Dalmatian fish cuisine. Konavoski wine-makers, following the world trends, products authentic wines that perfectly match with local food specialties. Some of the restaurants are:
Restaurant DALMACIJA
Restaurant LEUT
Restaurant IVAN
Restaurant DOLIUM
Restaurant JAKANOV PALACE
Beaches in Cavtat
Because of the hotel and apartment in Cavtat, the beaches are mostly concrete, but there are also rocky beach, where you can enjoy the crystal blue sea, and you can find some hidden corner. In the bottom of the bay of the port city built in the Silent tourist and catering facilities are located beach with long shores all the way to Cape Prahljevca.
Beach at the Hotel Supetar
pebble beach in front of the Hotel Albatros
Blue Flag beaches in Cavtat
The rocky beach belongs to hotel complex Croatia in Cavtat, 20 km from Dubrovnik.
Nightlife and entertainment in Cavtat
Have fun in Cavtat by the famous pop cultural event Cavtatsko Ljeto, which is held every year in the period from late June to early September, offering a variety of cultural and entertainment programs. Within Cavtatsko Ljeto, mostly in the summer Cavtat stages in the open, are places where are held numerous events and concerts: classical music concerts, concerts gangs, folklore events, performances of dance groups, street entertainer …
Night life in Cavtat is a typical night life small town on the coast, where local bars can very easily become a place of fun, with cheerful music and society, which promotes dance till early morning.
Cultural events in Cavtat
Of the fixed events in Cavtat, the most notable is Cavtatsko summer with a number of cultural evenings gangs, folklore and sports tournaments. However, the most sacramentally is the feast of Our Lady of Snow, when the next religious ceremony celebrated a National Day of Thanksgiving. During carnival celebrations, there is held Mali carnival-fest. Over and Dubrovnik airport "Cilipi" Cavtat is well connected with major traffic centers, a local boats and buses with nearby the surrounding area.
Videos of Cavtat
Below you can find travel videos from Cavtat. The videos from Cavtat are provided by CroVideos.com, the video portal for Croatia.
Discussions about Cavtat
Do you have more questions about Cavtat? Have a look at the Istria.info Forum and get more tipps about Cavtat.
RSS feed konnte von http://www.istrien.info/forum/rss/rss4forum.php?lang=en&keyword=cavtat&searchby=posttext nicht geladen werden!
Useful links
For more Info go to Cavtat24.com
---
This article needs your support to be finished. If you know more about Cavtat please add your knowledge to this article. On this page you can find more information of how you can contribute to this wiki.