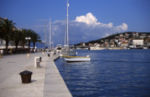 The center of Trogir belongs to the UNESCO's World Heritage. Trogir lies 20 km to the west from Split.
In the town of Trogir in the west of the bay Kastelanski zaljev, lives 8,500 residents. The root of the town was made in the 2nd Century before Christ. Over time, the fortified island city is extended in Trogirski channel on the island of Ciovo and the mainland. Since 1997, the old town of Trogir can be found on the UNESCO World Heritage Site.
Here is Trogir located
UNIQe26380676ba180fa-googlemap-00000000-QINU
Use the mouse and the +/- buttons on the left to navigate within the map of Trogir.
How to get to Trogir
By car you can get trough the newly built highway Zagreb–Split (A-1) to Trogir.
From the highway exit leads the way through Labin Dalmatinski and Plano to Jadranska Magistrala north of Split airport, just east to Trogir. It crosses the Jadranska Magistrala and just drive to the west on the old course of the coastal road to the center of Trogir. The distance from the exit to Prgomet-Trogir is about 20 km.
West of the branch to the Island Ciovo and the local market is a paid public parking.
In Kastela (Resnik), is located the International Airport Split/Kastela.
Between the city of Split and Kastela, pass the airport to get to Trogir where operates regular scheduled bus service. The bus runs on the road along the airport parking.
Map of Trogir
UNIQe26380676ba180fa-googlemap-00000001-QINU
Pictures of Trogir
Trogirski kanal and view on the Old town

Kastel Kamerlengo in Old town of Trogir
History of Trogir
Trough the history Trogir was a part of the Dalmatia region. The Vienna Kongresss from 1815, the affiliation of Dalmatia in Austria and Trogir has been administratively assigned to the city of Split. Trogir received only a municipal administration. After the decline of the Austrian domination in 1918 the Italians tried again, but unsuccessful, to set their reign on this place. Instead, it created the Kingdom of Serbs, Croats and Slovenia and then the Kingdom of Yugoslavia. In these years, Trogir by political power struggles drawn. The city of Trogir also survived the Second World War without prejudice. After the Second World War, Trogir developed primarily as an industrial city (plastics processing).
In 1997, the old part of town was appointed as UNESCO World Heritage. The old town of Trogir presents itself today as a living museum.
What to see in Trogir
The old town has a lot of churches, villas and town houses, almost all built between the 13th and 17th Century and in all of these is still present the spirit of an ancient past.
Landtor with the statue of the town Giovanni Orsini
Entrance portal of the cathedral and baptistery
Cathedral of St. Lawrence
place Ivana Pavla II with City Hall, City Loggia and Clock Tower
City loggia with clock tower
City loggia with relief on the court table
Cipiko Palace
Church of St. John the Baptist
Church of St. Barbara
Benedictine monastery Sv. Nikolaus
Fortress Kamerlengo
Seetor – Southern town
Peter Church
Excursions in the region of Trogir
Here are organized excursions to the beautiful Croatian islands and the untouched national parks and most beautiful cities of the Adriatic coast;
Krka National Park – falls of this river are one of the phenomena with 17 kaskasds where the sunshine and water are playing and trough their game they are creating a magnificent contrast of nature .
Kornati National Park – archipelago consisted of 140 islands and islets. A pleasant voyage between the islands of the group will bring you up to one of them where you can enjoy the beautiful nature and lunch of grilled fish and wine, which will contribute to relaxing atmosphere.
Fish Picnic – all day cruise, for those who love the sea, its beauty and typical Dalmatian atmosphere: sunbathing, swimming, track, good local wine and fresh grilled fish.
Accomodations in Trogir
Hotels in Trogir
Camping in Trogir
Private accomodations in Trogir
RSS feed konnte von http://www.istrien.info/xml_rss.php?name=&owner=0&number=&type=0&lot_type=2&region=7&subregion=41&city=0&language=1 nicht geladen werden!
>> More apartments in Trogir can be found here.
Weather in Trogir
Below you see the current weather forecast for Trogir. The climate table of Trogir tells you which temperatures can be expected for each month.
Current weather in Trogir and a 7-day weather forecast for Trogir
UNIQe26380676ba180fa-weather-00000004-QINU
Climate in Trogir
| | | | | | | | | | | | | |
| --- | --- | --- | --- | --- | --- | --- | --- | --- | --- | --- | --- | --- |
| Climate in Trogir | Jan | Feb | Mar | Apr | May | Jun | Jul | Aug | Sep | Oct | Nov | Dec |
| Max. Temperature | 11 | 12 | 14 | 17 | 22 | 25 | 28 | 28 | 26 | 21 | 17 | 13 |
| Min. Temperature | 5 | 6 | 8 | 11 | 15 | 18 | 21 | 21 | 18 | 14 | 10 | 7 |
| Hours of Sunshine | 4 | 5 | 6 | 7 | 9 | 10 | 11 | 10 | 9 | 7 | 4 | 3 |
| Rainy Days | 11 | 10 | 9 | 8 | 7 | 4 | 3 | 3 | 6 | 9 | 11 | 13 |
| Water temperature of the Adriatic Sea | 13 | 13 | 14 | 15 | 17 | 22 | 23 | 24 | 22 | 21 | 18 | 15 |
Sports & leisure opportunities in Trogir
This beautiful environment provides various opportunities for an active vacations, and for those who like to feel the adrenalin:
Buggy safari – adventures that will leave you breathless, while driving his Quad / Buggy vehicle paths, through the unique environment Dalmatian islands, explore and enjoy the beautiful nature of Dalmatia.
Canoe safari – the usual stories about sunbathing on the sandy beach replace their summer holidays in the unique environment of the canyon Cetina.
Canyoning – feel the adrenalin in the surrounding canyons Cetina.
Where to eat in Trogir
Try the famous home-made recipes that are offered here in many restaurants and a wide selection of Croatian and international wines:
Restaurant ALKA, Trogir
Inn AMOR, Seget Lower
Restaurant Ancora 1, Trogir
Restaurant BARBA, Seget Lower
Property fast food (fast food) BEBA, Trogir
Restaurant BELLVEDERE, Trogir
Tavern CAPO I, Trogir
Restaurant CLUB R 78, Trogir
Pizzeria COCCOLO, Trogir
Restaurant ČELICA, Trogir
Pizzeria ELF, Trogir
Restaurant FONTANA, Trogir
Restaurant FRANKIE, Seget Lower
Bistro JAMBO, Trogir
Restaurant KAMERLENGO, Trogir
Tavern KORNIŽA, Trogir
Pizzeria KRISTIJAN, Trogir
Restaurant MAESTAL, Plano
Beaches in Trogir
Trogir Riviera has one public beach suitable for all generations. Many of them are great for families with small children,
Pantan Beach- it is 500m long gravel and sandy beach placed in the shadow of pines.
Okrug Beach is the most popular beach on Trogir's riviera. It is long gravel beach that is also called "Copacabana" with a large number of bars and restaurants and good offer of nightlife and sports activities.
Kava Beach is placed on the eastern part of the Ciovo Island, in the beautiful inlet. It is famous natural beach
Medena Beach in Seget
Nightlife and entertainment in Trogir
Trogir has a rich offer of nightlife, dance entertainment on the open terraces, live music for all generations, party, disco clubs, festivals, concerts, gangs… Night life for young people in Trogir offers a wide range of an attractive restaurants and cafes to the popular disco in the vicinity where the fun lasts throughout the evening.
In Trogir are organized many fishing festivals and folklore festivals and concerts of classical music.
SMOKVICA Bar & Café – an attractive place for all ages in the middle of the City Core, behind the St. Johns cathedral.
CAPO Bar – placed in the center of Trogirs nightlife, during the summer period is opened every day from 09:00 till 03:00
St.DOMINIC Restaurant – Pizzeria – Cocktail bar – place with an excellent atmosphere near the Dominican monastery from the 12th century.
Cultural events in Trogir
In Trogir is organized The Summer of Trogir, where many events take place like exhibitions, concerts …
Also are organized international film festivals in Trogir.
Many interesting events includes lively fisherman's nights and folklore festivals, classical music concerts in a special environments.
Trogir-weeks / Trogirski tjedni during July / August
Videos of Trogir
Below you can find travel videos from Trogir. The videos from Trogir are provided by CroVideos.com, the video portal for Croatia.
Discussions about Trogir
Do you have more questions about Trogir? Have a look at the Istria.info Forum and get more tipps about Trogir.
RSS feed konnte von http://www.istrien.info/forum/rss/rss4forum.php?lang=en&keyword=trogir&searchby=posttext nicht geladen werden!
Useful links
For more Info go to Trogir24.com
---
This article needs your support to be finished. If you know more about Trogir please add your knowledge to this article. On this page you can find more information of how you can contribute to this wiki.