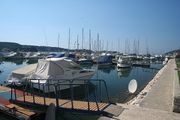 Supetarska Draga is a place in the north on the island of Rab, between Lopar and the City of Rab. Both sides of the bay separate places Donja Supetarska Draga and Gornja Supetarska Draga.
Supetarska Draga is placed in a fertile valley as well known as Mundanije. Here, are present mixes of modern and traditional life, which reflects also on offer for tourists. Many visitors have already become regular guests at both locations and draw more and more visitors in its spell. For the boaters is Gornja Supetarska Draga with the Aci Marina particularly interesting and in a short time, the nearby small islands Maman, Srednjak or Sailovac can be reached. These are characterized by their pure and beautiful sandy beaches as well as through its protected bays.
The Draga bay and the wind, with its shallow water is very calm. These are the reasons of nesting many bird species in this place.
>== Here is Supetarska Draga located==
<googlemap lat="44.980342" lon="14.831543" zoom="7" controls="big" selector="yes" overview="yes" width="500" height="300">
44.798,14.725, Here is Supetarska Draga located. Use the mouse and the +/- buttons to navigate the map of Supetarska Draga.
</googlemap>
Use the mouse and the +/- buttons to navigate the map of Supetarska Draga.
---
How to get to Supetarska Draga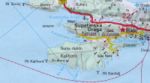 Supetarska Draga lies on the direct road between Lopar and Rab. It is reachable from Rijeka by ferry and has a good connections.
Map of Supetarska Draga
UNIQ3d68a9a59cdce39b-googlemap-00000000-QINU
Pictures of Supetarska Draga
History of Supetarska Draga
The name is derived from the former Benedictine monastery of St. Peter in Draga, which is a gift of Rab's citizens to the priesthood. Supetarska Draga is now divided in two parts – Gornja and Donja Supetarska Draga. Detailed informations should be provided in the local sides of two places.
What to see in Supetarska Draga
Roman basilica of St. Peter (Bazilika St. Petar) from the 11th Century
the bell tower, the oldest bell in Croatia
Church of St. Petar – in 1059 was built the church as a part of monastery. The monastery founded it as a gift from Rab's citizens. The church is considered as one of the best preserved Roman structures on the Adriatic coast. There is the bell tower, the oldest bell used in Croatia.
Excursions in the region of Supetarska Draga
Here you will enjoy in a magnificent surroundings and a number of lovely and unforgettable one-day trips. Visit the town of Rab and the nearby islands, the island of Kosljun, go on an excursions to the national parks of Paklenica, the Kornati Islands and Plitvice Lakes.
Accomodations in Supetarska Draga
Hotels in Supetarska Draga
Camping in Supetarska Draga
Private accomodations in Supetarska Draga
RSS feed konnte von http://www.istrien.info/xml_rss.php?name=&owner=0&number=&type=0&lot_type=2&region=5&subregion=11&city=27&language=1 nicht geladen werden!
>> More apartments in Supetarska Draga can be found here.
Weather in Supetarska Draga
Below you see the current weather forecast for Supetarska Draga. The climate table of Supetarska Draga tells you which temperatures can be expected for each month.
Current weather in Supetarska Draga and a 7-day weather forecast for Supetarska Draga
UNIQ3d68a9a59cdce39b-weather-00000003-QINU
Climate in Supetarska Draga
| | | | | | | | | | | | | |
| --- | --- | --- | --- | --- | --- | --- | --- | --- | --- | --- | --- | --- |
| Climate in Supetarska Draga | Jan | Feb | Mar | Apr | May | Jun | Jul | Aug | Sep | Oct | Nov | Dec |
| Max. Temperature | 8 | 10 | 12 | 16 | 21 | 25 | 29 | 28 | 24 | 19 | 14 | 10 |
| Min. Temperature | 2 | 3 | 5 | 8 | 12 | 15 | 18 | 18 | 15 | 11 | 7 | 3 |
| Hours of Sunshine | 4 | 4 | 6 | 7 | 6 | 10 | 11 | 10 | 8 | 6 | 4 | 3 |
| Rainy Days | 7 | 6 | 7 | 7 | 6 | 5 | 4 | 4 | 5 | 7 | 9 | 9 |
| Water temperature of the Adriatic Sea | 11 | 10 | 11 | 13 | 17 | 21 | 23 | 24 | 22 | 19 | 16 | 13 |
Sports & leisure opportunities in Supetarska Draga
For lovers of an active holidays there are various possibilities of sport and recreation from diving, water skiing, jet-skiing, surfing, rafting to parachuting, tennis, sand volleyball, football, basketball, handball, tennis, mini golf, bowling, cycling, trekking, etc.
Where to eat in Supetarska Draga
Restaurant Bili As
Zlatni Zalaz in Supetarska Draga
Restaurant Gondola in Supetarska Draga
Restaurant Royal in Supetarska Draga
Restaurant Gurman in Supetarska Draga
Restaurant Vojko in ACI-Marina
Beaches in Supetarska Draga
Many beautiful beaches are stretching along the bay. The settlement is very interesting to sailors which can quickly get to the nearby islands (Maman, Sridnjak and Sailovac) and bays with a beautiful sand in which will be fully protected from the wind. It is haven on the Earth because here you will find all you need for quality vacation.
Nightlife and entertainment in Supetarska Draga
Several caffe bars and clubs provides good fun and amusement, especially during the summer.
Cultural events in Supetarska Draga
9th May – Rab Town Annual Day, with special program
25th May – International kayak regatta – Rab 2008, Rab harbor at 08:00
arrival of the regatta from Rimini
exhibition of painters from San Marino
performance by LADO national folk ensemble
Medieval tournament between San Marino and the crossbowmen of Rab
26th June Opening of Rab Musical Evenings – performance by the Rab gangs ensembles, Church of the Holy Cross (Crkva Sv. Križa) at 21:00
29th June – St. Peter's Celebration in Supetarska Draga
Videos of Supetarska Draga
Below you can find travel videos from Supetarska Draga. The videos from Supetarska Draga are provided by CroVideos.com, the video portal for Croatia.
RSS feed konnte von http://www.crovideos.com/rss_search.php?searchkey=rab nicht geladen werden!
Discussions about Supetarska Draga
Do you have more questions about Supetarska Draga? Have a look at the Istria.info Forum and get more tipps about Supetarska Draga.
RSS feed konnte von http://www.istrien.info/forum/rss/rss4forum.php?lang=en&keyword=rab&searchby=posttext nicht geladen werden!
Useful links
For more Info go to Rab24.com