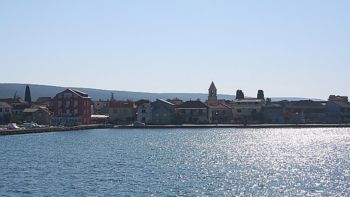 Sukosan is a place in the region of Zadar.
Sukosan is a village located in a Golden Bay port, which is located 10 km southeast from Zadar, where lives about 3000 inhabitants. The main occupations in Sukosan are farming, viticulture, olives, fruit growing and tourism. To Sukosan municipality belongs the town Debeljak, Glavica and Gorica. There is a marina "Dalmacija", which is a real paradise for boaters.
Sukosan is located in a quiet bay with a beautiful beaches and sandy seabed. The beaches are ideal for children and non-swimmers.
Here is Sukosan located
UNIQf392173b01543a28-googlemap-00000000-QINU
Use the mouse and the +/- buttons on the left to navigate within the map of Sukosan.
How to get to Sukosan
Sukosan is located only 10 kilometers from Zadar, which is the main connection to other cities in Croatia. You can get there by
car,
bus,
ferry or
plane to the airport Zemunik.
Map of Sukosan
UNIQf392173b01543a28-googlemap-00000001-QINU
Pictures of Sukosan
History of Sukosan
It is not know exactly when Sukosan is developed as a town, but some historical remains in his surroundings indicate the possibility of the time of the Roman reign. The first written mention dates from 1289 year, so the previous existence is not known.
Probably in the 11th Century was built the parish church of St. Cassianus (fragments with motives of the Ornamenting) and got in the 17th Century its present appearance.
At the local cemetery is a small church from the 17th Century;with Ornamenting.
On the small island in the bay you can find the remains of a wall raised in 15th century, by the archbishops of Zadar.
On the Bribircina Cape were discovered remains of a medieval fortress, was built by the Prince of Bribir.
About 3.5 km northeast of the town on the road is placed a medieval chapel, next to an old cemetery.
What to see in Sukosan
Church of St. Kasijana – the church is located in the old village, a beautiful stone building with details of Romanesque and Baroque style, which is in this form from the 17th Ct. Next to it is bell tower from the 20th century. Church Yard is surrounded with high stone wall, "Below kampanela" which becomes during the summer a unique stage on which are held concerts.
The church of St. Martin – the Romanesque building stylistic characteristics, located in the area Kastelina. It is a witness of history of this region, which in several occasions has been ruinous.
Upper door – they were built by Venetian authorities 1468-1470, to protect a village and people
Excursions in the region of Sukosan
Numerous agencies organize one-day trips from Sukosan to attractive nearby villages in this part of the county. It also offers a rafting trip on the wild waters of which you do not have to be even athlete nor a good rower.
Accommodations in Sukosan
Hotels in Sukosan
Camping in Sukosan
Camping in the region of Zadar
Private accommodations in Sukosan
RSS feed konnte von http://www.istrien.info/xml_rss.php?name=&owner=0&number=&type=0&lot_type=2&region=7&subregion=22&city=109&language=1 nicht geladen werden!
>> More apartments in Sukosan can be found here.
Weather in Sukosan
Below you see the current weather forecast for Sukosan. The climate table of Sukosan tells you which temperatures can be expected for each month.
Current weather in Sukosan and a 7-day weather forecast for Sukosan
UNIQf392173b01543a28-weather-00000004-QINU
Climate in Sukosan
| | | | | | | | | | | | | |
| --- | --- | --- | --- | --- | --- | --- | --- | --- | --- | --- | --- | --- |
| Climate in Sukosan | Jan | Feb | Mar | Apr | May | Jun | Jul | Aug | Sep | Oct | Nov | Dec |
| Max. Temperature | 11 | 12 | 14 | 17 | 22 | 25 | 28 | 28 | 26 | 21 | 17 | 13 |
| Min. Temperature | 5 | 6 | 8 | 11 | 15 | 18 | 21 | 21 | 18 | 14 | 10 | 7 |
| Hours of Sunshine | 4 | 5 | 6 | 7 | 9 | 10 | 11 | 10 | 9 | 7 | 4 | 3 |
| Rainy Days | 11 | 10 | 9 | 8 | 7 | 4 | 3 | 3 | 6 | 9 | 11 | 13 |
| Water temperature of the Adriatic Sea | 13 | 13 | 14 | 15 | 17 | 22 | 23 | 24 | 22 | 21 | 18 | 15 |
Sports & leisure opportunities in Sukosan
Beautiful nature is suitable for walks and bike rides and has the ideal conditions for sailing… There are several playgrounds in the open, gym, which will satisfy all who want to be active on vacation. There are offered various opportunities for sports such as:
Beach Volleyball – known for volleyball courts on the beach near the Cross "and" Makarska "
Hiking, jogging – cycling
Windsurfing – due to the vicinity of the island sailing is quite safe and boarding as well- for all lovers regardless of the level of knowledge and skills
Rafting – on the river Zrmanja
Where to eat in Sukosan
ANGELA Restaurant, Sukosan
Restaurant BELVEDERE, Sukosan
Restaurant BEPO, Sukosan
Restaurant DOMAGOJ, Sukosan
Restaurant GAJETA, Sukosan
Tavern KALETA, Sukosan
Tavern KOD GUSTE, Sukosan
Restaurant LAGUNA, Sukosan
Restaurant MARKO, Sukosan
Tavern MEDITERANNEO, Sukosan
Beaches in Sukosan
Children's paradise (Djecji Raj)- because of shallows and sand on the bottom this beach is known as a paradise for children. You can rent deck chairs and pedal boats, refresh yourself with the ice-cream or drink. Have a drink in one of the cafes on the beach which is also equipped with showers, cabins and eco-toilets there.
Gold port (Zlatna Luka) – located at the entrance to the Sukosan from the direction of Zadar. Covered with pebble, and surrounded with pine trees provides natural shade during the hot summer days. The beach has showers, cabins and ecological toilets.
Makarska – is equipped with showers, cabins for shift and eco-toilets there. Nearby there is a playground for beach volleyball, basketball court and boccie field.
Nightlife and entertainment in Sukosan
Sukosan night life in the heart of the season offers you really good entertainment. The place is ideal for all those who want good fun, all night long…
Sukošansko lito – you can have fun along the Dalmatian song, dance and the rich offer of Dalmatian specialties
You can visit some of the bars:
Cafe bar SUNSET,
Cafe bar FORTUNA,
Cafe bar BARBIR,
Cafe bar BARBA
Cafe bar KASIJAN
Cultural events in Sukosan
Sukosan-old customs are maintained, especially the day of St. Cassianus. For entertainment is also provided, the annual "Nights of Sukosan.
St. Kasijana feast – patron of Sukosan, celebrated on 13th August, around the town believers go bringing his statue
Creative fest – Poleti galebe, poleti – which is held on 20th July in sports center with singing and dancing by youngest singer, and a
Performances and clown of puppeteer
Concerts of pop stars
"Beach party" with various sweepstakes,,
Folk evening
Videos of Sukosan
Below you can find travel videos from Sukosan. The videos from Sukosan are provided by CroVideos.com, the video portal for Croatia.
RSS feed konnte von http://www.crovideos.com/rss_search.php?searchkey=zadar nicht geladen werden!
Discussions about Sukosan
Do you have more questions about Sukosan? Have a look at the Istria.info Forum and get more tipps about Sukosan.
RSS feed konnte von http://www.istrien.info/forum/rss/rss4forum.php?lang=en&keyword=zadar&searchby=posttext nicht geladen werden!
Useful links
For more Info go to Sukosan24.com
---
This article needs your support to be finished. If you know more about Sukosan please add your knowledge to this article. On this page you can find more information of how you can contribute to this wiki.