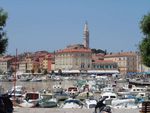 Rovinj (approx. 13,550 inhabitants) ranks among the most beautiful places of the Adriatic. It is a picturesque Istrian town known as an oasis of beautiful nature and exceptionally agreeable climate. Rovinj's area has a very developed tourism and offers recovery in pictorial landscapes and protected areas.
Certainly, this town in Istria is not to be missed in terms of its setting and scenic delicacy. It is a very romantic place with splendid Venetian Renaissance and Baroque monuments and churches.
The Rovinj coastal area is full of numerous bays, creeks, and capes where you will find places of great natural and ecological value.
The town of Rovinj has a rich history and an interesting architectural buildings, beautiful natural resources as well and many other sights are worth a visit.
Here is Rovinj located
UNIQcef9c519eda7af4a-googlemap-00000000-QINU
Use the mouse and the +/- buttons on the left to navigate within the map of Rovinj.
How to get to Rovinj
Rovinj lies between Porec and Pula and is the most reachable with the car. If you come from the coastal road, there is a branching with the cloister. Left is the bus station, where are few, but free parking lots. You come right off to a large chargeable parking lot at the bank promenade. In the range of the hotel Eden many parking lots (free) are close to the bank promenade in the side streets.
The parking lot at the bank promenade (port) is good to reach, it is liable to pay the costs. From here it is fast to came into the old part of town. In the pre or off-season here you can always get a parking lot.
City map of Rovinj
UNIQcef9c519eda7af4a-googlemap-00000001-QINU
Picture gallery for Rovinj

Insight into history of Rovinj
Before the Romans had conquered the city, it was probably settled by the Illyrians. it was mentioned in 7th.ct. for the first time as "Ruigno" and "Rovignio". In 788.y. they became a part of the Frankish realm, according to which some changes took place, until they felt in 1283 at Venice. This epoch coined/shaped Rovinj as city. Like all other istrian cities Rovinj belonged starting from 1797 to Austria Hungary. From the First World War to finally 1945, it stood the last mark under foreign rule (1920 – 1943 Italian, 1943 – 1945 German), starting from 1945 to Croatia and Yugoslavia.
1963 were explained Rovinj as the cultural monument.
What to see in Rovinj
Rovinj offers some fine monuments as well as cultural events such as an International Pop festival in the summer, and International Art Exhibition on the 2nd Sunday of August, and the day of its patron – St Euphemia's day (16th of September).
Also visit the Institute of Marine Biology, which was founded in the late 19th century and has an aquarium. Nearby is the islands of Crveni otok that can be explored.
The old part of town resembles an island of rising steep lanes, because of whose are shaped foot lively fishing and trip port. It is a typical example of transformation a medieval to admire mediterranen city, in which a multiplicity of the old buildings establishes. The paved lanes closed by the lack of space and are reminder of past times. The oldest building of the city is a Roman church from that 13. Ct. which is on the Trg Lokvi.
Fortress walls & city gates: in 7. Ct. was built a Townwalls, which was strengthened with fortress towers. By that originally seven town-gates still three are present: the gate of the holy Benedict, the Portica and the gate of the holy cross. In place of the outside city gate became in 17. ct. is placed the baroque Balbi elbow, which forms today the entrance to the old part of town.
Cathedral of St. Eufemija
is a most famous structure which is the name of the patron saint of the town. It was built in the 18.ct., and it dominates the whole old town centre.
Museum of the town Rovinj
An impressive building of Baroque at the "Zavicajni muzej grada Rovinja". In the ground floor you will find archaeological finds, Stick of pictures Croatian, in addition, German and Italian painter are issued (15. – 19. St.). Also collections are exhibited in the city museum (also local history museum called):
The collection of the old masters (artists of 15. up to 19. St.)
An archaeological collection from the primeval times to the Middle Ages from Rovinj and environment.
The library "Stancoviciana", a book and a pressure collection from the beginnings 16. St. up to 19. St.
A collection of contemporary Croatian art, sculptures and paintings of the last decades.
A department of this collection consists of works of the painter Vilko Seferov, which gave about 100 of its pictures of the city Rovinj.
Places of excursions near Rovinj
Interesting localities in the environment from Rovinj are:
Bale
Vodnjan
Fazana
Pula
Vrsar
Porec
It is a pleasure to make a cruising along the extensive bank promenade. It runs approximately around the promontory of the old part of town and the harbor basin. There are large selections of cafes and restaurants. Further around the church hills, you come to the Square Valdibora. There it is somewhat calmer and you will find even rock niches for swimming.
Forest park Zlatni blank in Rovinj
Palud moorland
Quarry Fantazija
The aquarium is here: Obala G.Paliage 5, but it is in a bad condition, the animals can do wrong.
The local history museum is briefly before the Trg M.Tita and is opened all year round. To admiring there are archaeological and ethnologic collections.
Islands in front of Rovinj
Island Katarina – the hotel Katerina lies in the harbor basin of Rovinj and on it is in placed on this island
Red Island (Croatian: Crveni Otok) – lies in the southwest of the city not far from Zlatni blank and the Hotel Sol Club Istra in Rovinj is on this island. In former times here was settled the monastery st.Andrija.
Island Banjol, island Muntravo and island Sameri are appropriate north from the red island.
Island Sturag, island Sveti Ivan and island Sveti Ivan as well with lighthouse are appropriate south from the red island
Island Piruzi, island Maskin, island Polari, island Revera and island Vestar are appropriate east for the red island
Island Mali Sestrica, island Veli Sestrica, island Gustinja, island Pisulj, island Kolona and island Porer before Barbariga lie south the vacation settlement of Rovinj toward Barbariga.
Island Veli Figarola and island Mali Figarola are appropriate north from the city in the bay Valdibora
Accommodations in Rovinj
Hotels in Rovinj
Apartment Settlements Vilas Rubin in Rovinj **
Hotel Montauro in Rovinj **
Hotel Monte Mulini in Rovinj **
Hotel Rovinj in Rovinj **
Hotel Valdaliso in Rovinj **
Appartmenthotel Villa Coc in Rovinj ****
Hotel Sol Inn Adriatic in Rovinj ***
Hotel Vila Lili in Rovinj ***
Holiday Village Valalta in Rovinj ***
Appartments Villa Valdibora in Rovinj ****
Hotel Angelo Di Oro in Rovinj ****
Hotel Eden in Rovinj ****
Hotel Park in Rovinj ****
Hotel Adriatic in Rovinj ****
Hotel Istra in Rovinj****
on the Island Katarina in Rovinj
Hotel Katerina in Rovinj **
on the Red Island bei Rovinj
Hotel Sol Club Istra in Rovinj ****
Camping in Rovinj
Camping Amarin Rovinj
Camping Polari Rovinj
Camping Porton Biondi Rovinj
Camping Valalta Rovinj
Camping Valdaliso Rovinj
Camping Vestar Rovinj
Camping Villas Rubin Rovinj
Small camps in the region of Rovinj
Camping Mon Paradiso Rovinj
Camping Savinjska Dolina Rovinj
Camping Spandiga Rovinj
Camping Ulika Rovinj
Camping Colona Bale
Camping San Polo Bale
Private accommodations in Rovinj
RSS feed konnte von http://www.istrien.info/xml_rss.php?name=&owner=0&number=&type=0&lot_type=2&region=3&subregion=10&city=0&language=1 nicht geladen werden!
>> More apartments in Rovinj can be found here.
Weather in Rovinj
Below you see the current weather forecast for Rovinj. The climate table of Rovinj tells you which temperatures can be expected for each month.
Current weather in Rovinj and a 7-day weather forecast for Rovinj
UNIQcef9c519eda7af4a-weather-00000004-QINU
Climate in Rovinj
| | | | | | | | | | | | | |
| --- | --- | --- | --- | --- | --- | --- | --- | --- | --- | --- | --- | --- |
| Climate in Rovinj | Jan | Feb | Mar | Apr | May | Jun | Jul | Aug | Sep | Oct | Nov | Dec |
| Max. Temperature | 8 | 10 | 12 | 16 | 21 | 25 | 29 | 28 | 24 | 19 | 14 | 10 |
| Min. Temperature | 2 | 3 | 5 | 8 | 12 | 15 | 18 | 18 | 15 | 11 | 7 | 3 |
| Hours of Sunshine | 4 | 4 | 6 | 7 | 6 | 10 | 11 | 10 | 8 | 6 | 4 | 3 |
| Rainy Days | 7 | 6 | 7 | 7 | 6 | 5 | 4 | 4 | 5 | 7 | 9 | 9 |
| Water temperature of the Adriatic Sea | 11 | 10 | 11 | 13 | 17 | 21 | 23 | 24 | 22 | 19 | 16 | 13 |
Sports & leisure time in Rovinj
Dip with diver eyeglasses and snorkel is permitted without special permission, for own security is however obligated the diver to pull with each dipping course a buoy with itself, swimming on the water surface. The immersion time is during the entire year from sunrise to sunset. Is permitted to films and photographing under water, but it is forbidden strengstens to remove and take something away from the bottom of the sea. Important tip for Croatia beginners: For dipping WITHOUT company of a dipping basis an annual fee is raised from 370 euro per person. Caution, it is controlled! Dipping devices on board are sufficient for a sensitive punishment.
Dipping centers:
Diving center Scuba Rovinj, Trg Mateotti 10
Scuba Valdaliso, TN Valdaliso, 52210 Rovinj, Website, E-Mail
Nadi Scuba, Uvala Valdibora, 52210 Rovinj, Website, E-Mail
Pingvin, Marka Marulića 1, 52210 Rovinj, E-Mail
Petra, Autocamp Valdaliso, 52210 Rovinj, Website, E-Mail
Diver sport center Rovinj, Turističko naselje Villas ruby, 52210 Rovinj, Website, [1]
Adriatic Aqua club D.C. Aqualung Diving, FKK Valalta, De Amicis 11, 52210 Rovinj, Website, E-Mail
To dip you can also go to camping Valalta
Dipping bottle rental business, and/or replenishment:
Sports center Polari, holidays settlement Villas ruby, Tel. 811-290/interne switching No. 380,
Club for underwater sport, Tel. 813-290, DIVER SPORT CENTER – Villas ruby, Tel. 816-648 Dipping into ports and on the navigation ways is generally forbidden strengstens. In the periphery of 500 meters around the wreck of the sunk ship "baron Gautsch" dipping is not permitted.
Further popular sport and leisure-time facilities in Rovinj
Tennis
Boat trips: To book directly at the landing places at the port in Rovinj. "Fish picknicks" and daily routes are offered after Venice.
Moped & wheels: Rental business offices are approximately around the bus station in Rovinj.
Insidertipp Freeclimbing: In Rovinj, on the southern side of the peninsula Muntrav, within the forest park "Zlatni blank" (golden cape), is a quarry. The cliffs, approx. 50 meters far away from the sea, rise up perpendicularly up and are a challenge for climers and are particularly suitable for climbing courses. Here are characterized and furnished over 50 different climbing directions in 4 places. The climbing area can of the center Rovinj to foot in a half hour be attained and by the hotels "Eden" and "Sol park" in 5-10 minutes.
Where to eat
Rovinj is the town that with its surrounding area offers many attractive places where you can enjoy in istrian specialities like specialist fish restaurants, wine cellars, taverns, patisseries, soft drinks bars, rotisseries and bars for all tastes and palates.
Some restaurants, Cafés and Bars are Bethlehem, Cantinon, Fontana, Giannino, Havana, Monte, Monte Carlo, Pizzeria da Sergio, Porat, Sigro, Toni, Valentino, Veli Jože, Viecia Batana and Zanzi Bar.
Some traditional specialities from Istria are: smoked ham, sheep milk cheese, truffles "Manestra",
Home-made pasta called "fuzi", gnocchi, lasagna, macaroni …
Beaches in Rovinj
Valalta
In order to make possible swimming also for those, which the stony coast does not tighten so much, the city Rovinj let cover in the last years a large number of beaches with fine flint. These beaches are in the Autocamp Villas ruby, into which are bays Kuvi and Lone and they are well visited, whereby you will find there also additional services such as cafes, bars, showers, toilets, changing rooms …
Salesmen very often pass over the beaches and offers cakes and beverages: out of hygenic reasons I guess/advise to rather go to the next cafe to bring along or simply own meal.
The beach in camping Valalta and the beach in Autocamp Villas ruby were distinguished in each case in the year 2000 and 2002 with the blue flag, which is lent under very strict criteria to particularly well equipped swimming resorts, which follow the given ecological standards. The entrance to the sea, which was adapted for handicapped ones, is control of the water quality and the Baywatch tower, from which the watchful eyes of the rescue floats guard the guests.
The two swim islands island Katarina and the red island are somewhat pedantic. At the island YOU WILL arrive only by ferry.
Much to recommend the beach of the holiday area is Villas ruby. Beach with lifeguard, WC, restaurants, child basin, water chute, unfortunately you can not drive since 2004 no more to the beach, it is however parking lots present, you will walk approx. 200-300m to the water.
Blueflag beaches in Rovinj
The beach "Zabavni Centar" TN Villas ruby: Rocky beach with concreted bath plateaus, approx. 3 km von Rovinj.
The beach A/C Polari: 2 km long rocky beach lies within the extensive and strongly wooded camping area. A part of the beach is reserved for FKK. 2, 5 km of the city centre.
The beach A/C Vestar: in a protected area convenient flint and rocky beach, 5 km von Rovinj.
The beach Amarin: 350 meters long beach in the holidays settlement Amarin
The beach of the camping Valalta: Homepage von Valalta
Nightlife and entertaining in Rovinj
Rovinj has a good offer and a lively nightlife. You can enjoy in music on terraces, on the Concerts of classical music in Franciscan monasterY or simply try some spirit of traditional the Rovinjska fešta.
The festival of pop music and other inrteresting events are always roled by the sea. With a glass of Istrian wine and a good company you will spend unforgettable moments.
Here is placed the most famous istrian fun center MONVI – only 1 km away from the center of Rovinj, next to hotel "Eden". It covers an area of 6000 m2 providing all kind of entertainment and fun for all ages and testes all night long.
Some entertainment you will find in Tavern, pizzeria, fast food, pastry shop, amphitheatre, cabaret, disco also as in places near the beach.
Here are some famous places for your free time:
Dance-restaurant "Monvi"
Hotel "Eden"
Captain's Club at the "Park" Hotel
T.N. "Villas Rubin"
T.N. "Monsena"
Hotel "Katarina"
AC "Vestar"
Hotel "Rovinj"
T.N. "Valalta"
T.N. "Valdaliso"
The "Monte Bar"
The "Valentino na Crvenom otoku"
The "Eva"
The "Monte Molini"
Some casinos you may visit:
The Casino Automat Club "Istra",
Pietro Ive 9
The Adria Casino (on a boat),
A. Rismondo bb
Cultural arrangements in Rovinj
During the summer here you can find some traditional festival. It is the town of culture. "Artistic Colony Rovinj" takes place in here and "The Grisija" which is a name for street but also for an open air gallery spread over the old town streets. It is the annual art manifestation where are exposed the arts under the blue sky.
During the summer in Rovinj is organized The International Pop Festival, Town's Patron of St. Euphemia, Rovinj Summer Festival when the local bands of traditional singing present their works…
For those who like quiet surroundings, Rovinj offers its theater like is The Gandusio Theater which during the whole year presents the shows and events.
In the town of Rovinj is placed a City Museum where are settled the Archaeological Collections, the Contemporary Croatian Art, the exhibitions of sculptures and paintings…
Calendar of arrangements for the region near Rovinj
The 16.09. is the day of death of the town patron st.Euphemia- the big celebration. The admiration of the Euphemia shows up also in the fact that many girls carry their name around Rovinj.
Videos of Rovinj
Below you can find travel videos from Rovinj. The videos from Rovinj are provided by CroVideos.com, the video portal for Croatia.
Discussions of Rovinj
Do you have more questions about Rovinj? Have a look at the Istria.info Forum and get more tipps about Rovinj.
RSS feed konnte von http://www.istrien.info/forum/rss/rss4forum.php?lang=en&keyword=rovinj&searchby=posttext nicht geladen werden!
Helpful links
Croatia Blog
Hotels-Rovinj.net offers the best choice of hotels in Rovinj.
Hotels in Rovinj List of all Hotels in Rovinj, on page you also find detailed information and lots of Photos from the Hotels in Rovinj.
Apartments in Rovinj Apartments in Rovinj which can be booked directly from property owner, no agency commission
---
This article needs your support to be finished. If you know more about Rovinj please add your knowledge to this article. On this page you can find more information of how you can contribute to this wiki.