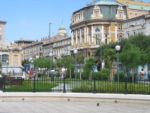 Rijeka is the central city of Primorsko-goranska County settled on the coast in the heart of the Kvarner bay. The town is the major Croatian port and leading town in the naval economy businesses, merchant and transit port for the entire Europe. It has two famous ship yards and long naval tradition gaining from the rich historical characteristics. Rijeka is Croatia`s most important industrial port and it is a destination that you are passing through when going for Dalmatian and all the surrounding islands. Trough the history was also the most important transit point and business center.
Rijeka is also the university town, rich cultural center and meeting point of numerous cultures that have been settling here for centuries.
Here is Rijeka located
UNIQ8fc40ec1361924e6-googlemap-00000000-QINU
Use the mouse and the +/- buttons to navigate the map of Rijeka.
How to get to Rijeka
To Rijeka by car or by train; tickets can be reserved at the central station.
Rijeka is reachable by bus. There is large bus station from where start all the connection to other places and towns along Croatia.
For example, you can travel with ferry by Jadrolinija ferries and ships.
Air: ATTENTION! — Rijeka airport is placed on the Krk Island!
City map of Rijeka
UNIQ8fc40ec1361924e6-googlemap-00000001-QINU
Picture gallery for Rijeka
Insight into history of Rijeka
Rijeka is a prehistoric settlement where once lived Celtic tribes. Celtic word "tarsa", means the hill above the river and it is still the name for today's old party of the town, known as Trsat, which is also the fortified castle. Rijeka was also the settlement of Illyrian tribe "Liburni", place of pirates and shipbuilders. In the Roman time it was an important fortress settlement but not large number of remains stayed preserved. The development, under the Habsburgs in the year 1466, is unparalleled in the history of Croatia. The Kaiser loyalty of this city was the entrance of novel by Joseph Roth's literature world. He developed one of the biggest rivals of the Doge's Republic. In the 18th century the Emperor Charles VI proclaimed Rijeka a free port with which started the period of industry growing, shipping and handcrafting. First road built in the year 1725 connected Rijeka and Vienna, and it is known as the road Carolina. Rijeka was the free Republic but for very short period of time. In the year 1924 Rijeka fall under the Italian governance. After the World War II Rijeka became the transit, tourist, administrative, economic, industrial and cultural and university center. After the German occupation, Rijeka was under several rulers who left historical but also cultural remains and leftovers.
Furthermore, Rijeka was an independent Republic for three times but for short periods. Besides many occupations and wars that where held on this area, Rijeka has finally became the Croatian city together with the rest of the country.
What to see in Rijeka
Nonetheless, there is a couple of interesting sights, like Trsat Castle, some Austria-Hungarian palaces and secessionist buildings down in the town.
With city tower, church and St. Vito Church
Waterside promenades and parks in Rijeka
At the so-called Riva (promenade) are well exposed magnificent historical facades and at the Old Port promenade. Here you can stroll and visit some interesting sights from past.
You can visit some SHOWROOMS and galleries like:
NATIONAL ARCHIVES RIJEKA
"FILODRAMMATICA"
"GAL"
"JURAJ KLOVIĆ"
Places of excursions near Rijeka
Only 15 km on the inland Rijeka, you can find the Risnjak National Park, check the relevant section below for details.
There are mountains around Rijeka, like Mount Ucka across to the Gorski Kotar mountains and far to the Velebit. On the west part of Rijeka, lies Opatija, where you can fulfill your free time by several interesting activities. On the east is Crikvenica-Vinodol Riviera and Gorski kotar above it, which is the most preserved part of the region.
Accommodations in Rijeka
Hotels in Rijeka
Camping in Rijeka
Private accommodations in Rijeka
RSS feed konnte von http://www.istrien.info/xml_rss.php?name=&owner=0&number=&type=0&lot_type=2&region=5&subregion=17&city=52&language=1 nicht geladen werden!
>> More apartments in Rijeka can be found here.
Weather in Rijeka
Below you see the current weather forecast for Rijeka. The climate table of Rijeka tells you which temperatures can be expected for each month.
Current weather in Rijeka and a 7-day weather forecast for Rijeka
UNIQ8fc40ec1361924e6-weather-00000004-QINU
Climate in Rijeka
| | | | | | | | | | | | | |
| --- | --- | --- | --- | --- | --- | --- | --- | --- | --- | --- | --- | --- |
| Climate in Rijeka | Jan | Feb | Mar | Apr | May | Jun | Jul | Aug | Sep | Oct | Nov | Dec |
| Max. Temperature | 8 | 10 | 12 | 16 | 21 | 25 | 29 | 28 | 24 | 19 | 14 | 10 |
| Min. Temperature | 2 | 3 | 5 | 8 | 12 | 15 | 18 | 18 | 15 | 11 | 7 | 3 |
| Hours of Sunshine | 4 | 4 | 6 | 7 | 6 | 10 | 11 | 10 | 8 | 6 | 4 | 3 |
| Rainy Days | 7 | 6 | 7 | 7 | 6 | 5 | 4 | 4 | 5 | 7 | 9 | 9 |
| Water temperature of the Adriatic Sea | 11 | 10 | 11 | 13 | 17 | 21 | 23 | 24 | 22 | 19 | 16 | 13 |
Sport and leisure time in Rijeka
Rijeka is leading economically, academically and industrially developed center but also the cultural, historical and sport center. Some nearby places and islands have plenty of sport activities, water sport and recreation features. Famous event in Rijeka is regatta Fiumanka, which each year gathers participants from the region and abroad who come with their attractive sailing boats. During the regattas are organized various concerts.
Where to eat in Rijeka
Cafe Filodrammatica (Korzo): The big terrace and nicely decorated interior in the original, an old traditional coffee house style! (Cafe Filodramatica is not cheap)
Tavern Feral (M. Gupca): serves best fish specialties
Opium Buddha Bar (Riva): beautiful and good culture bar, stylish restaurant on the waterfront Riva.
Beaches in Rijeka
Rijeka has a few but very nice beaches, considering that it is an industrial town, beaches are high quality and water is clean. Bivio has the invalid beach adapted to handicap people. There are settled other beaches near camping site Preluk, and on the eastern part of Rijeka are settled line beaches called Pecine.
If those are not enough to you, go to Opatija, Icici or Kostrena where are some of the best beaches on this area. Those are suitable for families with children where one can spend all day in a beautiful nature in the sun.
Nightlife and entertainment in Rijeka
Around the cathedral are some small cafes, bigger pubs, clubs, ale houses and beer cellars where is played live music. Amusement can also be found in the Disco bar on Preluka camp called Music Hall, in the suburb of Rijeka has settled Disco Club Nikola Tesla and in the center are Clubs like Discordia, Stereo Hall, Kosi Toranj, Teuta and clubs Arca Fiumana and Nina2 that are located on the boats and many more.
The city has casinos, hotels, and various places where every one can find an interesting place.
Cultural arrangements in Rijeka
From middle January to February is the time of Carnival bedlam, the biggest manifestation in this part of the Europe. The tradition is preserved and treasures for many year. It attracts up to 150,000 spectators from all over the world. When the Carnival period comes to an end, the city organizes three day's long open air parties of electronic music. It is really the happening of the year not only for Rijeka, but also for the entire Croatia.
Cultural life of Rijeka can be found in several museums.
Museum of Marine: Muzejski Trg 1, Tel 051-213578
Natural History Museum: Prirodoslovni Muzej, tel: 051-334988.
Museum of Modern Art (the Republic Square),
Videos of Rijeka
Below you can find travel videos from Rijeka. The videos from Rijeka are provided by CroVideos.com, the video portal for Croatia.
Discussions about Rijeka
Do you have more questions about Rijeka? Have a look at the Istria.info Forum and get more tips about Rijeka.
RSS feed konnte von http://www.istrien.info/forum/rss/rss4forum.php?lang=en&keyword=rijeka&searchby=posttext nicht geladen werden!
Helpful links
For more Info go to Rijeka24.com
---
This article needs your support to be finished. If you know more about Rijeka please add your knowledge to this article. On this page you can find more information of how you can contribute to this wiki.