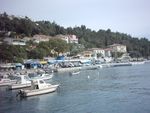 Rabac is a beautiful old town settled on the eastern part of the Istrian coast. It used to be a small fishery village, but today is a famous holiday resort. Here you can find numerous bays, beaches, valleys, town port from where all the excursion boats get of and many similar places. Along the promenade have settled numerous restaurants, hotels, bars, patisseries, and benches with Croatian souvenirs providing the tourists unforgettable vacation. The rich Mediterranean vegetation has contributed to well tourism development and a pleasant climate that is very suitable for everyone.
Here is Rabac located
UNIQ573541dedf6a8bf2-googlemap-00000000-QINU
Use the mouse and the +/- buttons to navigate the map of Rabac.
How to get to Rabac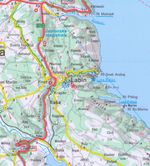 The central bus station is in Podlabin (see Labin). Over Italy: Motorway over Venice, and/or Udine after Trieste, then over Koper – border crossing Skofije (Rabuiese) further for Croatia – border crossing Pozane (Buzet) – Buzet – Lupoglav – Vozilici – Labin – Rabac. Over Austria: Motorway to Villach – tunnel – by Slovenia via Ljubljana – Koper – Buzet – Labin.
City map of Rabac
UNIQ573541dedf6a8bf2-googlemap-00000001-QINU
Picture gallery for Rabac

Insight into history of Rabac
Today Rabac is known as the "pearl of the Kvarner bay". Firstly was mentioned in the year 1826. In the 19th century was a small fishing village with only few inhabitants.
Today Rabac has approx. 1700 inhabitants. The village was the naval, fishery and trade center up to the year 1889 when was built and opened the first hotel "Quarnero". On the Rabac area were found the remains of the Paleolithic period and the oldest Church that was built on those places.
What to see in Rabac
Porta Sanfior the main town gates St. Flor dating from 1589. with Labin coat of arms and the Serenissima lion above.
Port of Rabac''' the place where are settled glass boats and other tourist boats for round trips.
Sculpture Sark Dubrava Open air sculpture park settled on the road for Labin and Rabac and is the unique gallery, offering an interesting festivities and exhibitions during the summer.
Church St. Andrew from the 15th century is the Oldest Architectural Heritage
Town loggia is the place in the center of the town, once the main meeting place of inhabitants. It was built in the year 1550. and is still preserved.
You should also visit other places of important cultural and historical meaning like:
LABIN CITY MUSEUM
MEMORIAL COLLECTION OF MATIJA VLAČIĆ ILIRIK
CITY ART GALLERY
Places of excursions near Rabac
Here are some surrounding places which can be visited:
In Rabac is a large number of organized excursions with tourist agencies. The excursions are followed by modern buses, by the beautiful old-timer boat KLINICA and a modern catamaran with professional guides.
If you have explored every corner in town Rabac you can go on the trip to the nearby places like: Opatija, Cres, Porec, or Plitvice lakes, Venezia and Postojna.
Accommodations in Rabac
Hotels in Rabac
Camping in Rabac
Private accommodations in Rabac
RSS feed konnte von http://www.istrien.info/xml_rss.php?name=&owner=0&number=&type=0&lot_type=2&region=3&subregion=8&city=10&language=1 nicht geladen werden!
>> More apartments in Rabac can be found here.
Weather in Rabac
Below you see the current weather forecast for Rabac. The climate table of Rabac tells you which temperatures can be expected for each month.
Current weather in Rabac and a 7-day weather forecast for Rabac
UNIQ573541dedf6a8bf2-weather-00000004-QINU
Climate in Rabac
| | | | | | | | | | | | | |
| --- | --- | --- | --- | --- | --- | --- | --- | --- | --- | --- | --- | --- |
| Climate in Rabac | Jan | Feb | Mar | Apr | May | Jun | Jul | Aug | Sep | Oct | Nov | Dec |
| Max. Temperature | 8 | 10 | 12 | 16 | 21 | 25 | 29 | 28 | 24 | 19 | 14 | 10 |
| Min. Temperature | 2 | 3 | 5 | 8 | 12 | 15 | 18 | 18 | 15 | 11 | 7 | 3 |
| Hours of Sunshine | 4 | 4 | 6 | 7 | 6 | 10 | 11 | 10 | 8 | 6 | 4 | 3 |
| Rainy Days | 7 | 6 | 7 | 7 | 6 | 5 | 4 | 4 | 5 | 7 | 9 | 9 |
| Water temperature of the Adriatic Sea | 11 | 10 | 11 | 13 | 17 | 21 | 23 | 24 | 22 | 19 | 16 | 13 |
Sport and leisure time in Rabac
Water sports: water ski, scooter, boat rentals in the bay Mimosa
Volleyball and tennis: you can play in the local center Olica within the camping site
Boat trips: The usual fish picnic routes are offered on the tourist decks at the dock.
What to eat in Rabac
Rabac, as a famous tourist destination, has an excellent offer of domestic and traditional dishes and wines. It is a place with rich gastronomical specialties and delicious fresh fish, lobsters and other shellfish and pastas. Fuži, the local variety of pasta, or gnocchi with the game sauce are one of an excellent dishes usually served in every restaurant and tavern.
Some recommended places to eat:
Bella vista
Girandella catering
Concha d'oro
Miramare
Nostromo
Picolo paradiso
Albona Hotel & Residence (ex Pluton)
There is one nice restaurant Villa Calussovo in Ripenda Kras where you can try some authentic Istrian specialties.
Romantic Country restaurant in Labin-Rabac "VILLA CALUSSOVO"
Traditional Istrian cuisine with an amazing view in a beautiful environment. On
Friday and Tuesday evenings you can find a traditional live music.
Here you can enjoy in the middle of the greens, only 3.5 km from Rabac – but you are
in the middle of the green on a beautiful estate, the kitchen offers all specialties
that Istria is known for.
Warm family business.
Directions:
From Labin go towards Rabac and after 800m in the first curve after "Ripenda"
turn left high, straight and follow the signs for "Calussovo".
Wellcome!!!
Beaches in Rabac
Rabac has white pebbled beaches, rich Mediterranean vegetation and crystal-clear sea which are the main benefits of its good tourist development.
Due to it, Rabac's beaches where awarded with the "Blue Flag" eco-mark in 2002.
The most famous beaches are:
Nightlife and entertaining in Rabac
The bank promenade within the countless cafes and restaurants enlivens during the hot summer nights.
Disco association Andrija, Hotel pole
On the Girandela Beach, every summer is organized the Rabac Summer Festival which gathers famous international DJ's.
Cultural arrangements in Rabac
Rabac is a settlement which does not have theaters, cinemas or many galleries, but has an amazing summer program which includes various festivals.
Some of the festivals are mostly organized during the summer. The very famous are the Regattas Cruise event, European Sailing Championship, Sailboats Regatta, Summer Carnival, the Wind Orchestra of Istria and Fishery Night.
One town art gallery is a place where are organized cultural exhibitions.
Videos of Rabac
Below you can find travel videos from Rabac. The videos from Rabac are provided by CroVideos.com, the video portal for Croatia.
RSS feed konnte von http://www.crovideos.com/rss_search.php?searchkey=rabac nicht geladen werden!
Discussions about Rabac
Do you have more questions about Rabac? Have a look at the Istria.info Forum and get more tips about Rabac.
RSS feed konnte von http://www.istrien.info/forum/rss/rss4forum.php?lang=en&keyword=rabac&searchby=posttext nicht geladen werden!
Helpful links
For more Info go to Rabac24.com
News of Croatia
Hotels-Rabac.com offers the best choice of hotels in Rabac.
---
This article needs your support to be finished. If you know more about Rabac please add your knowledge to this article. On this page you can find more information of how you can contribute to this wiki.