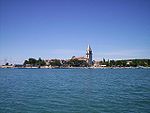 Osor – was an important sailor city at times of the coastal ship travel. An ancient city, which connects and separates the island of Cres with the island of Losinj. A small channel separates the island of Cres and the island of Losinj. Today smaller ships, yachts, motorboats and sailing boats can drive trough the channel "Kavada" during the opening times at 9.00 o'clock and 17,00 o'clock. This channel possesses also a swiveling bridge. 30,000 people lived here during the Middle Ages. In Osor you can find tourist accommodations, 2 natural camping sites, a tourist office and several restaurants. A parish and a post office are at the disposal.
Here is Osor located
UNIQ7b13ca312d0e1ca1-googlemap-00000000-QINU
Use the mouse and the +/- buttons to navigate the map of Osor
How to get to Osor

Osor can be reached from Istria, with a ferry from Brestova (departure every half hour) to Porozina. From here, drive the main road 100 to pass Cres, Vransko lake immediately after Osor.
Another option is from the island of Krk, by ferry from Valbiska to Merag. There is also a road number 101 on the main road number 100 after Cres for Osor.
Map of Osor
UNIQ7b13ca312d0e1ca1-googlemap-00000001-QINU
Pictures of Osor

History of Osor
Numerous finds from prehistoric times testify about density. The city has developed in Roman times, and in an ancient history when was in a contact with Greek colonies. Osor was an important transit center on the line from Baltic to the Aegean Sea. At that time in the city lived 25 000 inhabitants. When the transit route changed, Osor's strategic importance and its administrative function was taken over by the city of Cres. After that the city began to decline, which is desolated by phenomenon and malaria, so in the 16th century Osor had only about 500 residents.
What to see in Osor
It is a kind of a museum in which artists of all periods left their trace, and there are the remains of ancient walls, fortresses, the first early Christian basilicas. Gardens and parks conceal traces of ancient Roman villas, Renaissance portals and monasteries, and here is a few sights to see:
Museum of religious art – a collection of sacred is located in Bishop's palace with items from the cathedral treasures
City Museum – On the first floor is the archaeological museum with a collection of prehistoric, medieval and ancient findings.
Osor was bishop's seat and the development and construction of churches and civic buildings dominated in history.
Bronze statue of the sculptors Krsinic, Rosadric and Ivan Meštrović
In the 5th and 6th Century, the Cathedral of Osor was built. The cathedral is a home to many collections of Osor from the 14th and 15th Century, liturgical books written on parchment. Directly to the cathedral was built in 1675 the bell tower. At the bell tower of the church are 2 Glagolitic inscriptions.
The largest Romanesque structure of the Osor is St. Peter's Basilica from the 11th Century. Benedictine monks founded this building.
Church Majka Bozja od Loze (path passable by car and more accessible when you look at the amount of Ustrine of Osor from the right turn)
The Villages Matalda Loze are only accessible by foot or with a suitable off-road vehicle.
Excursions in the region of Osor
Trips in the vicinity of Osor:
Accomodations in Osor
Hotels in Osor
Camping in Osor
Private accomodations in Osor
RSS feed konnte von http://www.istrien.info/xml_rss.php?name=&owner=0&number=&type=0&lot_type=2&region=5&subregion=12&city=222&language=1 nicht geladen werden!
>> More apartments in Osor can be found here.
Weather in Osor
Below you see the current weather forecast for Osor. The climate table of Osor tells you which temperatures can be expected for each month.
Current weather in Osor and a 7-day weather forecast for Osor
UNIQ7b13ca312d0e1ca1-weather-00000004-QINU
Climate in Osor
| | | | | | | | | | | | | |
| --- | --- | --- | --- | --- | --- | --- | --- | --- | --- | --- | --- | --- |
| Climate in Osor | Jan | Feb | Mar | Apr | May | Jun | Jul | Aug | Sep | Oct | Nov | Dec |
| Max. Temperature | 8 | 10 | 12 | 16 | 21 | 25 | 29 | 28 | 24 | 19 | 14 | 10 |
| Min. Temperature | 2 | 3 | 5 | 8 | 12 | 15 | 18 | 18 | 15 | 11 | 7 | 3 |
| Hours of Sunshine | 4 | 4 | 6 | 7 | 6 | 10 | 11 | 10 | 8 | 6 | 4 | 3 |
| Rainy Days | 7 | 6 | 7 | 7 | 6 | 5 | 4 | 4 | 5 | 7 | 9 | 9 |
| Water temperature of the Adriatic Sea | 11 | 10 | 11 | 13 | 17 | 21 | 23 | 24 | 22 | 19 | 16 | 13 |
Sports & leisure opportunities in Osor
This beautiful island offers beautiful moments when you're out for a walk and there is a lot of recreational activities, that you'll usually find in the camps.
The two matched campsites are located at the isthmus between the islands of Cres and Losinj Island. Camping "Bijar" is about 500 m distant from the town Osor, camping "Preko Mosta" is placed directly at the bridge. The sites have different pitches. Rent caravan for 5 to 6 persons in addition to the camp "Bijar" for rental. The place includes a restaurant, supermarket and sport fields. The beach is partly steep slopes, rocky and gravel with some small bays.
Game and Sport: Television room, table tennis, beach volleyball, basketball, good water sports facilities around the town, diving center, slipway.
Camp Bijar – has a children's playground, courts for basketball, soccer, volleyball and offers a variety of opportunities for water sports. There are trails for boats, and also a diving center.
Camp "Over the bridge" – here you'll find water sports, it has a path for boats and cranes for larger vessels. In the camp there is a diving center. From the camp water pedestrian paths on top Osorscica. It is the island where you will enjoy the untouched nature.
Where to eat in Osor
Tourists come into the city, not only for sightseeing its architecture, history, music or even museums, but more because of the rich and diverse gastronomic offer. Here you can enjoy the authentic island dishes of fish and lamb and also tasteful and domestic wines.

Tavern "Bonifacic" – along with tasty dishes from the terrace you can enjoy the beautiful view on the sea and observe the passage of ships through the Osor channel.
Beaches in Osor
Osor offers unforgettable experiences not only on the land, but also in the water. The underwater world around Osor is always a divers' paradise. For surfers offers an ideal sports pages.
Game and Sport: Television room, table tennis, beach volleyball, basketball, good water sports facilities around the town, diving center, slipway.
Beach Camp Bijar – beach is rocky and gravel, mostly with the pine forest that will be particularly interesting for families with children.
Nightlife and entertainment in Osor
During the summer months various events occur in Osor , and it is especially prominent festival of classical music, where concerts are held by the ensemble and soloists from Croatia and abroad in the beautiful environments. The festival particularly cherishes Croatia's musical heritage and it is a favorite among the lovers of classical music. If you'd like to have fun in a club or bar throughout the night, we suggest you visit the Cres or the Losinj Island.
Cultural events in Osor
Festival: "OSORSKE GLAZBENE VEČERI"-The music evenings / events in Osor is the most important event of the island and the Kvarner area. Then are shown classical pieces and works of famous Croatian musicians and composers for music lovers.
Summer music festival is traditionally held here from 1976. An excellent Croatian and international performers perform in a Renaissance church of the Assumption of Mary in July and August. .
On June 1st is celebrated the patron saint St. Gaudentius.
During the summer, takes a place in lapidary, art and sculpture exhibitions.
Videos of Osor
Below you can find travel videos from Osor. The videos from Osor are provided by CroVideos.com, the video portal for Croatia.
Discussions about Osor
Do you have more questions about Osor? Have a look at the Istria.info Forum and get more tipps about Osor.
RSS feed konnte von http://www.istrien.info/forum/rss/rss4forum.php?lang=en&keyword=osor&searchby=posttext nicht geladen werden!
Useful links
For more Info go to Cres24.com