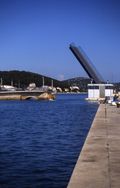 The island Murter is the largest island in the archipelago of Šibenik, in Tisno is connected with a drawbridge with the mainland. On the island of Murter the main towns are: Tisno, Jezera, Betina and Murter.
Murter is an attractive point for boaters, and all the fans of quiet holiday. It is connected to the Adriatic tourist road with other parts of the country.
Here is Murter Island located
UNIQa8e02b4af9fad9ae-googlemap-00000000-QINU
Use the mouse and the +/- buttons on the left to navigate within the map of Murter Island.
How to get to Murter Island

On the island of Murter, you can get all the transportation services, car output in Pirovac – Murter, by plane to Zadar and Split, with the train station in Sibenik and Zadar, and the ferry from many destinations.
Map of Murter Island
UNIQa8e02b4af9fad9ae-googlemap-00000001-QINU
Pictures of Murter Island

History of Murter Island
The island of Murter was already settled in the prehistoric time Liburnians and the Romans, who lived on the island, left a lot of streaks. The island was first mentioned by the name Colentum. Croatian name of the island Srimac (Srimač) occurs 1251, and since 1740. gets the name of the island of Murter. Colentum ancient city, located near the settlements of today, whose remains still lie at the foot of Mount Citadels. In Murter, until the XVIII. Ct. cherished the Glagolitic script proved that preserved the old parish documents from that time. In the era of Turkish Sibenik inroads in the area, built the town Betina and Tisno. Murter from the Middle Ages was in the area of today's Villages.
What to see in Murter Island
At the foot of the mountain at Gradina Murter is the historical settlement Colentum. The remains of the brick Riva in the sea are still visible. Finds are in the Archaeological Museum of Zadar.
When you find one in Murter, do not miss visit the beautiful national parks – Murter and Kornati islands and the river Krka waterfalls. In the immediate vicinity, were located and two larger city that offer a variety of cultural and leisure services, Zadar and Sibenik ..
Excursions in the region of Murter Island
The trip to the Kornati National Park – especially clean water, the high number of sunny days and countless bays, Kornati attract sailors, as well as other tourists from around the world on the way to Adriatic
The trip to the National Park Krka – has eight large falls of which are the two most beautiful – Roski and Skradinski buk. Its beauty and characteristics are known and attractive excursion, delightful waterfalls, beautiful landscapes and other natural curiosities attract crowds of tourists and nature lovers.
Trips to the city of Sibenik – visit at the centre of the region where you can enjoy the various monuments of this city, such as the famous Cathedral of St. Sibenik. James, the County Museum, Public Library, the Department for the Protection of Cultural and Natural Heritage – Conservation Department Sibenik, Sibenik Theatre, St. Gallery. Grisogono …
Accomodations in Murter Island
Hotels in Murter Island
in Jezera
in Murter
in Tisno
Camping sites in Murter Island
Private accomodations in Murter Island
RSS feed konnte von http://www.istrien.info/xml_rss.php?name=&owner=0&number=&type=0&lot_type=2&region=7&subregion=32&city=0&language=1 nicht geladen werden!
>> More apartments in Murter Island can be found here.
Weather in Murter Island
Below you see the current weather forecast for Murter Island. The climate table of Murter Island tells you which temperatures can be expected for each month.
Current weather in Murter Island and a 7-day weather forecast for Murter Island
UNIQa8e02b4af9fad9ae-weather-00000004-QINU
Climate in Murter Island
| | | | | | | | | | | | | |
| --- | --- | --- | --- | --- | --- | --- | --- | --- | --- | --- | --- | --- |
| Climate in Murter Island | Jan | Feb | Mar | Apr | May | Jun | Jul | Aug | Sep | Oct | Nov | Dec |
| Max. Temperature | 11 | 12 | 14 | 17 | 22 | 25 | 28 | 28 | 26 | 21 | 17 | 13 |
| Min. Temperature | 5 | 6 | 8 | 11 | 15 | 18 | 21 | 21 | 18 | 14 | 10 | 7 |
| Hours of Sunshine | 4 | 5 | 6 | 7 | 9 | 10 | 11 | 10 | 9 | 7 | 4 | 3 |
| Rainy Days | 11 | 10 | 9 | 8 | 7 | 4 | 3 | 3 | 6 | 9 | 11 | 13 |
| Water temperature of the Adriatic Sea | 13 | 13 | 14 | 15 | 17 | 22 | 23 | 24 | 22 | 21 | 18 | 15 |
Sports & leisure opportunities in Murter Island
Here are offered various opportunities for active holidays, including courts for tennis, basketball and football, and props for sailing, windsurfing and scuba diving. It is possible to enroll in a diving course in diving centres. Murter Island is famous for its beautiful bays that you provide numerous opportunities to be content with the various pay and vacation that will greatly beautify holiday. Here are some of the activities that will be of interest to you:
Diving
Tennis
Running and cycling
Race
Boccia
Windsurfing
School windsurfing
Where to eat in Murter Island
Restaurant ANTE, Kornati
Restaurant BAIN, Kornati
Tavern BALARINA, Murter
Tavern BEBAN, Kornati
Restaurant BISON, Murter
Restaurant BOŠKIN ŠKVER, Murter
Beaches in Murter Island
SLANICA – beach is located along the hotel Colentum, it's a sandy beach, which abounds with numerous attractions and animation. Due to its skin-deep is very suitable for children and non-swimmers.
PODVRŠKE – a favorite meeting place of local population, to partly gravelly beach water trail along the coast. The beach stretches for several bays.
ČIGRAĐA – partly pebble, and partly rocky beach, situated at the entrance to Murter.
Nightlife and entertainment in Murter Island
The island of Murter has plenty of classical restaurants and many bars and cafes that will beautify summer nights, and allow you classical entertainment. If you want more in nearby is a place Vodice, which offers a good night life is a far only 20 minutes away by car.
Cultural events in Murter Island
During the summer season are held at the traditional ceremony:
St. Roko,
Murterska holiday feast Little Lady,
from a cultural and entertainment programs is particularly significant
Amateur drama festival which is held in May.
Videos of Murter Island
Below you can find travel videos from Murter Island. The videos from Murter Island are provided by CroVideos.com, the video portal for Croatia.
Discussions about Murter Island
Do you have more questions about Murter Island? Have a look at the Istria.info Forum and get more tipps about Murter Island.
RSS feed konnte von http://www.istrien.info/forum/rss/rss4forum.php?lang=en&keyword=murter&searchby=posttext nicht geladen werden!
Related links
For more Info go to Murter24.com
---
This article needs your support to be finished. If you know more about Murter Island please add your knowledge to this article. On this page you can find more information of how you can contribute to this wiki.