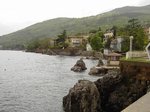 Lovran is located about 7 km south from Opatija. The modern part of Lovran (the name derives from the frequent laurel bushes) extends from the slopes of the hill Gorica along the coast to the foothills of Opatija. The old town has settled on a small peninsula. Lovran belonged to the Croatian Kingdom, the Patriarchate of Aquileia, and in the year 1374 belonged to the Habsburg monarchy. The houses are settled in the old fortified town inside the city walls, but only part of them has preserved their original style. Lovran has developed at the time of Austria-Hungarian governance, at the same time as Opatija did.
The famous Lungomare is 8 km long waterfront promenade which begins in Lovran and ends in Opatija, precisely in Volosko.
Here is Lovran located
UNIQe091ed43e8fab6e2-googlemap-00000000-QINU
Use the mouse and the +/- buttons on the left to navigate within the map of Lovran.
How to get to Lovran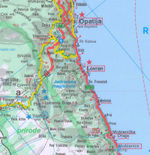 Lovran is reachable from the east coast on the coastal road from Opatija.
City map of Lovran
UNIQe091ed43e8fab6e2-googlemap-00000001-QINU
Pictures of Lovran

History of Lovran
The town Lovran is one of the oldest settlements on the Liburnia Riviera built up in the 7th century.
With the tourism development at the end of 19th and beginning of 20th century, the town changed its economy development and started to intensively raise the tourism path.
Since 1905 Lovran has developed into very popular destination, not only because of the historical characteristic but also because of the mild Mediterranean climate and hospitality of home people.
Lovran once was a fishing village, now a seaside resort with around 1200 inhabitants.
What to see in Lovran
Here are few monuments and sights which should be seen:
Town Square and the Church of St. George. The Church of St. George (Sv. Juraj) was built in the 12th century. The bell tower next to the church was detached to the church in the 17th century.
The lower city gate tower from the 17th century leads you directly to the center. There is also the Romanesque chapel from the 14th century settled on the upper Old Town area, with frescoes of St. John.
The historical old town despite the development of tourism maintained its original character and function.
You must visit-
The small port of Lovran with the small taverns. There is settled the first hotel in Lovran – Kvarner that is still active and preserved.
Excursions in the region of Lovran
From Lovran, there are several ways how to reach the highest part of the Ucka Nature Park; Vojak.
About the plateau Lovranska Draga
A small Marina (Marina Grasetto ACI) is located in neighboring Icici, with 302 water berths.
You can also visit nearby places which provide lot of facilities:
Ucka Nature Park
Opatija
Rijeka
Accommodations in Lovran
Hotels in Lovran
Hotel Bristol in Lovran ***
Hotel Excelsior in Lovran ***
Hotel Lovran in Lovran ***
Hotel Villa Astra in Lovran ****
Hotel Villa Eugenija in Lovran ****
Camping in Lovran
Camping Medveja Lovran
Camping Opatija Icici
Private accommodations in Lovran
RSS feed konnte von http://www.istrien.info/xml_rss.php?name=&owner=0&number=&type=0&lot_type=2&region=5&subregion=17&city=57&language=1 nicht geladen werden!
>> More apartments in Lovran can be found here.
Weather in Lovran
Below you see the current weather forecast for Lovran. The climate table of Lovran tells you which temperatures can be expected for each month.
Current weather in Lovran and a 7-day weather forecast for Lovran
UNIQe091ed43e8fab6e2-weather-00000004-QINU
Climate in Lovran
| | | | | | | | | | | | | |
| --- | --- | --- | --- | --- | --- | --- | --- | --- | --- | --- | --- | --- |
| Climate in Lovran | Jan | Feb | Mar | Apr | May | Jun | Jul | Aug | Sep | Oct | Nov | Dec |
| Max. Temperature | 8 | 10 | 12 | 16 | 21 | 25 | 29 | 28 | 24 | 19 | 14 | 10 |
| Min. Temperature | 2 | 3 | 5 | 8 | 12 | 15 | 18 | 18 | 15 | 11 | 7 | 3 |
| Hours of Sunshine | 4 | 4 | 6 | 7 | 6 | 10 | 11 | 10 | 8 | 6 | 4 | 3 |
| Rainy Days | 7 | 6 | 7 | 7 | 6 | 5 | 4 | 4 | 5 | 7 | 9 | 9 |
| Water temperature of the Adriatic Sea | 11 | 10 | 11 | 13 | 17 | 21 | 23 | 24 | 22 | 19 | 16 | 13 |
Sports & leisure opportunities in Lovran
Lovran provides sufficient sport activities like: sailing, water skiing, sport fishing…
In the entire Lovran range are 17 marked and maintained trails for mountaineers.
The unique event which provides good recreation for all adrenalin lovers is:
Mountain Biking''', is very popular in Lovran. There are 8 mountain-biking trails marked in the Učka Nature Park where you can fulfill your free time.
There is a flight park Učka with launches at Vojak hill and Brgud in Lovran where you can chose between sports like diving, fishing, tennis, sea kayaking, trekking, free climbing and etc.
Where to eat in Lovran
The pizzeria has beautiful garden, very enjoyable and relaxing. Apart from an excellent choice of pizzas, they also offer huge menu of the finest pasta dishes, lasagnas and risottos.
Lovran, Maršala Tita 65
(Fish specialties and seafood dishes made by the traditional receipts)
Lovran, Šetalište Maršala Tita 69
(House specials – seafood dishes, one of the finest in the region)
Lovran, Maršala Tita 15
(International cuisine, fish dishes and flambéed dishes)
Lovran, Trg slobode 12
Seafood risotto, Istrian ravioli, all kinds of scamps prepared in the tasty sauce, here called Buzara.
Restaurant LOVRANSKA VRATA
Lovran, Stari grad 94
(Fish specialties, rich array of meat dishes.)
Trg slobode 5
(Home cooking)
Beaches in Lovran
Bays are located at the Hotel Splendid, south from Medveja direction and below the park Kormuscak.
Two beaches in Kvarner, Peharovo and Lovran, where renovated and in the year 2007 received the "Blue Flag", for the fulfillment of strict criteria for water quality, safety standards, services and other environmental conditions.
Beach Kvarner: is the large area, with many play areas (such as climbing walls) and equipment for families with children.
Beach Peharovo: nice, pebbly beach suitable for everyone
Nightlife and entertainment in Lovran
Lovran and its surrounding provide a lot of amusement, especially during the summer. The younger and all those who feel like will find interesting bars; disco clubs and open air stages where is organized an excellent all night long fun are placed at the hotel terraces.
The biggest year event in Lovran is the traditional international manifestation during January and February, the Carnival. It brings many events and entertainment like ceremony of Carnival opening, Carnival Balls, Children's Carnival, Zubijada, Balinjerada, Carnival Procession, and closing of Carnival with authentic "immolation of Mesopust".
Cultural events in Lovran
Lovran and surrounding provides chestnut Festival in the beginning of autumn.
Here takes place the famous Marunada; feast of chestnuts, each year held in October.
Some events are organized in honor of St. George, the patron of Lovran, and many fishery festivities held from June to September.
In April, is organized the Asparagus festival when you can try specialties with asparagus made in million different ways.
Videos of Lovran
Below you can find travel videos from Lovran. The videos from Lovran are provided by CroVideos.com, the video portal for Croatia.
Discussions about Lovran
Do you have more questions about Lovran? Have a look at the Istria.info Forum and get more tips about Lovran.
RSS feed konnte von http://www.istrien.info/forum/rss/rss4forum.php?lang=en&keyword=lovran&searchby=posttext nicht geladen werden!
Useful links
For more Info go to Lovran24.com
News of Kvarner and Croatia
---
This article needs your support to be finished. If you know more about Lovran please add your knowledge to this article. On this page you can find more information of how you can contribute to this wiki.