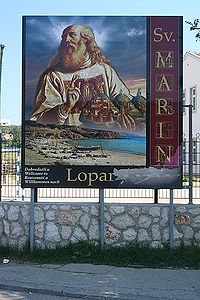 Lopar is the touristic center on the Rab Island and an important junction to the Krk Island. Lopar in the northeast of the island is beside the capital of Rab the most important holiday place on the Island of Rab. After Banjol, Lopar with approximately 1,100 inhabitants is the second largest place on the Island of Rab.
Along the rich and fertile valley, it also has the most beautiful sandy beach – Paradise beach. Not far from the beach, there is sports and recreational center with courts for tennis, football, basketball, volleyball, and minigolf, table tennis, water slide and various other water sports.
Here is Lopar located
UNIQc9f9d3d5327f1dc8-googlemap-00000000-QINU
Use the mouse and the +/- buttons to navigate the map of Lopar.
How to get to Lopar
Lopar can be reached by ferry Jablanac – Misnjak, ride lasts about ten minutes.
Going by the ferry form Baška on Krk Island you will directly come to Lopar. Otherwise you go by ferry from Jablanac to Misnjak in the south of Rab Island. Than you have to drive 22 km over road to the northern top of the island.
Map of Lopar
UNIQc9f9d3d5327f1dc8-googlemap-00000001-QINU
Picture gallery of Lopar
Sandy beach "Rajska plaža"
Insight into history of Lopar
Rab City recorded a long history and is mentioned 10 years before Christ for the first time. In the place known as The walls was based the place that lived through the younger Stone Age, Copper , Bronze until the 4th c.b.Cr. when here grew an ancient Greece military fort, whose remains are still witnessing the history of this place.
Historically Lopar offers little. The historic core of the island of Rab can be found in the town of Rab.
Lopar is particularly proud here at the holy Marin, who was born in Lopar, until today known as the founder of the tiny state San Marino. He worked for III. Century as a stonemason to Rimini where he emigrated in his work.
What to see in Lopar
The parish church of St. John the Baptist – the patron parish Lopar which is located in the center of town. In the summer months in the church services are held in foreign languages, gangs and concerts of classical music.
Votive Church of the Blessed Virgin Mary – dates from the 14. century, and it is situated on a hill, in a pine forest near the ferry port. The church celebrates on the 08. September the day of "Little Lady".
Places of excursions in the region of Lopar
Island Gregory
Goli island – situated between Rab, Saint Gregory and Island Prvic, vs. Velebitsko Prigorje. During the World Wars there were captured war prisoners. But after the wars here was ill-famed Yugoslav prison for political convicts, which today is an interesting, and well visited place by tourists.
You can go on a trip with a taxi boats that can be taken at one of the beaches.
On the peninsula in the north of the island of Rab, the village was originally developed by the Agriculture and Fisheries. The houses of the locals are usually grouped on the slopes of the peninsula. An attractive location, especially the 1.5 km long beach paradise and the many small sandy beaches (some with nudist operation), made Lopar in the first half of the 19th Century a happy visited seaside resort.
Accomodations in Lopar
Hotels in Lopar
Camping in Lopar
Private accomodations in Lopar
RSS feed konnte von http://www.istrien.info/xml_rss.php?name=&owner=0&number=&type=0&lot_type=2&region=5&subregion=11&city=60&language=1 nicht geladen werden!
>> More apartments in Lopar can be found here.
Weather in Lopar
Below you see the current weather forecast for Lopar. The climate table of Lopar tells you which temperatures can be expected for each month.
Current weather in Lopar and a 7-day weather forecast for Lopar
UNIQc9f9d3d5327f1dc8-weather-00000004-QINU
Climate in Lopar
| | | | | | | | | | | | | |
| --- | --- | --- | --- | --- | --- | --- | --- | --- | --- | --- | --- | --- |
| Climate in Lopar | Jan | Feb | Mar | Apr | May | Jun | Jul | Aug | Sep | Oct | Nov | Dec |
| Max. Temperature | 11 | 12 | 14 | 17 | 22 | 25 | 28 | 28 | 26 | 21 | 17 | 13 |
| Min. Temperature | 5 | 6 | 8 | 11 | 15 | 18 | 21 | 21 | 18 | 14 | 10 | 7 |
| Hours of Sunshine | 4 | 5 | 6 | 7 | 9 | 10 | 11 | 10 | 9 | 7 | 4 | 3 |
| Rainy Days | 11 | 10 | 9 | 8 | 7 | 4 | 3 | 3 | 6 | 9 | 11 | 13 |
| Water temperature of the Adriatic Sea | 13 | 13 | 14 | 15 | 17 | 22 | 23 | 24 | 22 | 21 | 18 | 15 |
Sports & leisure time in Lopar
Lopar offers a range of sport, recreational and entertainment facilities. From sport activities here, you can play:
Mini football,
Handball,
Basketball,
Miniature,
Some tennis and water sports such as:
Surfing,
Jet-ski,
Diving,
Water slide
On the Rajska beach is situated "Aquagan" which offers endless enjoyment on three water trails. Paradise beach is an ideal place for volleyball on the sand.
Between hotel resorts and camping there is a fun recreational center with numerous attractions.
Where to eat in Lopar
Some specialties can be tasted during the traditional celebration of Little Lady when the lamb is baked and the ox is grilled, and is served a rich choice of traditional fish and meat delicacies.
Here are a few restaurants where you can taste a different traditional dishes:
Restaurant LAVENDER, Lopar
Inn LOPAR, Lopar
Bistro NAVIGATOR, Lopar
Restaurant SAN LORENCO, Lopar
Tavern ANKORA, Lopar
Restaurant BELLEVUE, Lopar
Bistro LANTERNA, Lopar
Beaches in Lopar
Sandy beach "Rajska plaža"

Sandy beach "Rajska plaža"
Lopar is famous for its sandy beaches. The beaches are shallow and suitable for vacation with families with small children. Famous nudist beach in Lopar are:
Sahara,
Gypsy,
Chair
Dubac
Veli mel – in the hotel village of San Marino, there is a beautiful sandy beach, with various entertainment and the possibility of renting sports equipment
Paradise beach – sandy beach 1.5 km long, with the blue flag, on which are located the most important tourist places capacity.
The beach is ideal for children and summer activities.
Nightlife and entertaining in Lopar
Hotel village of San Marino – where are held daily entertainment programs and animation through the whole summer.
Fisherman's fest – held by the Paradise beach with a good restaurants and music-art program, which includes a domestic gangs, and also can be found fun games and the fireworks at the end
"Loparska noć" – held in front of hotel complexes, "San Marino" and represents the old tradition and crafts of Lopar
Cultural arrangements in Lopar
Fest of St. Maria on 08. September
"Mala Gospa"- a special ceremony when is traditionally held the tournament in shooting arrow, where brave knights show their skills. Also are held a traditional mini soccer tournament, a bowling tournament, lug rope.
Festivity in the evening moves in a huge tent with live music and rich program that lasts until the morning.
Videos of Lopar
Below you can find travel videos from Lopar. The videos from Lopar are provided by CroVideos.com, the video portal for Croatia.
Discussions about Lopar
Do you have more questions about Lopar? Have a look at the Istria.info Forum and get more tipps about Lopar.
RSS feed konnte von http://www.istrien.info/forum/rss/rss4forum.php?lang=en&keyword=lopar&searchby=posttext nicht geladen werden!
Useful links
For more Info go to Lopar24.com