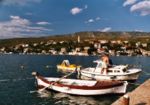 Jadranovo – this small, even by mass tourism spared fishing village lies a few kilometres north of Crikvenica and directly opposite the Krk Island. An ideal starting point for land and people to explore and spend peaceful vacation. Anyone who even dares to take a few steps to run, no matter in what direction will not regret it. Several small bays invite you to leisure and bath. Even a deserted sailing ship in the Bay of Neriz can be rented. In the center of Jadranovo there are several grocery stores – Konzum – a post office, and a currency exchange.
>== Here is Jadranovo located ==
<googlemap lat="45.22893396122239" lon="14.61233139038086" zoom="7" controls="large" selector="yes" overview="yes" width="500" height="300">
45.233,14.620,Here is Jadranovo. Use the mouse and the +/- buttons on the left to navigate within the map.
</googlemap>
Use the mouse and the +/- buttons on the left to navigate within the map of Jadranovo.
---
How to get to Jadranovo
Jadranovo can be reached via the coastal road Rijeka, Crikvenica, Senj. The signs will follow the diversion to the island of Krk.
Map of Jadranovo
UNIQa7b4802ffffba7e3-googlemap-00000000-QINU
Pictures of Jadranovo
History of Jadranovo
The favourable climate of Jadranovo has already attracted early settlers. The oldest finds and tracks dating from the previous Stone Age (about 6,500 – 4,000 years before Christ).
In the Bay of Lokvisce have been found a large number of broken "Amfora". This indicates the Lokvisce as a small port with warehouses for the production and storage of wine and olive oil. In the 8th and 9 Century this area was populated by Croats, from the northern region of Dalmatia. In the immediate past, so at the beginning of the 20th century Jadranovo was populated by fishermen and bricklayers. From 1935, the first tourists welcomed.
What to see in Jadranovo
It is important to mention value of Lokvisca bay. With the mud there can be treat several probblems and alleviate rheumatism. Nearby are building floor plans of excavations of prehistoric times. Information is available in Tourist Office.
Several restaurants, the so-called "taverns", lined the place. From the finest seafood restaurant in the district of Klostar to the snack shop and an excellent ice cream parlor, the city can offer.
Excursions in the region of Jadranovo
In just a few minutes you can visit, in the north island of Krk, and the city of Rijeka or the picturesque Opatija.
"Biserujka cave" is a cave on the island of Krk. YOU CAN achieve it over the Krk Bridge and then the various signs following. Very interesting.
South is Crikvenica in the direction in less than 10 km.
The Castle of Senj is certainly worth a visit.
Accomodations in Jadranovo
Hotels in Jadranovo
Camping in Jadranovo
Private accomodations in Jadranovo
RSS feed konnte von http://www.istrien.info/xml_rss.php?name=&owner=0&number=&type=0&lot_type=2&region=5&subregion=17&city=151&language=1 nicht geladen werden!
>> More apartments in Jadranovo can be found here.
Weather in Jadranovo
Below you see the current weather forecast for Jadranovo. The climate table of Jadranovo tells you which temperatures can be expected for each month.
Current weather in Jadranovo and a 7-day weather forecast for Jadranovo
UNIQa7b4802ffffba7e3-weather-00000003-QINU
Climate in Jadranovo
| | | | | | | | | | | | | |
| --- | --- | --- | --- | --- | --- | --- | --- | --- | --- | --- | --- | --- |
| Climate in Jadranovo | Jan | Feb | Mar | Apr | May | Jun | Jul | Aug | Sep | Oct | Nov | Dec |
| Max. Temperature | 8 | 10 | 12 | 16 | 21 | 25 | 29 | 28 | 24 | 19 | 14 | 10 |
| Min. Temperature | 2 | 3 | 5 | 8 | 12 | 15 | 18 | 18 | 15 | 11 | 7 | 3 |
| Hours of Sunshine | 4 | 4 | 6 | 7 | 6 | 10 | 11 | 10 | 8 | 6 | 4 | 3 |
| Rainy Days | 7 | 6 | 7 | 7 | 6 | 5 | 4 | 4 | 5 | 7 | 9 | 9 |
| Water temperature of the Adriatic Sea | 11 | 10 | 11 | 13 | 17 | 21 | 23 | 24 | 22 | 19 | 16 | 13 |
Sports & leisure opportunities in Jadranovo
On the small main beach you can try your self in water skiing or to pull a banana and several boats, pedal boats or to borrow it.
Who is not affraid of summer temperatures and long walking, can go along the coast to the bridge of Krk to run (just 1.5 hours). Other hiking options are on a march Kacjak (just 45 minutes) after Crikvenica (just 2 hours).
Do you feel like a unique view? Walking on the ridge above the road. The prospect of bridge, or the Ucka-Vinodol will compensate.
On Krk is incredibly exciting tours for lovers of bike ridding.
For boat drivers, there is a crane. The crane officer lives in Obala 27th
Where to eat in Jadranovo
Restaurant Klostar: first fish restaurant in the same district, with terrace and a magnificent view on the sea and Krk. The waiters speak very good German and English. A very extensive menu provides for the choice…
Konoba Feral: directly to the promenade, located near the crane fish restaurant, good food, own fish Fang.
Pizzeria da Nino: the main beach
Restaurant Selina: the direction of the district Klostar / Havisce, extensive menu.
Mali Raj restaurant: Close consumption.
Pizzeria Miracul: at the church.
Beaches in Jadranovo
Here you can rent property, to enjoy various water activities, or just drink something comfortable and the "life" introspective watch …
For somethimes you can see dolphins, sometimes up to 20 meters to the shore. Often they swim approached very close to the small boats Sometimes it's a solitary, often there are two. There were also ten animals observed.
The beaches are almost always steps away.
For boat drivers, there is a crane. The crane officer lives Obala 27th
Nightlife and entertainment in Jadranovo
In Jadranovo there are some bars where you can have fun. For more party it is advisable to go in Crikvenica or Rijeka.
Cultural events in Jadranovo
In the summer months in the church or in front of the library can be found music concerts, as well as pictures or ceramic exhibitions in the library. Information can be found in "Tourist biro".
Videos of Jadranovo
Below you can find travel videos from Jadranovo. The videos from Jadranovo are provided by CroVideos.com, the video portal for Croatia.
Discussions about Jadranovo
Do you have more questions about Jadranovo? Have a look at the Istria.info Forum and get more tipps about Jadranovo.
RSS feed konnte von http://www.istrien.info/forum/rss/rss4forum.php?lang=en&keyword=jadranovo&searchby=posttext nicht geladen werden!
Useful links
of Kvarner and Croatia
BOOK HERE!!!
---
This article needs your support to be finished. If you know more about Jadranovo please add your knowledge to this article. On this page you can find more information of how you can contribute to this wiki.