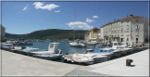 Cres, the biggest island in the Adriatic Sea, located in the northern part of the Kvarner gulf. Island Cres is long, narrow and mountainous island with well indented coast, of total length of 248 km. The entire island is full of coves, bays and fine pebbly beaches mainly settled on western and southern side, while northern and eastern shore is steep and rocky. This part of the island is inhabited by the biggest bird in Europe, the endangered griffon vulture. This specie is a protected animal by the Croatian law.
Here on the island Cres is located fresh lake Vrana Lake, which is known as a phenomena.
Main places which are also very popular for tourists are: Cres city, Beli, Dragozetici, Lubenice, Stivan, Miholašćica, Martinscica, Merag, Orlec, Pernat, Porozina, Predoscica, Valun…
Here is Cres Island located
UNIQ9f3494c5692fa10d-googlemap-00000000-QINU
Use the mouse and the +/- buttons to navigate the map of Cres Island.
How to get to Cres Island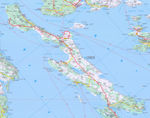 The shortest crossing is from Brestova in Istria to Porozina on Cres, taking just half an hour and connecting few times a day during the winter and all night and day during the summer.
Map of Cres Island
UNIQ9f3494c5692fa10d-googlemap-00000001-QINU
Picture gallery for Cres Island

Insight into history of Cres Island
In the past, Cres was known as "Res Publica Crepsa" during the period of Roman governance, testifying the most significant remains which can be seen in several structures like one on the nearby Hill of St. Bartholomew. Cres is full of an important sights which are remains of the past periods and civilization. Small piazza with a church tower and the Parochial Church of St. Mary of the Snow, where built in the Gothic-Renaissance style and are saving the wooden Pieta from the XVI. century, and the altar painting of St. Sebastian. The entire island is the museum of itself holding the valuable paintings, sculptures, ethnographic collections, many churches and typical "Villa Rusticae" which was built in the Roman times.
During the history, Island of Cres was under the rule of Venice and from that period are preserved some cultural and historical characteristic still visible in every day life. After the Venetian rule the island came under Austrian rule and from 1918 to 1943 belonged to Italy, before it has been assigned by Yugoslavia.
What to see in Cres Island
Piazza F. Petrić is the town center, and is flanked by a small fifteenth-century loggia and a clock tower. You have to visit the St. Mary's church, with a Gothic-Renaissance portal holding a relief of the Virgin and the child. Visit the museum in the Petris Palace which holds some icons, a collection of an ancient stones and coins. Porta Marcella, a Renaissance gateway from 1593, part of the wall from Venetian times. Follow the wall to the Porta Bragadina to get back into the town center via the collection of small piazzas.
On the southern side of the town you can find a Franciscan monastery, opened for Sunday mass, which hosts a small museum and a shaded cloister, which you can visit by the appointment (051/571-217).
Valun is situated about eight km south of the town Cres in a sparsely populated part of the island. A small fishing village, it is very nice within its small colorful houses, clear water and quiet shingle beach. It is very popular with Italian weekenders, but is still opened for the tourism development. There are only few possibilities for bus traveling so it is best to rent a car if you plan to visit Valun.
Lubenice, are situated about 5km southwest of Valun, and it is a wind-swept medieval village, situated high on the cliffs. Do not miss alfresco classical music concerts on the main square, during the Lubenice Music Nights, every Friday in July.
After you've turned at crossroad close to lake Vrana (Crow), on your way to Martinšćica you will reach firstly Stivan and thereafter Miholašćica. Both named villages are very quiet and interesting, with preserved nature and beautiful beaches where you can spend unforgotable solitary moments.
Martiniscica is situated 9 km down the road into which you turn right (west) shortly after Lake Vrana, an emerald – green fresh water lake, with a long shingle beach. You can stay in the campsite, just west of the village.
Beli and the Eco-Center Caput Insulae
North of the Town Cres, the island narrows into a long, high ridge, descending steeply towards the sea on either side. Do not miss the views of mainland Istria.
Also visit the Caput Insulae Ecology Centre (open daily 9am- 7pm, [www.essentialcroatia.com]. It was established in the mid-1980s to protect the community of griffon vultures indigenous to Cres. You can see an aviary with some vultures in the back; they are kept there before returned to the wild. The center also offers ecology paths.
The 'Eko-centar'(ECCIB) runs a volunteer program. With the provided manpower it maintains the walking trails, protects and studies the endangered 'Griffon Vultures' and aims to protect and re-introduce traditional agricultural and cultural practices. For more information go to www.essentialcroatia.com or mail them on: [email protected]
Places of excursions near Cres Island
If you have explored the island, it is easy from Cres to get to Krk and Losinj, also to the mainland of Istria.
In the summer are also ferries from Venice to Zadar, running up to six times a week in each direction. They are stopping in Pula and Mali Losinj. The travel time from Venice is about 11 hours, from Pula it takes about four hours.
Buses run approximately every hour from Veli Losinj to Mali Losinj, then up to Osor and on to Cres town- to Merag and on to Krk. There are about six buses direct to Rijeka (3, 5 hours) and two a day to Zagreb (about 7 hours).
If you are driving, be aware of the bottleneck at Osor, mostly during the times the swing-bridge is opened (twice a day, morning and late afternoon) to let boats through the channel.
Two islands south of Losinj are worth visiting, as they are not overcrowded with tourists and have beautiful small harbors with a picturesque sea front.
Accommodations in Cres Island
Hotels in Cres Island
in the town of Cres
in small places on the island Cres
Camping in Cres Island
Private accommodations in Cres Island
RSS feed konnte von http://www.istrien.info/xml_rss.php?name=&owner=0&number=&type=0&lot_type=2&region=5&subregion=12&city=0&language=1 nicht geladen werden!
>> More apartments in Cres Island can be found here.
Weather in Cres Island
Below you see the current weather forecast for Cres Island. The climate table of Cres Island tells you which temperatures can be expected for each month.
Current weather in Cres Island and a 7-day weather forecast for Cres Island
UNIQ9f3494c5692fa10d-weather-00000004-QINU
Climate in Cres Island
| | | | | | | | | | | | | |
| --- | --- | --- | --- | --- | --- | --- | --- | --- | --- | --- | --- | --- |
| Climate in Cres Island | Jan | Feb | Mar | Apr | May | Jun | Jul | Aug | Sep | Oct | Nov | Dec |
| Max. Temperature | 8 | 10 | 12 | 16 | 21 | 25 | 29 | 28 | 24 | 19 | 14 | 10 |
| Min. Temperature | 2 | 3 | 5 | 8 | 12 | 15 | 18 | 18 | 15 | 11 | 7 | 3 |
| Hours of Sunshine | 4 | 4 | 6 | 7 | 6 | 10 | 11 | 10 | 8 | 6 | 4 | 3 |
| Rainy Days | 7 | 6 | 7 | 7 | 6 | 5 | 4 | 4 | 5 | 7 | 9 | 9 |
| Water temperature of the Adriatic Sea | 11 | 10 | 11 | 13 | 17 | 21 | 23 | 24 | 22 | 19 | 16 | 13 |
Sport and leisure time in Cres Island
This magnificent island has a favorable climate and a beautiful nature which gives you the opportunity to enjoy in different sport and recreational activities. For those who like active life there are opportunities which will satisfy you and which you can choose like: tennis, mini golf, beach volleyball, table tennis, basketball and football and much more.
If you like resting and want easier vacation times there are many beaches which provide numerous facilities like: pedal boats, parasols, and water sports like sailing, submarine fishing, diving and many more.
Where to eat in Cres Island
It is not difficult to find a place to eat around Cres harbor,
Patisseries Baccio has a good pastries and an excellent ice cream,
Pizzeria Palada is a good value place for a decent meal, this pizzeria is perfect! Riva has a waterside position and is slightly pricier and is the best address for fish.
Here you will find superb local cuisine in one of the island's restaurants and try fish and seafood, free range barbecued lamb local cheese and wine.
Restoran "NA MORU", Valun-The name "Na moru" means "By the sea" where you can see the fresh catch fish placed in the aquarium.
Konoba "HIBERNICIA", Lubenice-superb local food.
Konoba "MALI RAJ", Vidovići-famous local lamb.
Gostionica "TRS", Krčina-famous homegrown Cres lamb
Gostionica "BUKALETA", Loznati
Gostionica "MARETA", Miholašćica-local cuisine and fresh seafood.
Restaurant "Maris", Osor-with fresh homemade food.
Beaches in Cres Island
The Island of Cres is placed in Adriatic and has the most beautiful beaches and lagoon's in Croatia. Some of the most attractive are: Valun, Lubenice – St. Ivan, Meli, Mali Bok and other.
They are mostly settled on the western shores, between St. Blaz and the Bay Ustrine. These beaches are located in the green spruces and olive trees, in the shade of rosemary and mint.
Some of them can be found by the camping sites, such as Slatina Beach and some of others can only be reached by the sea.
Nightlife and entertainment in Cres Island
On the island of Cres you will find some interesting and entertaining places, but you can also find your own unique way of entertainment. Go for a romantic walk on the beach or visit some of local festivities and meet the customs and spirit of the hosts.
For younger there are some fine places which provides pleasure and all night fun.
Disco "Štala"– more info on the discotheque website www.cresnet.averi.hr
Beach rave party on "Sveti Blaž" beach,
Bar "Timun" – offers open air entertainment in the camp Slatina in Martinšćica
Cultural arrangements in Cres Island
The tradition is the celebration of the patron. These events include musical and food fairs, fun and much more.
St. Isidor day (the patron of Cres city): city celebrations on 2nd January
Birthday of philosopher Franjo Petric: school celebrations on 25th April
Cres summer festival: food fair, cultural celebrations, music, sport events: open basketball and soccer tournaments on 3rd – 5th August
Day of inclusion of Cres and Istra into Croatian state on 25th September
St Anton in Orlec and Beli on 17th January
St Phillip and Jakob in Vrana on 3rd May
St John the Baptist in Stivan on 24th June
Virgin Marry of the Snow in Cres on 5th August
Videos of Cres Island
Below you can find travel videos from Cres Island. The videos from Cres Island are provided by CroVideos.com, the video portal for Croatia.
RSS feed konnte von http://www.crovideos.com/rss_search.php?searchkey=cres nicht geladen werden!
Discussions about Cres Island
Do you have more questions about Cres Island? Have a look at the Istria.info Forum and get more tips about Cres Island.
RSS feed konnte von http://www.istrien.info/forum/rss/rss4forum.php?lang=en&keyword=cres&searchby=posttext nicht geladen werden!
Helpful links
For more Info go to Cres24.com
News of Croatia
Hotel-Cres.com offers the best choice of hotels in Cres.