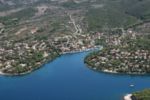 The third-largest of Croatia's island is the nearest to Split and rather frequented with tourists. It has been famous for its stone, a mixture of limestone and marble, exported over many years to the rest of the world: It can be found in the White House in Washington for example. Wine was also an important good for export, but after a Wine lice epidemics many farmers left their houses and the island, which is still obvious in the inner areas of Brač.
Here is Brac Island located
UNIQd5a3f23b49dcf330-googlemap-00000000-QINU
Use the mouse and the +/- buttons to navigate the map of Brac Island.
How to get to Brac Island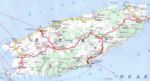 Brac can be reached with a ferry from Split, which lands in Supetar, Sutivan and which is also connecting the fishing village of Bol on the southern part, which is famous for its scenic beach. There are flights to Bol from Zagreb between April and September. Supetar is the main bus terminal where buses connect the main towns on the island.
Map of Brac Island
UNIQd5a3f23b49dcf330-googlemap-00000001-QINU
Picture gallery for Brac Island

Insight into history of Brac Island
The history of the island of Brac is typical for the Adriatic islands. It was settled by Illyrians and the Romans, dominated by Venice, Austria-Hungary until 1918. Tito's partisans here fought bitterly against the German and Italian occupation. From time to time there were the ships of the communist People's Liberation Army at anchor. Economically was already bad from the beginning, the island was always affected by waves of emigration. Only the development of tourism brought some recovery with it.
Whence derives the name, it was never fully determined. Tribe Illyrians colonized Brac in bronze and iron time. The Romans, after long struggle with Dalmatians, founded province of Dalmatia from the center of the Salons. Brac represents refuge place of population Salona. Gradually began the colonization of Slavs.
In the 12.Ct. Croatia has passed Hungarian, while Brac still retains its political independence. In
1420 Venetians begins long-term administration throughout Dalmatia, which lasts until the end of the 18th century.
How quickly Acai Berry weighloss lose your weight.
See the Acai Berry benefits here.
Acai Berry makes you slim and beautiful and maintain your health also.
In the 16th century the Turkish threat, and after a Turkish attack, in the 18th century on the island started to develop small cities.
In 1814 all of Dalmatia, along with BraC, was passed to Austria.
Upon the completion of 2. World War it become a part of Yugoslavia until the end of war when finally becomes a part of the independent Croatian state.
What to see in Brac Island
Blaca – former Glagolitic heritage – on the south coast of the island of Brac.
Bol – With 1,000 inhabitants, the third largest settlement on Brac. In the village was built in the 17th Century the church of Gospa od Karmela, also a Gothic palace and a castle.
Gora mountain Vidova – From Bol hikes can be made to the highest collection in the Adriatic company, the Vidova Gora (778 m)
Supetar is the second largest town on Brac. It is located on the north side of the island in a sheltered bay. Here you will find the marble quarries, where was the world's famous marble from Brac dismantled. This included the construction of the Diocletian's Palace in Split and the White House in Washington.
Supetar is the capital of the island's main tourist center for Bol on Brac.
Petrinović Mausoleum in Supetar – In addition to a baroque parish church St. Petar are especially the elaborate tombs of the great families Bracs worth seeing.
Milna – The ACI Marina Milna on the west coast of Brac, with the blue flag.
Golden Horn (Zlatni Council)
Places of excursions near Brac Island
Dubrovnik – is a city of museums and festivals, taverns and restaurants, a place of pleasant Mediterranean climate and beautiful scenery.
Cetina – go rafting on the river, the river is truly dynamic and attractive, with a touch of adventure, but this is one way to get to know the strong and white rocks surrounded by greenery.
Pilgrimage to Medjugorje – in a relatively short time became one of the most famous Marian shrine in Europe. There are believers and visitors from around the world, and masses are served in many languages.
Mount Biokovo – there is a botanical garden that has many endemic and indigenous plant species. But there are also many cycling and walking paths.
Accomodations in Brac Island
Hotels in Brac Island
in Milna
in Supetar
in Postira
in Pucisca
in Bol
Camping in Brac Island
Private accomodations in Brac Island
RSS feed konnte von http://www.istrien.info/xml_rss.php?name=&owner=0&number=&type=0&lot_type=2&region=7&subregion=33&city=0&language=1 nicht geladen werden!
>> More apartments in Brac Island can be found here.
Weather in Brac Island
Below you see the current weather forecast for Brac Island. The climate table of Brac Island tells you which temperatures can be expected for each month.
Current weather in Brac Island and a 7-day weather forecast for Brac Island
UNIQd5a3f23b49dcf330-weather-00000004-QINU
Climate in Brac Island
| | | | | | | | | | | | | |
| --- | --- | --- | --- | --- | --- | --- | --- | --- | --- | --- | --- | --- |
| Climate in Brac Island | Jan | Feb | Mar | Apr | May | Jun | Jul | Aug | Sep | Oct | Nov | Dec |
| Max. Temperature | 11 | 12 | 14 | 17 | 22 | 25 | 28 | 28 | 26 | 21 | 17 | 13 |
| Min. Temperature | 5 | 6 | 8 | 11 | 15 | 18 | 21 | 21 | 18 | 14 | 10 | 7 |
| Hours of Sunshine | 4 | 5 | 6 | 7 | 9 | 10 | 11 | 10 | 9 | 7 | 4 | 3 |
| Rainy Days | 11 | 10 | 9 | 8 | 7 | 4 | 3 | 3 | 6 | 9 | 11 | 13 |
| Water temperature of the Adriatic Sea | 13 | 13 | 14 | 15 | 17 | 22 | 23 | 24 | 22 | 21 | 18 | 15 |
Sports & leisure time in Brac Island
Bol is an ideal destination for all those who planned sport holidays, as well as for those who are looking for a good time. Windsurfing, divers, tennis, mountaineers, the Bol has something for everyone. The season starts up in May, global competition in the freestyle in surfing. Divers can explore underwater, or learn to dive in some of the diving centers, tennis players have available twenty tennis courts, and mountaineers can try the endurance of Vidova worse.
For recreational facilities a total of 25 tennis courts available, and that a central tennis court with 1820 seats, where events of the highest class will be held (WTA Croatian Bol Ladies Open). Furthermore, windsurfing, water sports, boccie, bowling, football, basketball and volleyball.
Landscape is beautiful in Brac, with the highest peak of an Adriatic island rising just in the back of Zlatni Rt, Vidova gora, which is 778 meters high.
Where to eat in Brac Island
You can spend pleasant hours in several cafés and ice- cream shops along the sea front and for night-life, check Beerhouse Moby Dick and other hotels.
Brac is full of interesting small towns in which we recommend to visit the wine cellars with excellent wines, cheese and smoked ham. Some of these places are:
Beaches in Brac Island
Bol is a 600-meter-long peninsula. In the Zlatni Rat YOU can do swimming and other water sports. The Golden Horn, as the beach more often called, is considered the most beautiful beach on the Adriatic.
Vela Luka
Supetar and
Lovrečina two exceptional sandy bays on the northern coast of the island of Brac. At beaches on the south side of the island occupies a special place Golden war – Bol.
Nightlife and entertaining in Brac Island
The most interesting place on the island is Bol. In Bol are placed numerous bars and discotheques in the large, which brings all together, after enjoying the beach and water sports. In Pučišća, which is earmarked quiet type of vacation, during the summer months are held various events. The island of Brac is a good choice for those who like to spend good times, but also for those who seek peace and tranquility.
Cultural arrangements in Brac Island
On the island of Brac, traditional is held Brac summer music festival, as well as many other cultural and entertainment facilities for visitors and local guests.
Pučiško kulturno ljeto
Brački ljetni glazbeni Festival
Videos of Brac Island
Below you can find travel videos from Brac Island. The videos from Brac Island are provided by CroVideos.com, the video portal for Croatia.
RSS feed konnte von http://www.crovideos.com/rss_search.php?searchkey=brac nicht geladen werden!
Discussions about Brac Island
Do you have more questions about Brac Island? Have a look at the Istria.info Forum and get more tipps about Brac Island.
RSS feed konnte von http://www.istrien.info/forum/rss/rss4forum.php?lang=en&keyword=brac&searchby=posttext nicht geladen werden!
Helpful links
For more Info go to Brac24.com
---
This article needs your support to be finished. If you know more about Brac Island please add your knowledge to this article. On this page you can find more information of how you can contribute to this wiki.